16-06-10 // ME(U)TROZONE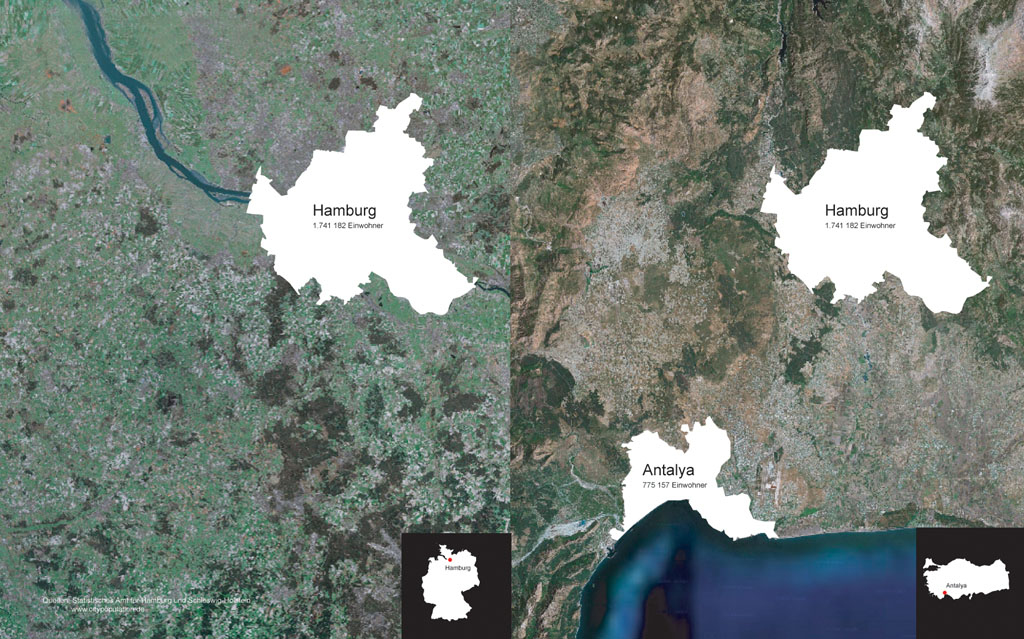 As transitional areas between different parts of a city, metrozones are without doubt closely related to the transit routes that link entire cities with one another. As with the regions along transit routes, we are largely familiar with metrozones from travelling through them and they are usually perceived in the background from the car, aircraft, or train window and as part of a remote landscape. The fact that both metrozones and transit route regions are traversed on a regular basis makes both of them participants in oscillating urban systems. In this regard, therefore, the nature of metrozones and/or transit route regions is characterised not so much by spatial features but more especially by their capacity to be part of a dynamic system that vacillates between two or more states in a more or less regular form. The place between the two poles thus has the potential to merge the qualities of both sides in one area, thus achieving a new degree of wholeness and quality.
An extreme example of this type of oscillating urban system is to be found between the German city of Duisburg and the Turkish city of Istanbul. Every year, thousands of people of Turkish descent commute along the route, about 2,400 kilometres long, between Duisburg and Istanbul. It is only at an initial glance that the many Turkish immigrants appear to be firmly domiciled in their host country Germany; they are in fact highly mobile, making the most of both cultures on a parallel basis and as such for years now have been living as binational urbanists in a progressive and future-oriented culture. The transit route between the two cities traverses seven European countries, crossing diagonally across Europe and linking Germany, Austria, Slovenia, Croatia, Serbia, and Bulgaria with Turkey. The German city of Duisburg is made all the more interesting by the fact that it has the highest proportion of Turkish residents of any city in Germany. Around 40,000 people of Turkish descent live there, corresponding to about 8 per cent of the city's overall population, compared with around 4 per cent on average in Germany's major cities. According to the Socio-Economic Panel, 93.5 per cent of all Turks living in Germany travelled to and from Turkey at least once in 2006, corresponding to a total of 1,625,807 people. It can be assumed that about 40 per cent of them travel by car, around 35 per cent fly, around 20 per cent travel by ferry and car, and only a small proportion, around 5 per cent, travel by bus and train. The figure of 1,625,807 is approximately equal to the number of residents in the city of Hamburg in 2006 (1,754,317). Every year, therefore, a crowd of people roughly equal to the population of Hamburg travels from Germany to Turkey and back.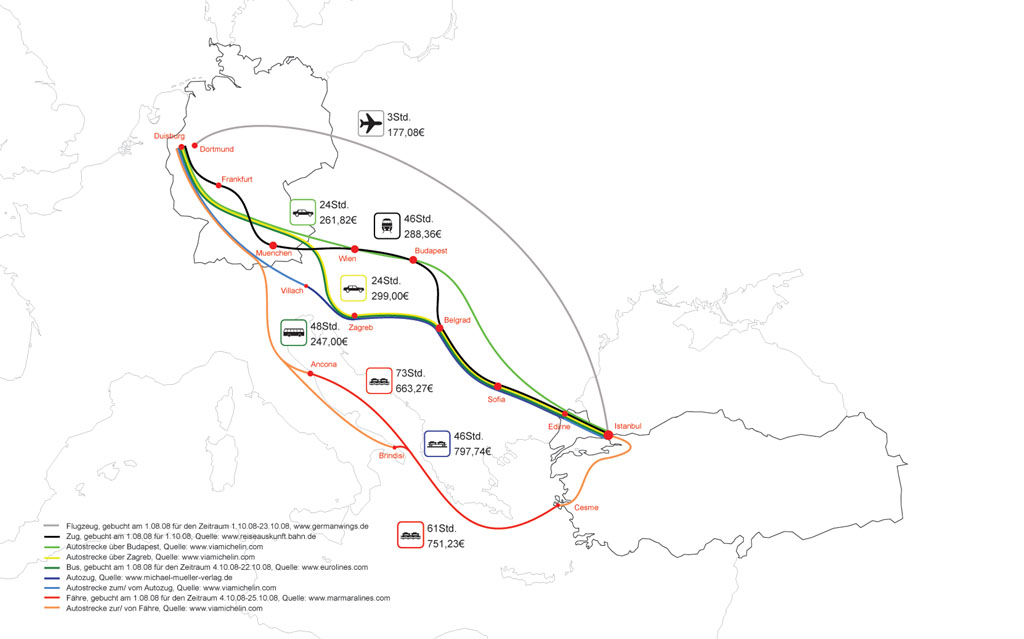 Title: ME(U)trozone
Project: Urban Research Study
Date: June 2010
Type: Commissioned study
Location: Europe
Programme: Study on transitional urban zones
Status: Published
Client: International Building Exhibition (IBA), Hamburg, 2011
Publications: 4th Volume of the Internationale Bauausstellung
(International Building Exhibition) entitled Metropolis: Metrozones.
Team: Bernd Upmeyer, Fotini Gouveli, Dirk Gießmann