06-09-13 // CO-RESIDENCE™: "HABITER EN GRAND"
Since 2012 BOARD is part of the group, led by STAR, that has been chosen as one of the new six teams of architects and urban planners appointed by the Atelier International Grand Paris (AIGP) to be part of the Scientific Committee for the mission: Grand Paris: pour une métropole durable.
This project "Co-Residence: Habiter en Grand" was realized by STAR – strategies + architecture and BOARD as the first part of an ongoing research for the AIGP – Atelier International du Grand Paris, in the framework of «Habiter le Grand Paris». It was presented and delivered in March 2013.

Introduction:
Grand Paris (Greater Paris) is facing an unprecedented housing crisis. A creative solution is needed, more than ever before, to answer the twofold dysfunctionality in housing; firstly, PRODUCTION – aiming for 70.000 new apartments each year, but currently producing less than half that number. Secondly, PRICES per m2 are rising quicker than the cost of living, both in rental and purchase prices, resulting in fewer and fewer apartments affordable for the inhabitants (while the waiting time for an HLM* can take up to 10 years).
*HLM='Habitation à Loyer Modéré', meaning 'rent-controlled housing'.
Paris has had a sad history when it comes to the production of large housing developments. During the period 1950-1970 thousands of new apartments were built, but a few years later many of these developments fell into disrepair and degraded enormously, thereby creating the context of social tensions, or they ended up being demolished.
>The big challenge at present is: How to build apartments of lasting quality, in larger numbers, more affordable for the inhabitants, able to create social cohesion, while at the same time being respectful to the environment, and all this during an economic crisis?
>Our answer: Co-Residence™
Co-Residence™ addresses the twofold dysfunctionality in housing in Grand Paris: Production and Affordability; it allows for the construction of more units within the same constraints of budget, space, and time; and it reduces considerably the price of the apartment while it enlarges its size; and both in a more sustainable way.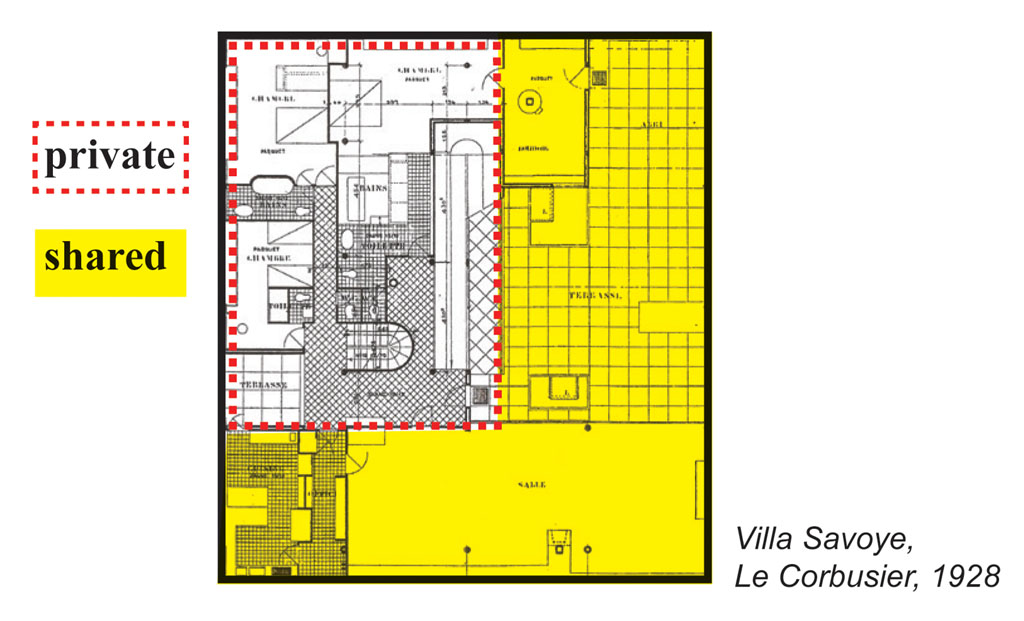 What is Co-Residence™?
A 'Co-Residence' is an apartment, some of the basic elements of which are shared by two or more 'units'* in order to use these in a more sustainable manner. Each unit 'owns' individually a private area containing the bedrooms and bathrooms, and 'owns'commonly the shared functions: the living room, dinning room, kitchen, study, laundry, children's room, spa, etc…
*Unit= any type of household: from a single person to a family.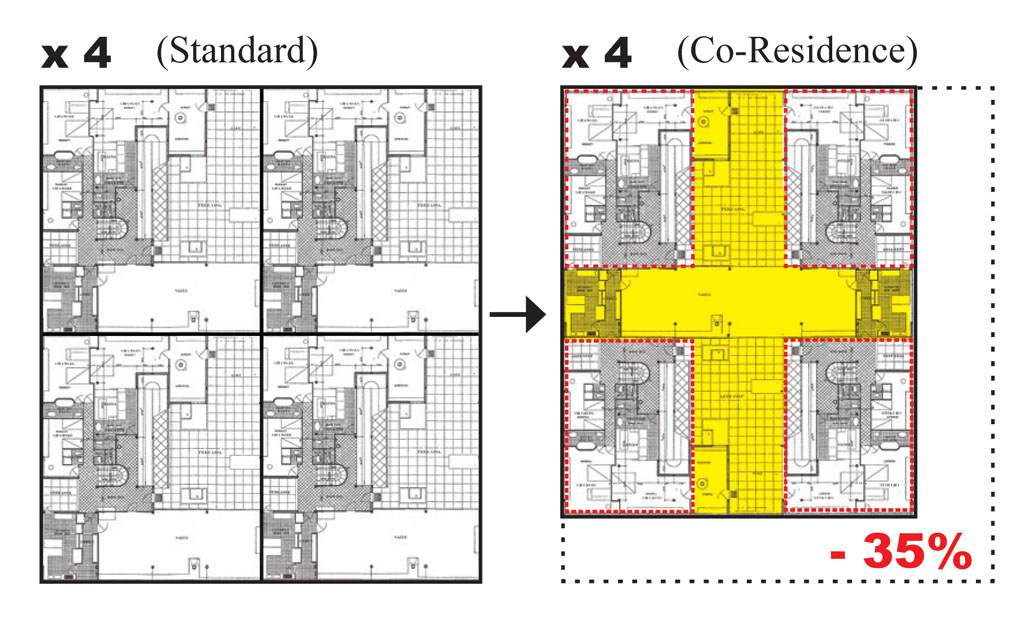 How does Co-Residence™ work?
The current method to generate a residential block works through the repetition of a single apartment plan as many times as apartments are required. By applying the principles of Co-Residence –where some spaces can be shared by different private units– a considerable reduction of the total building area is achieved – while the surface area of the apartment is not reduced. In this simple example we obtain a 35% reduction in space, time, and budget to realize the same number of houses. Or, if we keep the initial conditions, we obtain 35% more apartments that are 35% cheaper.
Co-Residence fights the twofold dysfunctionality in housing at once: the increase in prices and the shortage in production.

Against the Perpetual Reduction of Space
The current strategy to make houses more affordable is by reducing their size; if the price/m2 rises, the house gets smaller; the more expensive, the greater the reduction; the more expensive, the greater the reduction… But how small can a house possibly become?! Reducing the size of an apartment in order to win the battle against the increase in price/m2 is not a strategy for victory, but a sign of defeat. As long as humans are not getting any smaller, reductions in the size of apartments cannot be a permanent solution.
From 'Minimizing' to 'Managing'
Co-Residence defends the idea that innovation in housing should not only be applied to the minimization of space, but to its new and more intelligent management.
If property is becoming unaffordable we should not simply think in terms of making it smaller; we should rethink the concept of 'property' itself.
Building area: -40%; Apartment area: +200%; Apartment price: -40%
This Co-Residence duplex apartment (nr.2*) generates 40% savings (money, space…) in relation to a standard one. It hosts a small community of 5 units, each with its private areas (bedrooms and bathrooms) and a shared double-height living room and a large kitchen (both of better quality than in a standard apartment). The fact of 'sharing' allows for adding 'luxurious functions' such as a studio, laundry, and a guest pavilion, all producing 40% savings. For example, family 1 enjoys a Co-Residence apartment of 145 m2 (27 m2 individually owned + 118 m2 commonly owned) –twice the size of the standard 2-bedroom apartment– with many more facilities, while paying 40% less.


*STAR+BOARD have developed a series of 6 Co-Residence apartments for their project for the AIGP-Atelier International du Grand Paris.
'Habiter en Grand'– an Alternative to 'Habiter au Minimum'
'Habiter en Grand' (Living 'Large') aims to become an alternative to the current housing model based on 'Habiter au Minimum' (Living 'Little'). Co-Residence is a contemporary way to understand property; instead of Reducing it Sharing it.

Pay for a '2CV' and Get a 'Co-Rolls Royce'
This is the essence of the Co-Residence model. You pay for a '2CV' and you get a Co-Rolls Royce (These days, in Paris, you pay for a Rolls Royce and you get a '2CV').
Co-Residence allows for the enjoyment of larger and better quality spaces, extra facilities, and some luxuries, without the obligations of ownership.

When the Biggest Improvement Starts on the Smallest Scale
What is extraordinary is to improve the ordinary*.
Co-Residence is the ambitious idea that the domestic scale, the 1:100, the apartment floor plan, can contribute to solving a problem on a metropolitan scale, the 1:100.000. And therefore everything that matters at the metropolitan level: Density, Activity, Proximity, Governance… will be extrapolated to the most minimal expression of 'urban planning': the apartment. How to interpret density at the level of an apartment? How to create proximity without affecting intimacy? Which forms of micro-governance are needed?
* 'Ce qui serait extraordinaire serait d'améliorer l'ordinaire'. Groupe Descartes, 2008 for AIGP.

If It Gets Better, Let's Share it!
We do not mind to go 'communal' if we arrive at something better. Restaurants, spas, cinemas… are the equivalents in the public realm of the dinning rooms, bathrooms or television rooms. We neither mind sharing extra services, such as the gym, with other users in order to have access to them.
In the Co-Residence the shared areas are always of better quality than in a standard apartment and inhabitants enjoy extra services. For example, one can have a 'social-housing' bedroom, an 'upper-class' living room, and a 'high-end' extra facility.
Any Building Morphology
All our Co-Residence proposals can generate different building morphologies: tower, square block, long block, town villa, detached, semi-detached, etc… And it can be applied partly or fully to the building.
Everywhere and NOW
Co-Residence can be applied everywhere, to every urban tissue… and it can be applied now, to the very next housing project to be built in Paris, contributing immediately to correcting the current housing dysfunctionalities: production and price.

Co-ResiDENSE
Co-Residence increases the density of dwellings per hectare in every urban tissue without increasing the built-up surface. I.e.: 40% with Co-Residence nr. 2.
A longer version of this project was published in MONU #18. It can be seen here (1:02 – 1:08min.).
Additionally the following 6 videos by STAR and BOARD were produced: Video 1, Video 2, Video 3, Video 4, Video 5, Video 6
Our presentation of the project, from March 22, 2013, can be watched here.

Title: Co-Residence: "Habiter en Grand"
Project: Research project for the city of Paris
Date: March 2013
Type: Commissioned research
Location: Paris
Programme: Urban research
Status: On-going
Client: Atelier International du Grand Paris (AIGP)
Publications: Le Moniteur, MONU #18
Exhibitions: CENTQUATRE
Team: Bernd Upmeyer, Matas Siupsinskas, Mario Yáñez Aller (BOARD); Beatriz Ramo, Ieva Cicenaite, Julie Pommier, Mikel Mujika, Lydie Seurre (STAR strategies + architecture)
Consultants: Elioth – Egis Group (Paul Azzopardi) – Energy consultant; Lyn Capital (Yann Collandre, Jean Claude Leullier) – Real Estate consultant