16-01-06 // MONU #4 – DENIED URBANISM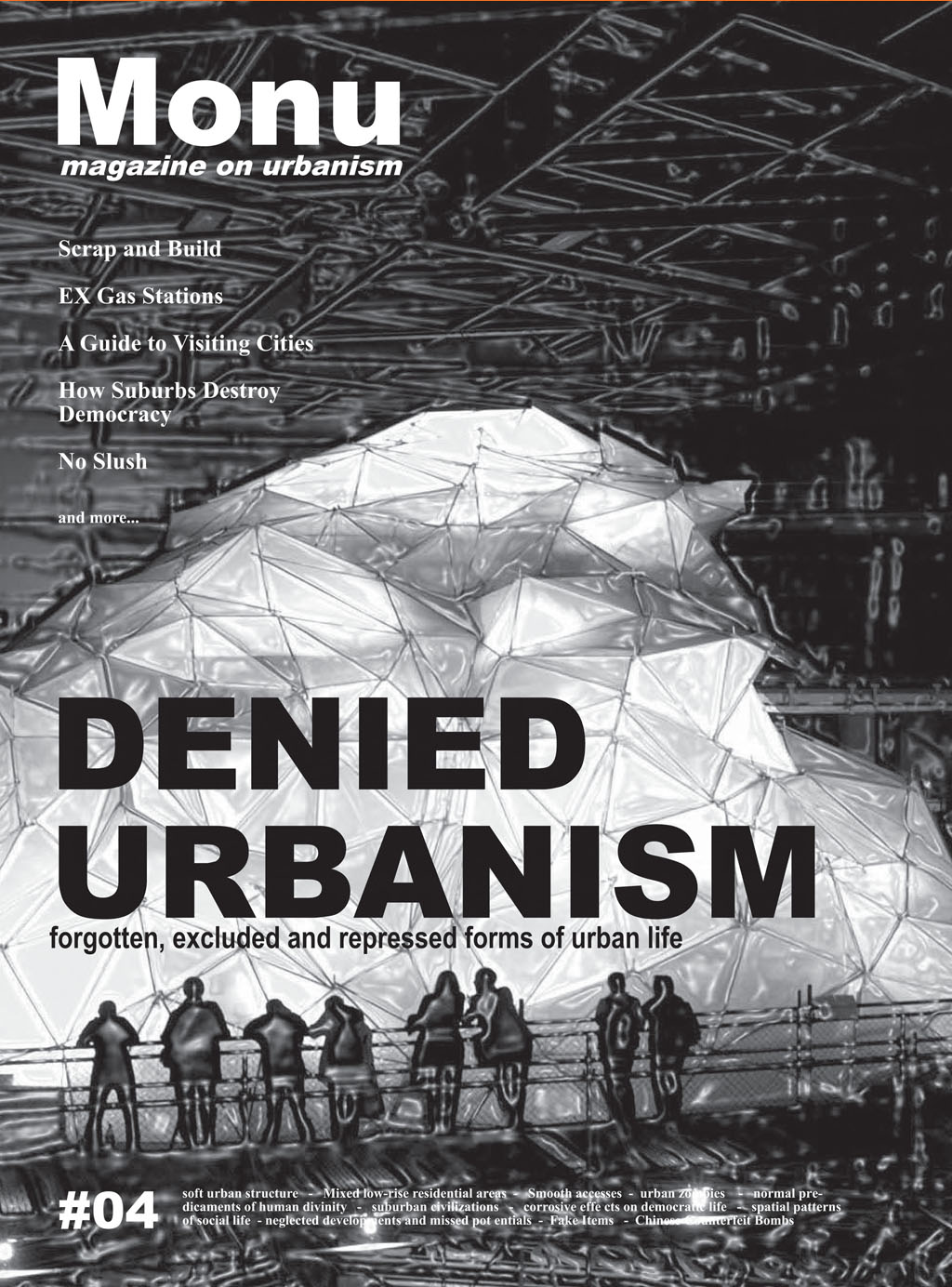 (browse the entire issue #4 on Youtube)
Scrap and Build by Yoshiharu Tsukamoto and Jorge Almazán; Ex Gas Stations by UAS; Shopping for Vice by Jeffrey Ludlow; The Future of Filming in Downtown Los Angeles by Sarah Lorenzen; A Guide to Visiting Cities by Boris Sieverts; The Master of Lockhart (Texas) by Hans Frei; Transforming Local Government – privately by Robert H. Nelson; How Suburbs Destroy Democracy by Michael J. Thompson; Literature of the City 101 by William Alatriste; No Simple Problem Interview by Martin Schwegmann and Thorbjörn Reuter Christiansen with Mika Hannula; Infrascapes, Urban Androgyny and other unplanned Effects of Metropolitan Dynamics by Gabriel Duarte; No Slush by Tommi Mäkynen; E 70 by Beatriz Ramo/ STAR; Reinventing Lifta by Malkit Shoshan and Eitan Bronstein; Welcome to Houston, Texas by Eric Leshinsky; The Heckpfad by Kai Dolata and Lola Meyer; Volkspalast by Amelie Deuflhard and Sophie Krempl-Klieeisen; Hidden Veneration by Kristina Blazevski; DIY by Matthijs Bouw
From Tokyo to Lockhart Texas, from suburbs and informal settlements to the biggest representational buildings in capital cities, from Helsinki to Jerusalem, this issue offers a dazzling journey around the world to forms and episodes of urban life that have one thing in common: they lead a precarious existence, in our perceptions and in recognition of what is viable 'urban' life or – more drastically – are actually threatened in their existence. It is not only le Corbusiers famous "the eyes that cannot see" or don't want to see, but sometimes also that which the eyes do not want to see (any longer). However as many of the contributions in this issue show clearly most of the time both of those symptoms of denying urbanism are happening simultaneously and are faces of the same coin. And the blindness and ignorance seems to be global and escapes narrow definitions of political ideology and even the categories of benevolent planners. Preservation of buildings and the neglect of destruction does not necessarily protect urban life – quite the opposite as Yoshiharu Tsukamoto and Jorge Almazán suggest in their article about Tokyo. More dramatically, historic preservation or reconstruction can also be a strategy to rewrite the history of a place, as if to erase the traces of another population as is happening in Lifta – Israel. Size does not matter for the concept of denied urbanism – at least looking at the contributions. A small informal settlement on the fringes of the inner city of Cologne can be subject to the same mix of willful ignorance and the desire to create a clean city just as the Palast der Republik in Berlin – the biggest representational building of the former GDR. More often than not there are many sides from which one can see the denial. On the one hand Suburbia – the denying of urban life has profound negative consequences for democracy as Michael Thompson argues. On the other hand Michael Nelson sees potential in home owner associations as a particular form of governance that is massively emerging in suburban contexts and that is widely ignored at least among the mainstream planning community.
(Bernd Upmeyer, Thomas Söhl, Editors, January 2006)
Find out more about this issue on MONU's website.