10-09-07 // MONU #7 – 2ND RATE URBANISM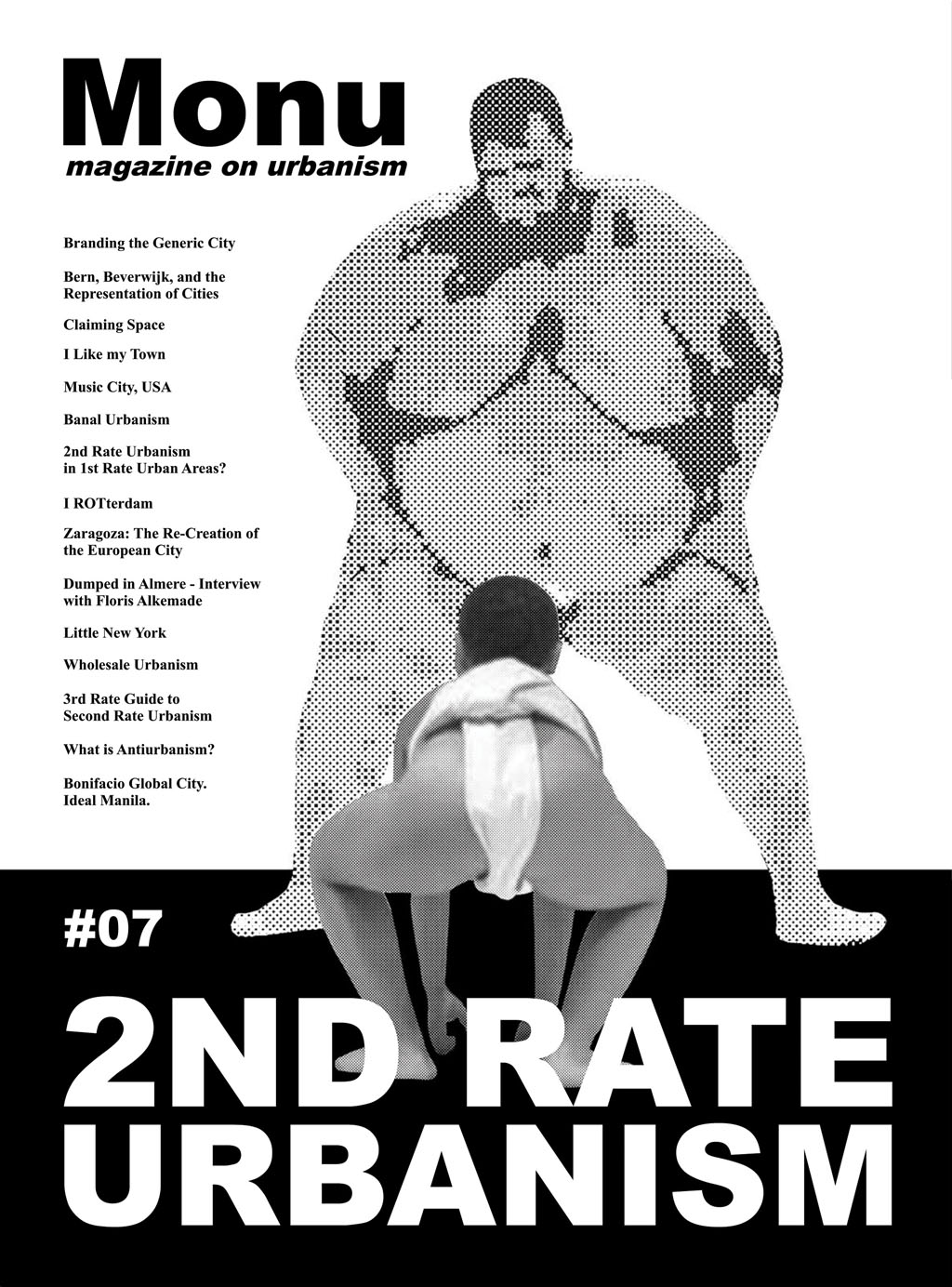 (browse the entire issue #7 on Youtube)
Branding the Generic City by Alfredo Andia; Bern, Beverwijk, and the Representation of Cities by Joost Meuwissen; Claiming Space by Daan and Job Roggeveen; I like my Town by Medium; Music City, USA by Veronica Kavass; Banal Urbanism by Jamie Peck; 2nd Rate Urbanism in 1st Rate Urban Areas? by Doreen Jakob; I ROTterdam by Charles Bessard and Nanne de Ru; The Re-Creation of the European City by Beatriz Ramo/ STAR; Dumped in Almere – Interview with Floris Alkemade/OMA by Bernd Upmeyer and Beatriz Ramo; Little New York by Melisa Vargas; Wholesale Urbanism by Michael Jenson; 3rd Rate Guide to Second Rate Urbanism by Alex Schafran; What is Antiurbanism? by Michael J. Thompson; Bonifacio Global City. Ideal Manila. by Ursula Faix/ bad architects group
In an increasingly connected world the economic realities are precarious for most 2nd rate cities. In the competition for jobs and an ever expanding tax base, 2nd rate cities are in a squeeze between the suburbs where land is even cheaper and even more accessible by car on the one side, and the real attractive 1st rate urban areas that draw the highly educated and the creative on the other side. And since planning 'down' to a suburb is not an option that is considered by most cities, the fight for the survival of 2nd rate cities is to attract more urban assets. Beatriz Ramo presents one such Urban Shopping List for European second-rate cities. According to the US-based urbanist Richard Florida the latest 'must have' for a city is a creative class. In the information economy attracting those who work in the creative sectors is the key to economic success and growth. However as Jamie Peck in his article "Banal Urbanism – Cities and the Creativity Fix" argues, this strategy is just another way in which cities compete for an inherently mobile resource – the creatives can at any time pack up and move to the next happening place. Plus the causal story is far from solid, the cities investing in their hip factor as a development strategy might well be chasing a chimera. But in the process they neglect those neighborhoods and people that truly would need support. The creativity fix as the business park of the new century. Second-rate cities are much more vulnerable to adversarial politics and ideologies that promote suburbanization instead of development of successful cities. Unlike cities of global format like New York or Tokyo, they cannot create enough of an independent urban dynamic that buffers them against anti-urban politics. Michael J. Thompson traces the long history of an ideology that feeds much of these politics. Antiurbanism – an ideology that demonizes urban life. For some concrete examples of how these anti-urban politics can be directly reflected in concrete practices look at Alex Schafran's Unofficial Guide to 2nd Rate Urbanism.
(Bernd Upmeyer, Thomas Söhl, Editors, September 2007)
Find out more about this issue on MONU's website.