26-08-08 // MONU #9 – EXOTIC URBANISM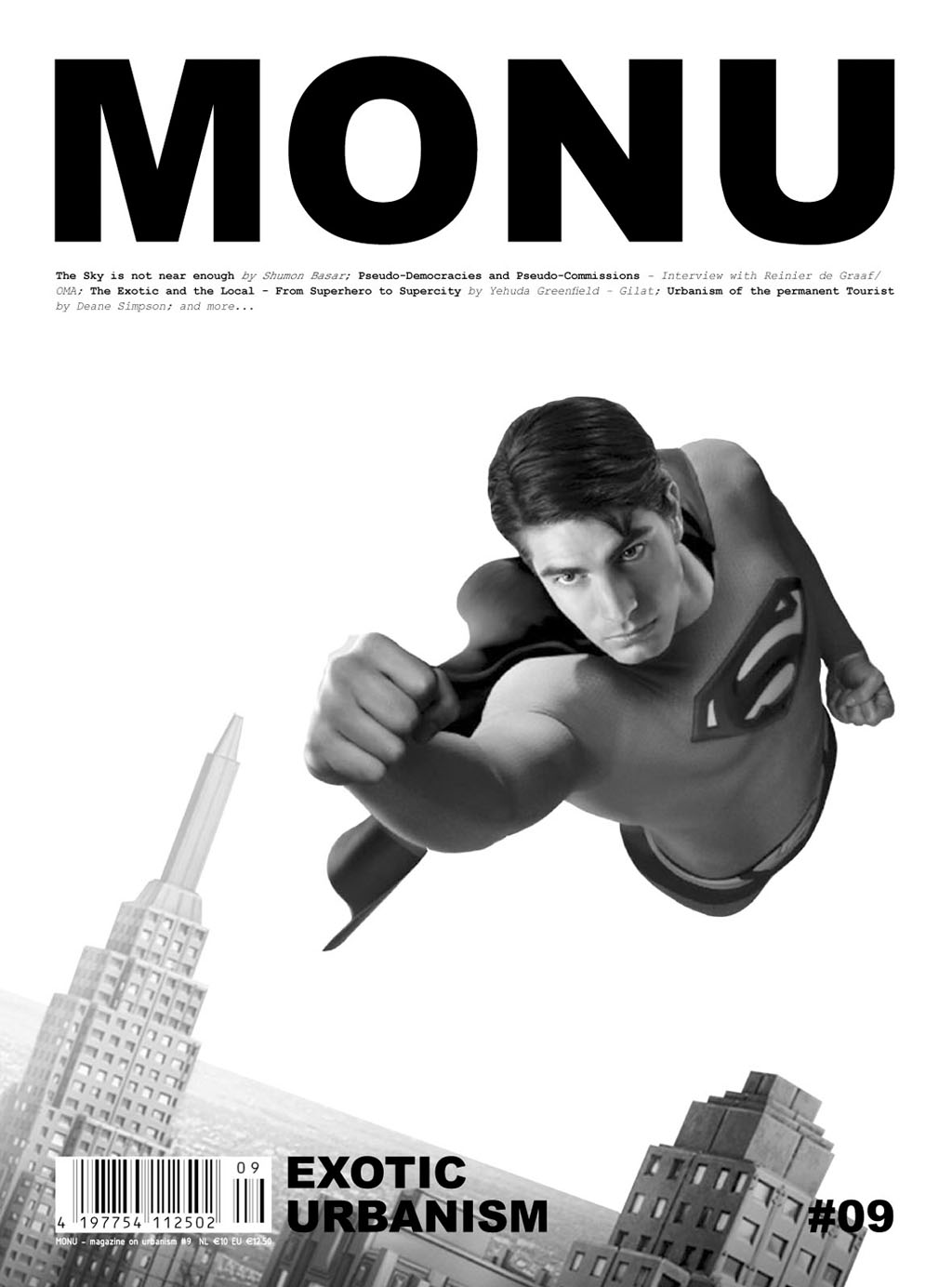 (browse the entire issue #9 on Youtube)
A City under the Influence by Vesta Nele Zareh; Cities of Girl by Laurent Gutierrez and Valérie Portefaix/ Map Office; Thawing Urbanisms in the Arctic by Mason White and Lola Sheppard; Living Facades – Green Urbanism and the Politics of Urban Offsetting by Owen Hatherley; Flying Grass Carpet by Joop de Boer; The 'Great Comeback' of The Chinese to Katendrecht by Els Vervloesem; Urbanism of the permanent Tourist by Deane Simpson; Plastic Wrapped History by Hannah Epstein; Golf Courses and Cultural Conventions of Nature by Jacqueline Schlossman; The Sky is not near enough by Shumon Basar; Defining the Exotic when Identity is Lost by Yasmine El Rashidi; Nondescript Exotism inside the Urban Tissue by Anne Seghers; Pseudo-Democracies and Pseudo-Commissions – Interview with Reinier de Graaf/ OMA by Bernd Upmeyer and Beatriz Ramo; Elite Commune by Lei Liu; Re-fun by Yaowalak Baltisberger; Urbanism in a Minor Key by Gean Moreno and Ernesto Oroza; The Exotic and the Local – From Superhero to Supercity by Yehuda Greenfield – Gilat
In this issue we have taken the deliberate risk of making ourselves look ridiculous by focusing its theme on "the exotic", which is often seen as some sort of worn out, utterly out of date topic, immediately evoking images of colonialism and imperialism. But what fascinated us right from the beginning, since this topic idea of exotic urbanism popped up in our minds, is – without any irony – the opportunity to shift the perception towards global urban phenomena, into a direction that does not necessarily focus on the question how cities more and more become the same through their global battle and competition to attract more urban assets, but how they can actually become more different despite an ever – expanding exchange and an increasingly accelerating process of interaction. On that question this issue of MONU provides a magnificent collection of exuberant essays and projects. There is something very paradoxical about the exotic in an urban context. When a city like Tehran, for example, started importing western planning models around 200 years ago, it tried to distinguish itself from conventional structures but also from other cities, as Vesta Nele Zareh has illustrated in her article "A City under the Influence". This could also be interpreted as an excursion into a brashly beautiful but savage and unforgiving territory as Owen Hatherley puts it in his piece about "Green Urbanism and the Politics of Urban Offsetting". Such exotic urban elements also seemed to deliver the possibility to escape from everyday surroundings and to experience the feeling of entering another world without leaving your actual urban realm as Deane Simpson describes it in his text on the "Urbanism of the permanent Tourist". But as soon as a certain critical mass of exotic urban elements has been implemented in a city and a certain amount of time has passed, exotic elements can no longer be distinguished from other elements, and especially not from the local elements. Shumon Basar describes such a phenomenon in his contribution "The Sky is not near enough" as a certain surreal salvation, where everything slides into some sort of grey state between both poles, a kind of pseudo-local or pseudo-exotic condition, something utterly unmemorable. Reinier de Graaf, one of the partners of the Office for Metropolitan Architecture, clarifies this neither-white-nor-black-condition in the whole current political situation on the Eurasian continent in an interview with us entitled "Pseudo-Democracies and Pseudo-Commissions". The conditions of the cities of the 21st century can probably best be described with the term "pseudo" as a result of the end of a black and white thinking, which gives the stage to dualistic urban qualities. Cities become able, just as superheroes, to oscillate between two different entities, one earthly and mundane, the other heroic and exotic as part of their super-schedule as Yehuda Greenfield-Gilat investigates in his piece on "The Exotic and the Local – From the Superhero to the Supercity".
(Bernd Upmeyer, Editor-in-Chief, August 2008)
Find out more about this issue on MONU's website.