14-10-13 // MONU #19 – GREATER URBANISM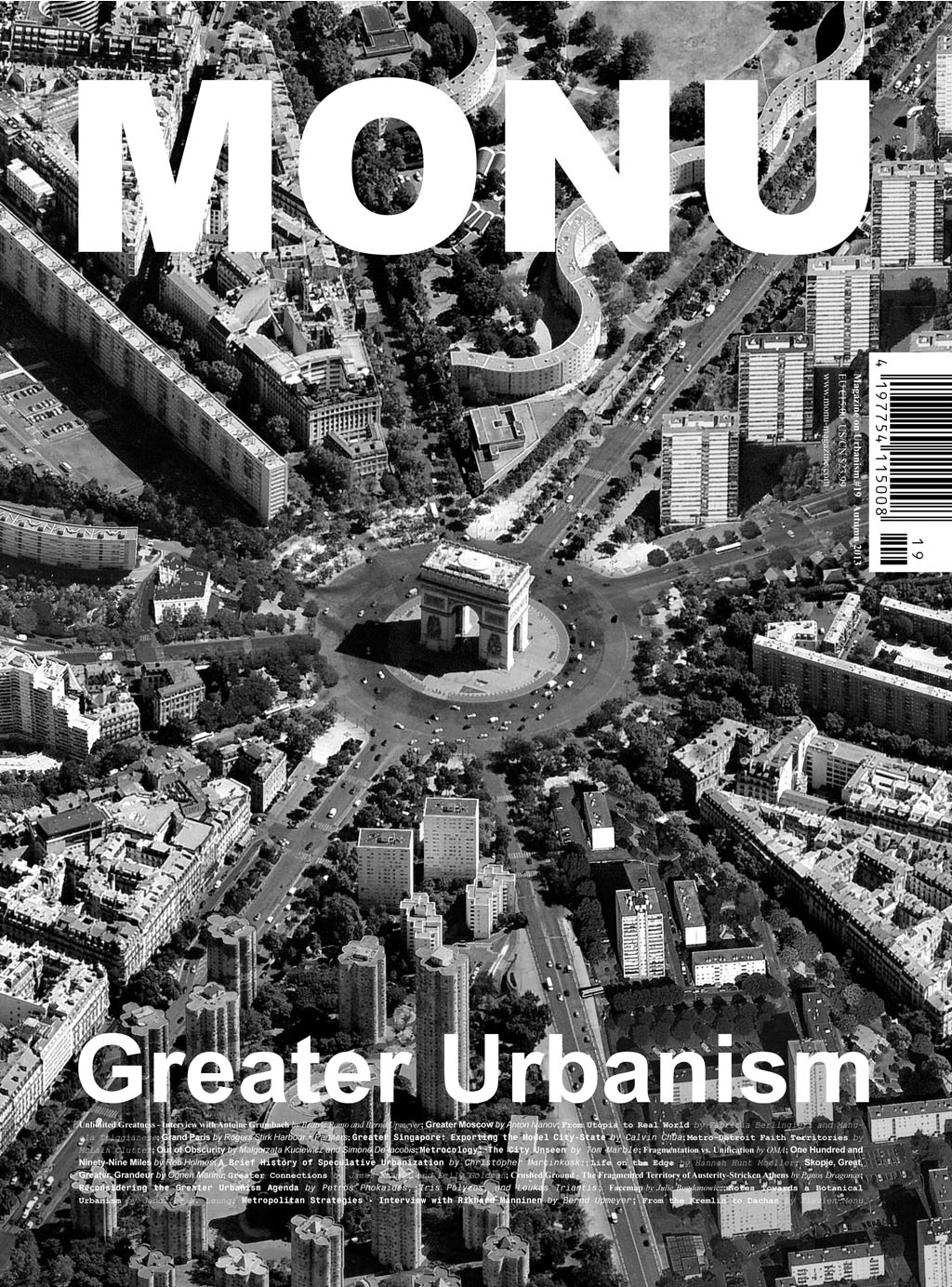 (browse the entire issue #19 on Youtube)
Unlimited Greatness – Interview with Antoine Grumbach by Beatriz Ramo and Bernd Upmeyer; Greater Moscow by Anton Ivanov; From Utopia to Real World by Fabrizia Berlingieri and Manuela Triggianese; Grand Paris by Rogers Stirk Harbour + Partners; Greater Singapore: Exporting the Model City-State by Calvin Chua; Metro-Detroit Faith Territories by McLain Clutter; Out of Obscurity by Magorzata Kuciewicz and Simone De Iacobis; Metrocology: The City Unseen by Tom Marble; Fragmentation vs. Unification by OMA/ Text by Clément Blanchet; One Hundred and Ninety-Nine Miles by Rob Holmes; A Brief History of Speculative Urbanization by Christopher Marcinkoski; Life on the Edge by Hannah Hunt Moeller; Skopje, Great, Greater, Grandeur by Ognen Marina; Greater Connections by James Khamsi and Emily Goldman; Crushed Ground – The Fragmented Territory of Austerity-Stricken Athens by Panos Dragonas; Reconsidering the Greater Urbanism Agenda by Petros Phokaides, Iris Polyzos, and Loukas Triantis; Facemap by Julie Bogdanowicz; Notes Towards a Botanical Urbanism by Jennifer W. Leung; Metropolitan Strategies – Interview with Rikhard Manninen by Bernd Upmeyer; From the Kremlin to Dachas by Flavien Menu
It appears that cities of today, and especially big cities, all around the world, are all struggling with similar problems, as they all have developed huge territories – their metropolitan or "greater" areas – during the twentieth century that cannot be properly understood by anyone in terms of their form, but that now need to be recognized as something that truly exists, because it is a form that is in perpetual transformation and without limits.This is where Antoine Grumbach sees the main difficulty when it comes to "Greater Urbanism" as he explains in an interview with us entitled "Unlimited Greatness". In such unlimited spaces infrastructure plays without doubt a crucial role constructing a connected geography and reconfiguring new urban morphologies, as Fabrizia Berlingieri and Manuela Triggianese argue in their piece "From Utopia to Real World – Construction of a Unique Metropolitan Space of Europe". But a metropolitan strategy that focuses exclusively on mass transport remains incomplete, as is demonstrated by Rogers Stirk Harbour + Partners in their contribution "Grand Paris". They argue that the voices of the metropolitan region outside the centre demand representation. To what extent architecture can visually address and represent the urban public in "greater areas" is shown by McLain Clutter in his piece "Metro-Detroit Faith Territories", pointing out the unique ability of mega-churches to condense a collective domain within exurban sprawl, a morphology of urbanization that is notorious for atomization. Such peripheral areas may even become gateways to their urban centers, as is illustrated by the Office for Metropolitan Architecture (OMA) in its contribution "Fragmentation vs. Unification". But that the quality of "Greater Urbanism" is not necessarily dependent on spatial issues is clarified by Hannah Hunt Moeller in her article "Life on the Edge: Peri-Urban Borders of the Greater Urban Milieu", showing how the very lack of defined spatial boundaries enables self-determination. In that way, "Greater Urbanism" can be liberated from the perceived need to control everything, can become free to fill, for example, niches in the market and a method that is used in response to desires as James Khamsi and Emily Goldman describe it in their contribution "Greater Connections: Infrastructures of Mobility and Design Agency beyond the City". However, that such possibilities do not relieve state governments and city municipalities of their duty of establishing and creating overall and coherent visions for "greater" urban areas, thereby arresting the tendency that those areas are being shaped by a multiplicity of private actors, is pointed out by Petros Phokaides, Iris Polyzos, and Loukas Triantis in their piece "Reconsidering the Greater Urbanism Agenda: Crisis, Planning and Architecture in Metropolitan Athens". Only then will it be possible to address the biggest challenges of "Greater Urbanism" that Rikhard Manninen, the head of the Strategic Planning Division in the City Planning Department of Helsinki, whom we interviewed about "Metropolitan Strategies", discerns in the continued management of city structures during periods of significant growth – having no sprawl, while attracting a sufficient workforce to meet the demands of an ageing population, and aiming for city-regions that take climate change into account through carbon neutral developments.
(Bernd Upmeyer, Editor-in-Chief, October 2013)
(Cover image: 'The 'Étoile' of Grand Paris – The Radiant Typologies of Greater Paris' is courtesy of STAR strategies + architecture and BOARD. The image, featuring the Arc de Triomphe surrounded by the typologies of Grand Paris, is part of their research project "Construisons le Grand Paris Ensemble – Or the Story of How Paris Became Greater". This story is the first legend of the Parisian territory, in which Paris had to die to save Grand Paris. The project was realized by STAR and BOARD as part of the Scientific Committee of the AIGP – Atelier International du Grand Paris, in the framework of "Systèmes Métropolitains", presented and delivered in September 2013.)
Find out more about this issue on MONU's website.