26-02-14 // BEYOND BRANDING – INTERVIEW WITH BART LOOTSMA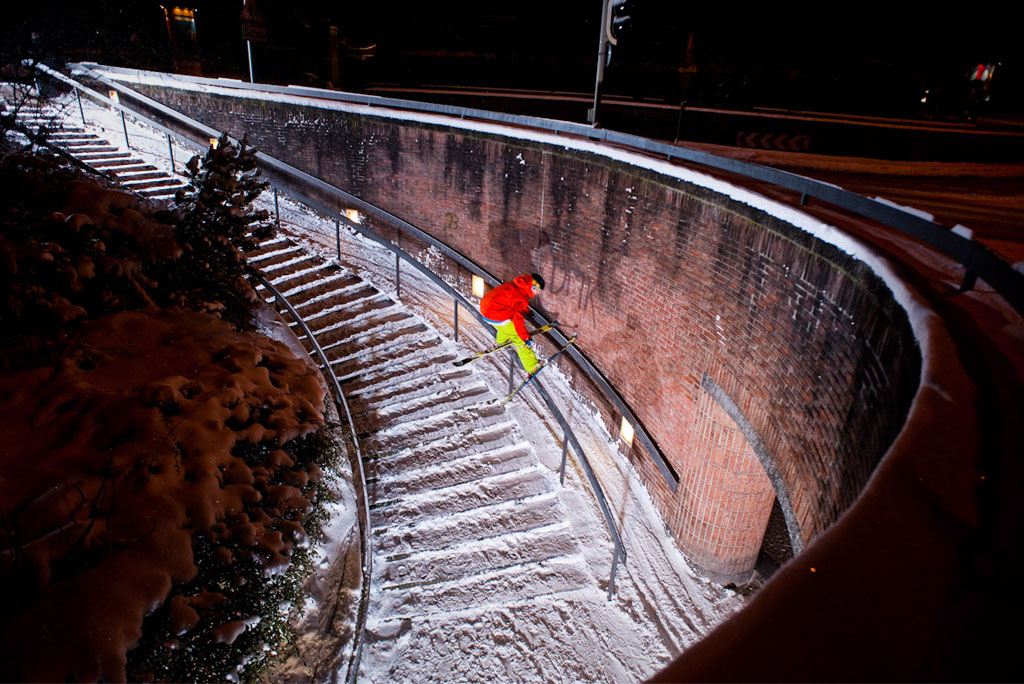 Paul Fischnaller is sliding down a handrail at the Train Station in Bolzano, 2011
Photo: Paul Fischnaller, ©Paul Fischnaller
Bernd Upmeyer interviewed Bart Lootsma on behalf of MONU. Bart Lootsma is a historian, critic, and curator in the fields of architecture, design, and the visual arts, as well as a Professor for Architectural Theory at the Leopold-Franzens University in Innsbruck. The work of Bart Lootsma was released in many publications, including Media and Architecture, in collaboration with Dich Rijken (1998), his internationally acclaimed book SuperDutch (2002), mostly dealing with Dutch Architecture, and ArchiLab 2004: The Naked City, which was widely published in 2004. The interview took place in February 2014.
Geography and Identity
Bernd Upmeyer: You recently posted an image on Facebook featuring scenes of the mountains around the city of Innsbruck that you photographed from your kitchen window. What does this view and these mountains mean for you and for the city of Innsbruck?
Bart Lootsma: For someone born in The Netherlands it is still amazing to wake up, open the curtains, and see mountains in the morning. When I rented my apartment I wondered why all electricity sockets for the bed were intuitively – and even in terms of Feng Shui, I recently discovered – on the 'wrong' side of the bedroom. Until I sat down where the bed would be and discovered that the view from my bed frames the Hechenberg exactly. It is different every day, depending on the weather. For the city of Innsbruck this means something much deeper. The Hechenberg is part of the Nordkette, a chain of mountains that is part of the Karwendel Mountains separating Austria from Germany.
[…]
BU: Might this view out of your window just as well be replaced by a photo or any other medium that is placed on the wall of your kitchen featuring the same mountain view? To what extent is geography merely an image or artifact in the background of a city that needs to be framed by architecture or media?
BL: No. The constantly and unpredictably changing weather conditions are crucial. And more than that: I realize that my visual appreciation of these mountains shows me up as an immigrant. It leads to bored comments by, for example, the president of the Austrian chamber of architects Georg Pendl, who lives in Tyrol, on my Facebook posts like "Hechenberg again" and I can only be happy there is no emoticon for "yawn". Or maybe he didn't find it. Instead, he posts images of the traces of himself skiing alone in pristine snow on mountains you can only climb with great difficulty with touring skis…
…the complete interview was published in MONU #20 on the topic of Geographical Urbanism on April 14, 2014.
Title: Beyond Branding
Project: Interview with Bart Lootsma
Date: February 2014
Type: Commissioned interview
Topic: Geographical Urbanism
Organizer: MONU
Status: Published
Publications: MONU #20, P. 114-125
Interviewer: Bernd Upmeyer