19-02-15 // INFORMAL CONTROL – INTERVIEW WITH ULF HANNERZ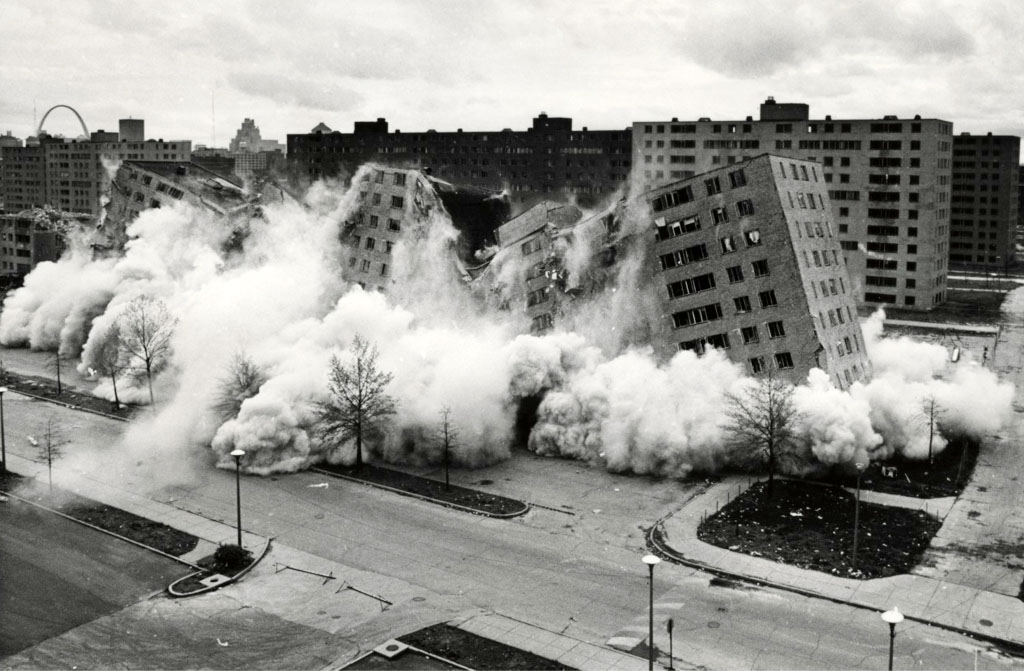 The infamous Pruitt-Igoe housing project in St. Louis, Missouri that was built in 1955 only to be demolished in 1976. Screenshot from the film "The Pruitt-Igoe Myth".
Bernd Upmeyer interviewed the Swedish social anthropologist Ulf Hannerz on behalf of MONU. Hannerz is one of the leading theorists of modern cultural anthropology and a pioneer in urban and social anthropology. As early as the 1960s he began researching and describing culture in the age of globalization as dynamic, flowing, creative, and as something continuously changing. Hannerz is emeritus professor of social anthropology at Stockholm University. His research includes urban societies, local media cultures, transnational cultural processes, and globalization. The interview took place on February 19, 2015.
Personal Transnational Life
Bernd Upmeyer: You were born in the Swedish city of Malmö, which is the third largest city in Sweden and which constitutes today, together with Copenhagen, the transnational Øresund Region, the most densely populated area in Scandinavia. How do you remember this region when you grow up there and how did it change until today? What kind of urban anomalies defined the area back then and how does that compare to today?
Ulf Hannerz: Yes, born in Malmö, but I was only a year or two when my family moved to Stockholm (where both my parents came from). But I visit Malmö occasionally, and keep an eye on it. It has gone through major changes. I was born during World War II, when Germany occupied Denmark, so there was no real contact with Copenhagen, just across the Øresund, and not much contact with the outside world. Now Malmö has become more or less world-famous as one of the most transnational cities anywhere. Indeed it has a lot of immigrants, and children of immigrants. Occasionally, one comes across the rumour, mostly spread by xenophobic and Islamophobic commentators elsewhere, that Malmö has a Muslim majority, and is a centre of what was once called "Eurabia." Certainly not true. Like many European cities with large immigrant and refugee populations, it has its problems: unemployment, some interethnic conflict and suburban rioting, one xenophobic terrorist with a gun. But it is also a lively place, which a lot of people living there enjoy. Of the two most recent mayors, one came to Sweden as a child refugee, and the other has immigrant family connections. And one of Europe's best football players, Zlatan Ibrahimovic, grew up in one of those neighbourhoods (Rosengård) with a controversial reputation.
BU: In the 1960s you became interested in social and urban anthropology after having travelled to West Africa. What did fascinate you about this field especially?
UH: I was struck by the social and cultural transformations, which were most visible in the cities. Some West African cities – particularly those of the Yoruba people in western Nigeria – were originally of a very ancient historical type, hardly found elsewhere in the world any longer: with peasant populations, and a ritual aristocracy at the centre…
…the complete interview was published in MONU #22 on the topic of Transnational Urbanism on April 24, 2015.
Title: Informal Control
Project: Interview with Ulf Hannerz
Date: February 2015
Type: Commissioned interview
Topic: Transnational Urbanism
Organizer: MONU
Status: Published
Publications: MONU #22, P. 106-111
Interviewer: Bernd Upmeyer