19-10-06 // WORK, NOT LOVE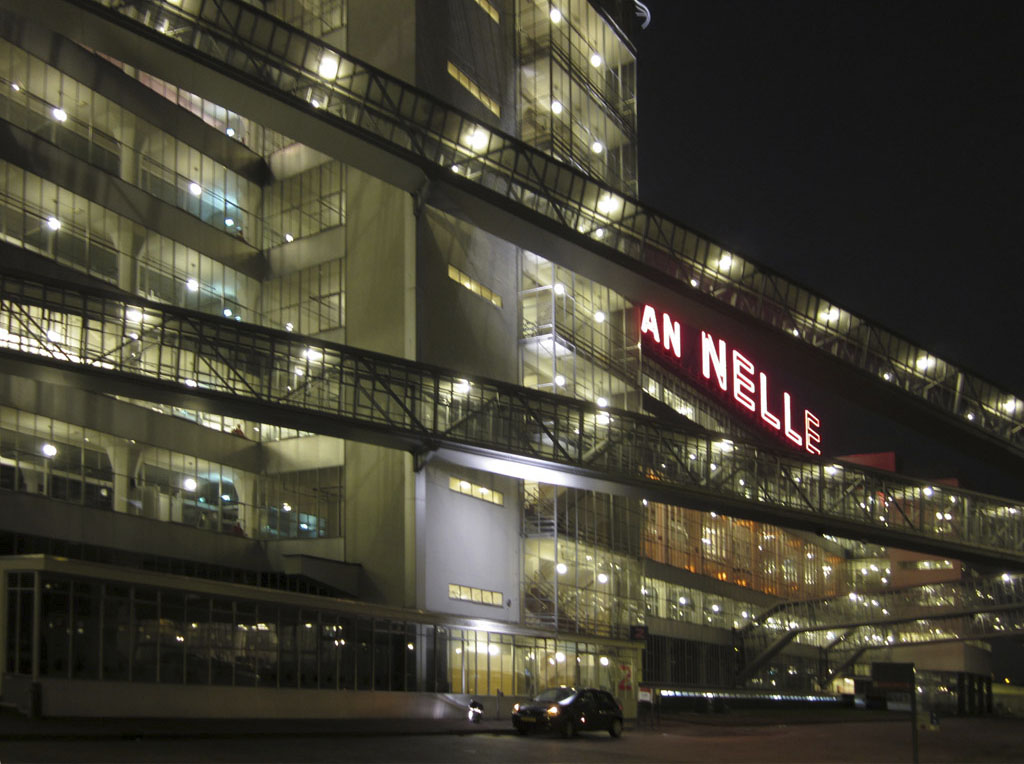 Van Nelle Factory in Rotterdam
Work, not Love
By Bernd Upmeyer
What draws people into cities? Is it love or is it work? Some say that there is more hunger for love and appreciation in this world than there is for bread. But cities are growing and shrinking simply depending on whether there is work, or not. A city is never beautiful by default, but perceived as beautiful to the extent to which you like the job you have in the city. Once you have found work, all other romantic ideas about cities fall in a simple order: work, love, house… Everybody has experienced at least once in his or her lifetime, that when you move to a city only for love, your stay is most likely limited. But once you have found your professional path, anything is possible. There is no love at first sight when it comes to urbanism. With cities you fall in love at second sight.
The city of Rotterdam is a great example for this. Second sight is probably the only way to fall in love with it anyhow, as its beauty is hidden, but its ugliness famous and a fixed fact in people's heads. For a long time it has suffered under the beauty of its urban competitor – the picturesque Amsterdam. If Amsterdam is the Beauty, Rotterdam is the Beast.
But there is one group of people, who has always seen the handsome prince in the beast: architects. Since the early 1990's, Rotterdam has become the worldwide hotbed for architects and urban planners. When you are a fashion designer, you want to be in Antwerp or Paris, but if you are an architect, there is only one place: Rotterdam.
Flatness
Is the world flat? The Netherlands definitely is. There is that positive flatness in the country, reflected in its openness and tolerance towards all kind of expressions of life. There is probably no other country in Europe, where you can express yourself as much as in the Netherlands. This flatness has its apex in Rotterdam. After being bombed in WWII by the Germans, Rotterdam was built up in such a generic way, that its strongest identity now is the absence of any identity. But the destruction became quite stimulating and the lack of character established a perfect creative platform for architects and urban planners. There was nothing, so it could become everything. A flat space can be shaped and curved in all kind of ways. The flatness of Rotterdam became its essential and desirable quality, with the power to lead to explosions of development. This fascinating smooth but highly reactive status is visible until today and will probability not convert into a totally stable condition anytime soon.
Boldness
Rotterdam has a history of being bold in terms of city planning and architecture. When you have nothing to loose you can dare a lot. The city has dared to build many controversial and love/hate buildings like the monstrous Groothandelsgebouw, the brutal Euromast, the funny Kubuswoningen, the infamous Kunsthal or lately the huge Essalam Mosque, which is currently under construction in the south. Rotterdam seems to never have been afraid of trying out something new. It did risk a lot and exposed itself repeatedly to failure. Its urban drama is driven by conflict and unpredictability as a clash between its possibilities and its failures, between love and hate. Rotterdam composes with its controversial appearance an urban performance with plenty of tragedy, humor and satire. Its boldness has become the source of Rotterdam's innovation and attractiveness, which brought up a lot of obvious ugliness but recently also some world famous architectural hotspots like the undoubtedly beautiful Erasmus bridge. In fact, a clear focus on erecting bold and landmark-like architecture in the city can be recognized, shifting Rotterdam's reputation more and more from a faceless industrial urban area, inhabited most likely by the working class, towards a still rough, but iconic and expressive city with a strong character with thousands of creative people. Ambitious plans will construct skyscrapers along Rotterdam's central road "Coolsingel" in the near future, connecting visually the central station area with the neglected and "evil" Rotterdam – South. The northern and southern endpoints of that future skyline already exist with the Nationale Nederlanden Building in the North and the Montevideo in South.
It remains to be seen, if this transformation is able to retain a certain amount of positive flatness, or will end up in a Parisian identity trap.
Work
Rotterdam's boldness and flatness combined with much lower rent costs for workspace than for instance Amsterdam, creates a perfect playground and base for innovation, the sort of tabula rasa condition that generations of architects were dreaming of. Le Corbusier should have come to Rotterdam. He might have been able to realize his Plan Voisin. Since the beginning of the modern movement, nothing attracted architects, and on the other hand threatened everybody else, more than a tabula rasa, an open ground to project all fantasies. Internationally known modern architects like Brinkman, Maaskant or Bakema were always using Rotterdam's advantages and based their offices in the city and thus attracting architects to come and work in Rotterdam. Today, the ultimate magnet for international architects is OMA (Office for Metropolitan Architecture), which was originally founded in London in the early 1970s, but soon moved to Rotterdam. OMA fundamentally changed the architectural profession during the last 30 years. Nobody has inspired, threatened and provoked architects and urban planners around the globe as much as OMA's mastermind, Rem Koolhaas. His world fame has constantly risen over the years, and even though the fame became quickly too much for a small country like the Netherlands, Rotterdam a city without demands and distractions can still handle it. Today, for the world of architects, Koolhaas is Rotterdam and Rotterdam is Koolhaas. Rotterdam's position as hotbed of worldwide architects reached a new highpoint, when in the 1990s a couple of former OMA employees, started opening their own offices in Rotterdam and became well known. A new Dutch architecture hype appeared with offices like MVRDV, Neutelings Riedijk or KCAP.
More Work
Just like a Lidl supermarket places itself preferably next to an Aldi supermarket for economical reasons, more and more architecture offices open also their business in Rotterdam, following the logic, that a crowd creates an even bigger crowd, hoping to catch at least a piece of the action. Today there are around 300 architecture offices in the city, employing thousands of architects from all around the world and even more international architecture interns. And a lot of the offices seem to complement and inspire each other. Just the mere fact that the city contains already a high amount of international interns makes Rotterdam even more attractive as a base to start-up a new internationally orientated architecture company. Nowhere else in Europe would you find as many highly qualified and ambitious young architects. As the most densely populated country in the world, the Netherlands were always forced to show more interest and put more money in planning and design issues than other countries. Density creates spatial problems. Architects love spatial problems, even if they are essentially the same every time. No other profession is as aptly or as constantly creating new solutions for always-similar problems. There is still no reason why the Dutch architecture hype should ever stop. In fact, today more than ever, international architects are flowing into the world's architecture capital Rotterdam.
Recruitment
Architecture firms never go headhunting, they are far too vain to make such an effort. They would never employ a headhunter, in case the normal recruitment efforts have failed to provide a viable candidate for a job. They want to be hunted themselves.
To keep the flow of new and fresh architecture brainpower capacities, Rotterdam has established two architecture recruitment machineries in and around the city. One is the Rotterdam-based postgraduate architecture laboratory, the Berlage Institute. The second is the nearby TU Delft. Both institutions have excellent reputations abroad. Though the reputation of TU Delft is still based on its fame from the early 90's, when a couple of superstar architects were teaching there. The single claim to fame of the TU Delft that is actually true is the fact that it is big. Approximately 3,000 students are studying in Delft. The Berlage Institute is comparatively small but very selective in choosing the few postgraduate students it takes on, yet manages to have stimulating teaching there. Both institutions manage to provide a critical environment and constantly challenge the urban thinking. Hundreds of international architecture students are studying every year in Rotterdam and a lot of them combine their study with an internship in a Rotterdam office. The Berlage Institute has gained a reputation for being a ticket into the fancy offices in the area.
Internationalization
Rotterdam has managed to adapt architecture products such as architecture publications, architecture hardware and architecture software for a non-native environment, easy to acces for people from all kind of other nations and cultures. In a city, where every bricklayer speaks perfect English, the director of the main architecture institute, the Rotterdam based NAI (Netherlands Architecture Institute) is an American and the heads of the architecture schools are Spanish and Croatian – it is pretty easy to live and work as a foreign architect. Most importantly, lectures, conferences and presentations in Rotterdam are usually held in English and not in Dutch. The NAI is without serious competitors the most complete and best-connected institute for architecture in Europe. It constantly organizes exhibitions and conferences, maintains a complete library, awards architecture prices, cares for hundreds of archives and individual collections created by Dutch architects and sells the newest books about architecture in its bookstore. The NAI is the international promoting arm for Dutch architecture, selling the contemporary and the already established and famous architecture products into the world. The NAI connects everything, the people, the theory and the architecture.
Love
Rotterdam is the capital of architecture and not the city of love. Work primarily attracts the people into the city. But if you define true cities as places with which you fall in love with only at second sight, then superficial and beautiful but hollow Potemkin Villages – cities like Paris, Venice or Florence are merely be urban affairs. Rotterdam is real.
Title: Work, not Love
Author: Bernd Upmeyer
Date: October 2006
Type: Commissioned article
Publications: CODE #4
Publisher: Bold Publishing
Location: Amsterdam, The Netherlands
Pages: 86/94