16-10-17 // MONU #27 – SMALL URBANISM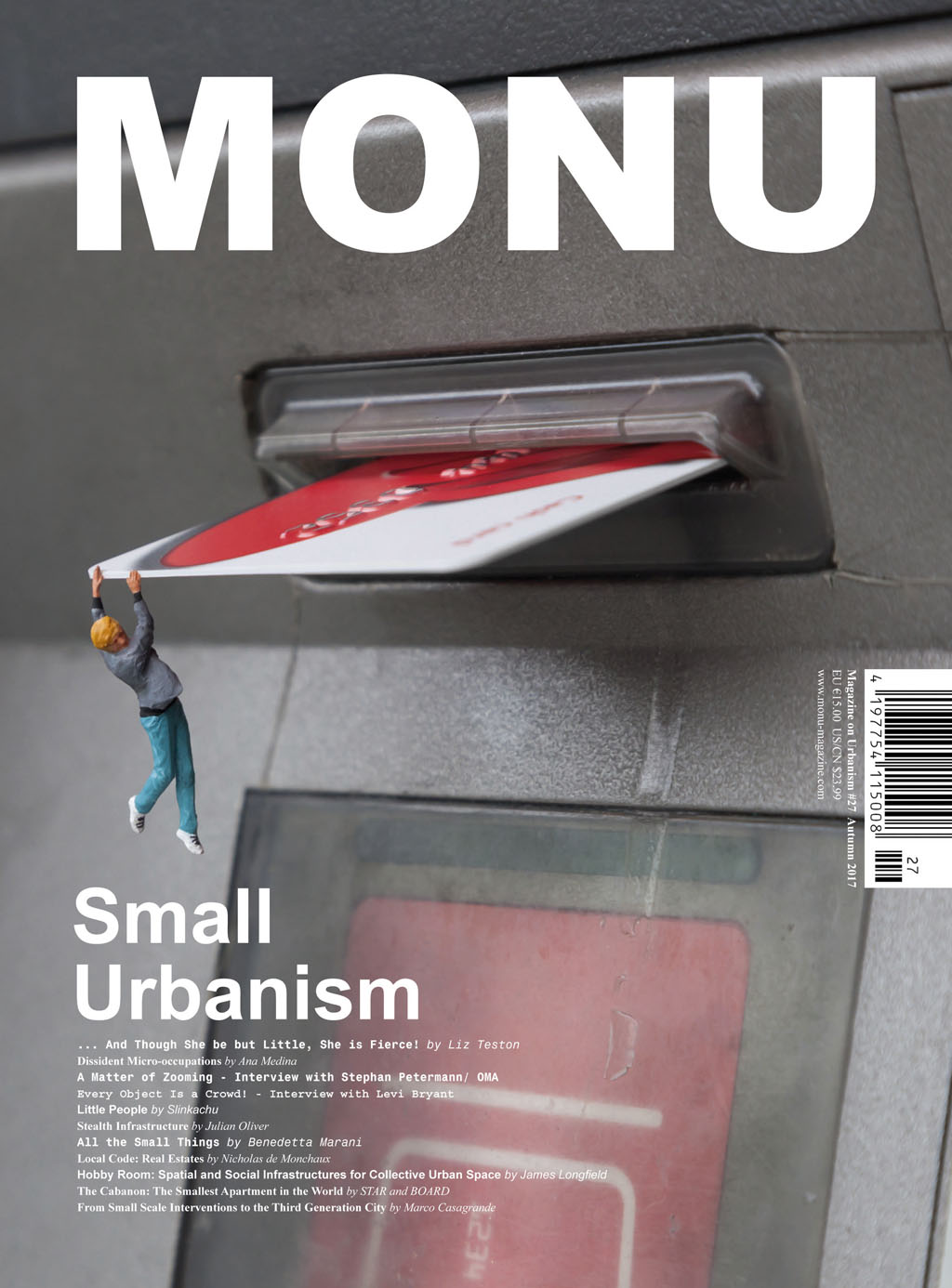 (browse the entire issue #27 on Youtube)
… And Though She be but Little, She is Fierce! by Liz Teston; Build: Losing their Identity by Colin Davies; Dissident Micro-occupations by Ana Medina; Gang Urbanism: Subaltern Bodies Inhabiting Suburbia by Victor Cano Ciborro; A Matter of Zooming – Interview with Stephan Petermann/ OMA by Bernd Upmeyer; Stools as Tools: Tactical Units and Ways of Sitting in Public Space by Avsar Gürpinar and Nur Horsanali; Every Object Is a Crowd! – Interview with Levi Bryant by Bernd Upmeyer; On Triangles in Squares and the Color of Air by Kyle Miller; Raptures by Masha Hupalo; Small Scale; Practice by Hester van Gent; Little People by Slinkachu; Stealth Infrastructure by Julian Oliver; All the Small Things by Benedetta Marani; Local Code: Real Estates by Nicholas de Monchaux; Hobby Room: Spatial and Social Infrastructures for Collective Urban Space by James Longfield; The Cabanon: The Smallest Apartment in the World by STAR and BOARD; The Apartheid that Can't Be Flushed Away by Nadine Botha; Seeding the City in Ulaanbaatar's Ger Districts: Urbanisation from the Inside-out by Joshua Bolchover; Small Urbanism for Refugees by Fabiano Micocci; From Small Scale Interventions to the Third Generation City by Marco Casagrande
"… And Though She be but Little, She is Fierce!", the title of Liz Teston's contribution using a quote from Shakespeare's "A Midsummer Night's Dream", captures the content of this MONU issue on "Small Urbanism" very well. For when it comes to urbanism, small things seem to matter, whether they are actions, small physical elements, information and communications technology, or small-scale interventions. With regard to actions, Teston shows how transient micro-urbanisms of protest architecture can have a significant impact on our cities. During such actions, human bodies can alter public spaces through practices that challenge the arrangement of urban power and convert it into a channel of opposition, as Ana Medina argues in her piece "Dissident Micro-occupations". In her explorations of dissident architectural practices, she reveals that spaces for protests are in fact not designed, but taken over by the dissidents to transform the architectural urban landscape. However, the design of physical elements – and especially small physical elements – appears to be very relevant for "Small Urbanism", as architecture and urbanism seem to remain the key interface of the physical manifestations of our society. Every architectural element, whether big or small, seems to have an urban consequence, as Stephan Petermann from the Office for Metropolitan Architecture (OMA) puts it in our interview with him entitled "A Matter of Zooming". How we design things can make a real difference in our lives, both socially and politically, and we should be attentive to that, claims the philosopher Levi Bryant in another interview that we titled "Every Object is a Crowd!". According to him, objects exist, within the framework of object-oriented ontology, at a variety of different levels of scale and all objects are composites of other objects. Additionally, there is a gravity of things and a power of materiality that makes all sorts of profound differences in the world and in cities. With his miniature people, the artist Slinkachu aims to make visible these differences that small things can make, which can easily be overlooked and ignored. He achieves this intriguingly in his contribution "Little People". That small but important objects in our cities can easily go unnoticed, because they are sometimes hidden on purpose, especially when it comes to information and communications technology and in particular to cellular infrastructure that is necessary for mobile phone networks, is revealed by Julian Oliver in his piece on "Stealth Infrastructure". By exposing our cities' less visible infrastructure he aims to remind us of our dependence on a deeper physical reality – and our consequent implicit vulnerability – and that our cities are engineered and technical places as much as they are natural expressions of the Human and the Social. To what extent small information and communications technology tools and devices can be used for the renewal of entire neighbourhoods and the fight against criminality in cities, is demonstrated by Benedetta Marani in her article "All the Small Things". And since information and information technology is growing rapidly, as Nicholas de Monchaux puts it in his contribution "Local Code: Real Estates", where he points out that information is increasingly spatial, and, more than ever, urban in its origins and character, there is good news for the future of our cities. It turns out that "Small Urbanism" is most powerful when it is used as an urban renewal and redevelopment strategy, above all in the form of small-scale interventions. How such strategies can work is shown by James Longfield in his piece "Hobby Room: Spatial and Social Infrastructures for Collective Urban Space", where a series of small hobby rooms, designed for residents to pursue activities either individually or in groups, is inconspicuously knitted into the grain of the housing, as a new site for civic engagement and for the retention of the social ties of a close-knit working class community. Small-scale interventions can also be used as a design methodology on the urban fabric aiming at ripple effects and transformation of the larger urban organism, as Marco Casagrande proposes in his article "From Small Scale Interventions to the Third Generation City". Through his project in the city of Taipei he demonstrates how such interventions, while being in touch with site-specific local knowledge, are able successfully to produce small-scale, but ecologically and socially catalytic developments on the built human environment.
Bernd Upmeyer, Editor-in-Chief, October 2017

(Cover: Image is courtesy of Slinkachu. The image is part of his contribution "Little People" on page 65. ©Slinkachu)

Find out more about this issue on MONU's website.