15-04-19 // MONU #30 – LATE LIFE URBANISM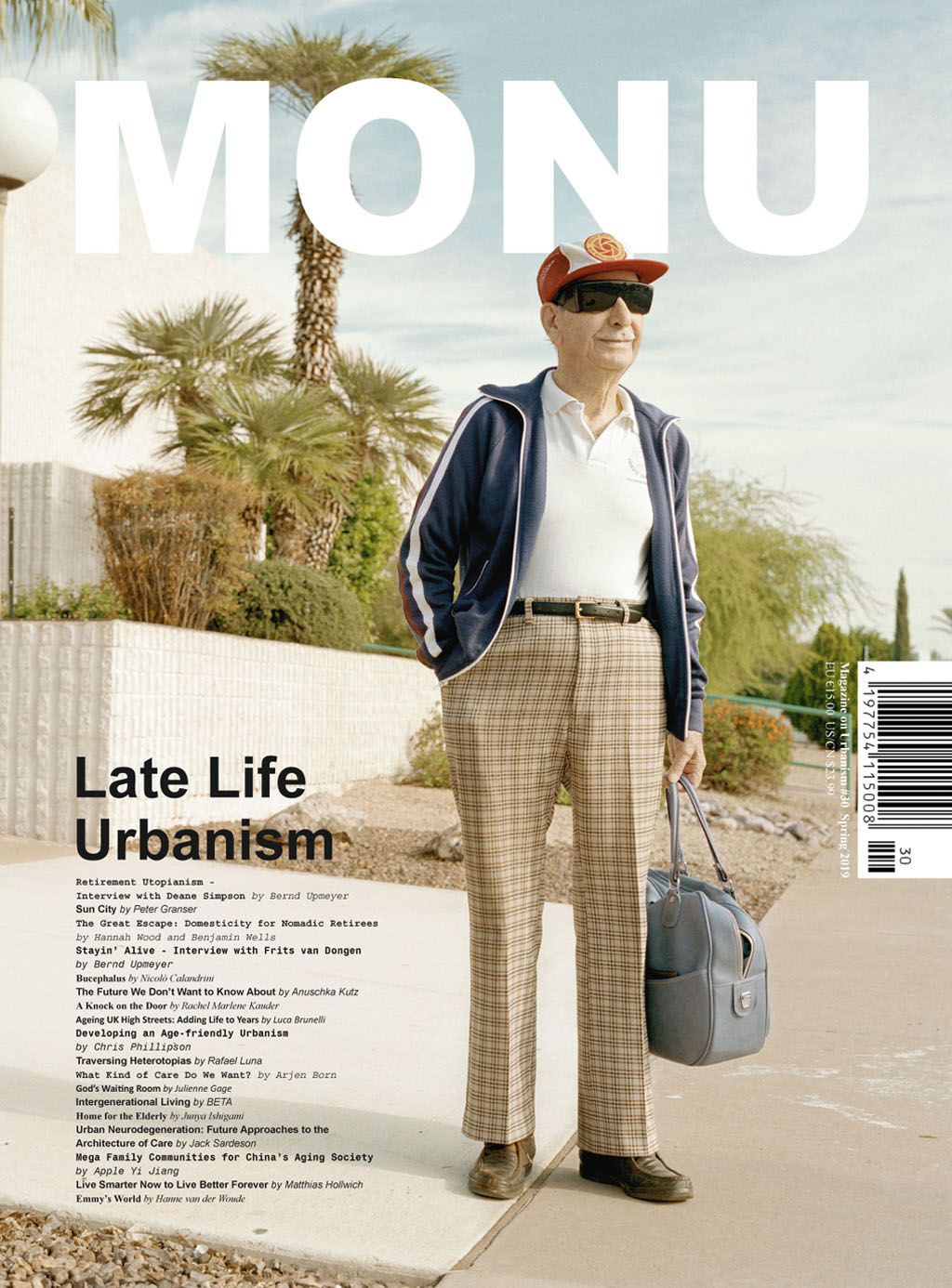 (browse the entire issue #30 on Youtube)
Retirement Utopianism – Interview with Deane Simpson by Bernd Upmeyer; Sun City by Peter Granser; The Great Escape: Domesticity for Nomadic Retirees by Hannah Wood and Benjamin Wells; Stayin' Alive – Interview with Frits van Dongen by Bernd Upmeyer; Bucephalus by Nicolò Calandrini; The Future We Don't Want to Know About by Anuschka Kutz; A Knock on the Door by Rachel Marlene Kauder; Ageing UK High Streets: Adding Life to Years by Luca Brunelli; Developing an Age-friendly Urbanism by Chris Phillipson; Traversing Heterotopias by Rafael Luna; What Kind of Care Do We Want? by Arjen Born; God's Waiting Room by Julienne Gage; Intergenerational Living by BETA; Home for the Elderly by Junya Ishigami; Urban Neurodegeneration: Future Approaches to the Architecture of Care by Jack Sardeson; Mega Family Communities for China's Aging Society by Apple Yi Jiang; Live Smarter Now to Live Better Forever by Matthias Hollwich; Emmy's World by Hanne van der Woude
When debating how architecture and cities will be impacted in the future by societies that become increasingly older due to declining fertility rates and rising life expectancy, a topic that we call "Late Life Urbanism", we have to consider the so-called "Young-Old", a new social group that emerged after the mid-point of the twentieth century, as one of the driving forces of the future, as Deane Simpson explains in an interview entitled "Retirement Utopianism". To him this social group is so important because the lifestyles of the people in this group – liberated from the responsibilities of work and childcare, liberated from the responsibilities of childhood, which involves education and socialization into society, and at the same time largely free from rapid physical and mental decline – correspond to a shift from an ethos of care to one of leisure and entertainment, producing new forms of architecture and urbanism. What such new forms can look like is depicted by the photographer Peter Granser in his photo-essay "Sun City" that portrays one of America's oldest and largest retirement communities in Arizona, where people are supposed to live an "active new way of life" instead of simply hanging up the briefcase and waiting to pass away. To what extent the growing network of young-olds are rejecting an 'aging in place', and a sedentary and formalized retirement, in favour of a life on the move, whether with recreational vehicles, cruise ships, or with the help of online home-rental platforms such as Airbnb, is explained by Hannah Wood and Benjamin Wells in their contribution "The Great Escape: Mobile Domesticity for Nomadic Retirees", in which they describe those retirees as pioneering and adventurous nomads. That people want to remain active and go on for as long as possible is argued by Frits van Dongen, the former Chief Government Architect of the Netherlands, who, after more than thirty years of experience and being in his early 70s, just recently opened a new office that he describes on his website as a "young Amsterdam-based office", in another interview called "Stayin' Alive". Of course, we all wish to live long lives, Anuschka Kutz agrees in her piece "The Future We Don't Want to Know About". But she points out that by creating categories such as the "Young-Old" or the "Third Age" – a period of largely comfortable and often 'successful' ageing – in which we are more or less fit to carry on with our lives as before – the 'fun phase of ageing' of 'never-ending holidays' – we have automatically generated a 'scary room' for those of high age, the "Old-Old" or the "Fourth Age", and for those who are prematurely incapacitated or frail and who suffer disability, bereavement, loneliness, and cognitive decline. To prepare our cities for the old-old, to create an age-friendly urbanism and re-shape urban society in ways that acknowledge the changes associated with ageing populations, the gerontologist Chris Phillipson suggests a range of interventions that he details in his article "Developing an Age-friendly Urbanism: Re-thinking the City for an Ageing Society". He urges us to re-think the way we both live and manage our urban environments and raises the following questions: do older people have a 'right' to a share of urban space? How can the resources of the city be best used to benefit the lives of older people? Is the idea of 'age-friendly' caring communities compatible with modern urbanisation? Furthermore, he emphasizes the importance of ensuring spatial justice for older people as a crucial part of the debate and to develop an integrated approach to demographic and urban change as a key task for research and public policy. According to Rafael Luna, technology will play a crucial role in improving the lives of older people in the future, referring to the case of the city of Seoul in South Korea. In his piece "Traversing Heterotopias" he points out that the future elderly will be a tech-savvy generation that, although it is impossible to estimate the complexities of future technologies, has already lived through the third industrial revolution of information technologies and is advancing the fourth revolution of mass customization, and artificial intelligence that gives rise to a cybernetic heterotopia for the elderly. Arjen Born provides with his photos in his contribution "What Kind of Care Do We Want?" some clues about what such a future – in which health care robots assist in the care for the elderly – might look like. However, the human touch and communal ways of life with a strong sense of camaraderie will remain relevant too when it comes to "Late Life Urbanism" as Julienne Gage argues in her article "God's Waiting Room", in which she introduces the case of Miami Beach, where handymen are resolving issues for old Cuban ladies, doing much more than unplugging their toilets or cleaning their windows. This is especially true for people with illnesses such as dementia who ideally live in an environment that is easy to distinguish, recognize, and remember. In order to produce such an environment Junya Ishigami, in his project "Home for the Elderly", extracted sections from wood-frame houses that are scheduled for demolition in various locations throughout Japan, transported them on trucks without dismantling them, and connected these into one new architectural structure to build a facility specifically for elderly people with dementia. That the role of design can indeed be at the vanguard, creating the right environment and the right support, is demonstrated by Matthias Hollwich in his piece "Live Smarter Now to Live Better Forever". If all of this is achieved, people do not need, despite their age, to lose their love of life and freedom and can maintain the zest for life and creativity in old age, as Hanne van der Woude displays beautifully in her series of photographs on "Emmy's World".
Bernd Upmeyer, Editor-in-Chief, April 2019
(Cover: Image is part of Peter Granser's contribution "Sun City" on page 14. ©Peter Granser/ from the book Sun City, published by Benteli)
Find out more about this issue on MONU's website.