19-10-20 // MONU #33 – PANDEMIC URBANISM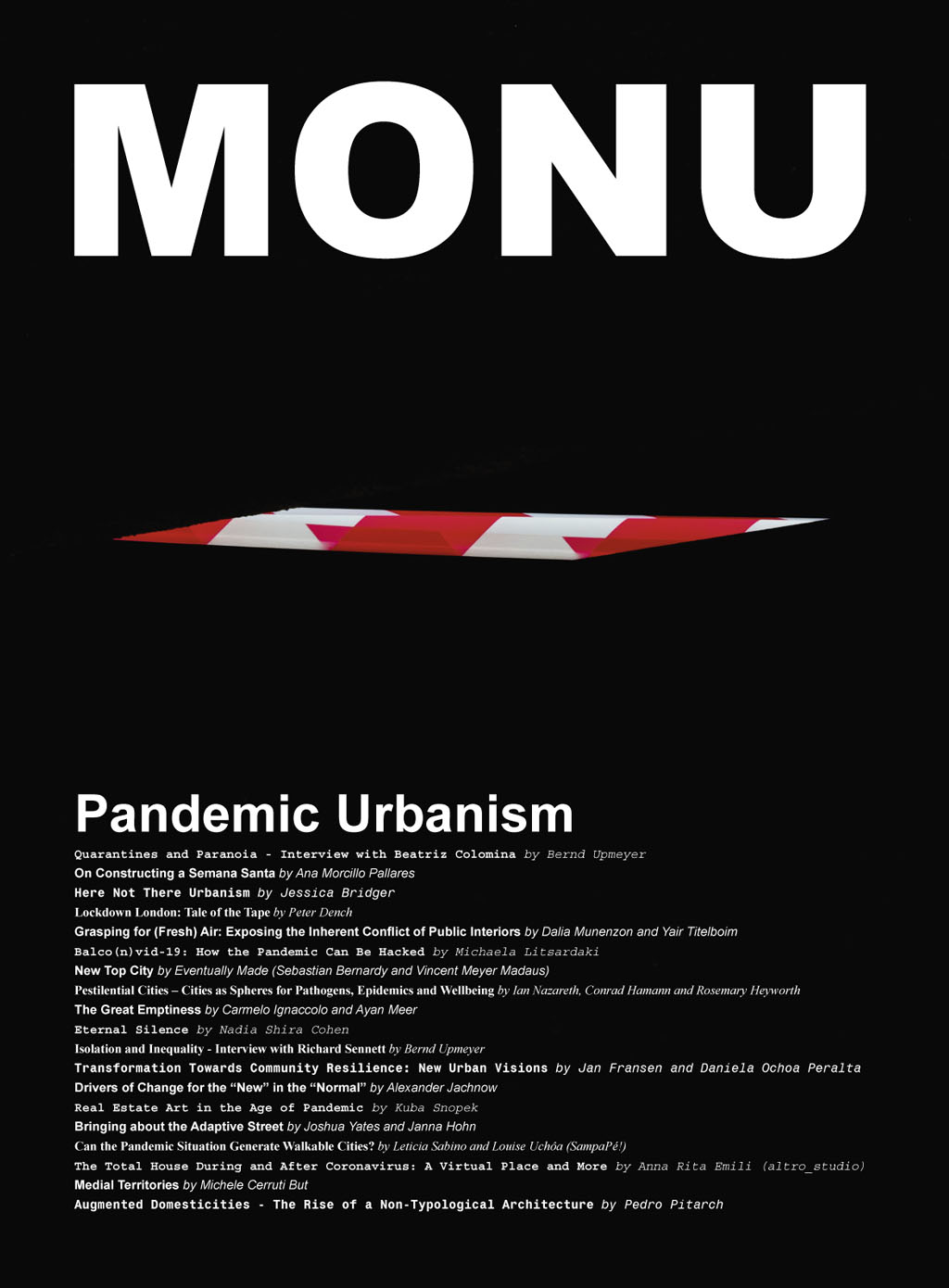 (browse the entire issue #33 on Youtube)
Quarantines and Paranoia – Interview with Beatriz Colomina by Bernd Upmeyer; On Constructing a Semana Santa by Ana Morcillo Pallares; Here Not There Urbanism by Jessica Bridger; Lockdown London: Tale of the Tape by Peter Dench; Grasping for (Fresh) Air: Exposing the Inherent Conflict of Public Interiors by Dalia Munenzon and Yair Titelboim; Balco(n)vid-19: How the Pandemic Can Be Hacked by Michaela Litsardaki; New Top City by Eventually Made (Sebastian Bernardy and Vincent Meyer Madaus); Pestilential Cities – Cities as Spheres for Pathogens, Epidemics and Wellbeing by Ian Nazareth, Conrad Hamann and Rosemary Heyworth; The Great Emptiness by Carmelo Ignaccolo and Ayan Meer; Eternal Silence by Nadia Shira Cohen; Isolation and Inequality – Interview with Richard Sennett by Bernd Upmeyer; Transformation Towards Community Resilience: New Urban Visions by Jan Fransen and Daniela Ochoa Peralta; Drivers of Change for the "New" in the "Normal" by Alexander Jachnow; Real Estate Art in the Age of Pandemic by Kuba Snopek; Bringing about the Adaptive Street by Joshua Yates and Janna Hohn; Can the Pandemic Situation Generate Walkable Cities? by Leticia Sabino and Louise Uchôa (SampaPé!); The Total House During and After Coronavirus: A Virtual Place and More by Anna Rita Emili (altro_studio); Medial Territories by Michele Cerruti But; Augmented Domesticities – The Rise of a Non-Typological Architecture by Pedro Pitarch
One of the most important influences of the current global coronavirus pandemic on cities might be the fact that it has made the invisible city visible: the enormous economic inequities and unequal access to healthcare and to education, as Beatriz Colomina points out in our conversation with her on "Quarantines and Paranoia". She further states that the pandemic surely influenced our perception of cities, especially when during the lockdown there was less traffic and the urban background became much more visible which allowed the buildings to appear in a completely new way, beautifully and with so much previously unnoticed details. The entire city was looking very different. The bustle, the scene, the very vibe itself nearly vanished overnight in nearly every city as Jessica Bridger depicts the change in her contribution "Here Not There Urbanism", explaining that suddenly people could recognise all of the grocery store employees, where before city blindness had rendered them anonymous. According to her, Covid-19 uncloaked the urban invisible just as it put down 2-meter distance markers on sidewalks, subway platforms, and shop-floors. Peter Dench recognised a similar effect in central London's red-and-white-striped hazard tape – draped across park benches, wrapped around exercise equipment, adorning statues and forming screens to protect bus drivers – showing the familiar in the city in a different way in his photo-essay "Lockdown London: Tale of the Tape". In their article "The Great Emptiness" Carmelo Ignaccolo and Ayan Meer point out that in the urban silence of Rome, the only sound perceived at the Trevi Fountain was its own cascading water, arguing that with global travel restrictions put in place to curtail the coronavirus pandemic, tourists have become the first pandemic-induced extinct species bringing the tourism industry to a complete halt. How cities will get on without tourism is a question also raised by Richard Sennett during our interview with him entitled "Isolation and Inequality". According to him one permanent impact of the pandemic will be economic, which will become especially obvious in big cities. He further believes that to deal with crises such as the current pandemic, we need to create more flexible urban environments with decentralised nodes of concentration that can be reached within fifteen minutes. In relation to this Alexander Jachnow reintroduces the idea of the pocket city into the discussion, given the apparent advantages of such a layout: small, walkable neighbourhoods are more introverted, hence less connected and less vulnerable to the spread of disease. However, although such possibilities of responsive planning patterns are undisputed, he considers their implementation rather unlikely expecting little change in the creation of cities due to the pandemic as he argues in his piece "Drivers of Change for the "New" in the "Normal"". Nevertheless, for Joshua Yates and Janna Hohn the Covid-19 Crisis provides an opportunity to fundamentally change urban street-spaces as parts of a liveable, resilient city, which has so far taken the form of temporary ad-hoc measures, but these same measures might have the potential to develop into a form of 'tactical urbanism' for long-term change, as they explain in their article "Bringing about the Adaptive Street". Other changes might be triggered by technology. In her piece "The Total House during and after Coronavirus: A Virtual Place and More" Anna Rita Emili states that the catastrophe generated by Covid-19 has actually accelerated the globalisation of virtual intelligence, and that in the era of the Internet the meaning of our world increasingly requires the use of tools, platforms, and infrastructures linked to the Internet. This phenomenon does actually lead to a transformation of social relationships into virtual entities, but does not drag the individual towards isolation. Yet, Sennett sees social isolation increasing – another important effect of the pandemic. In relation to virtual spaces Pedro Pitarch emphasises in "Augmented Domesticities: The Rise of a Non-Typological Architecture" that while work and home have been opposite spheres in modern life, in the contemporary city – and due to the Covid-19 Crisis – digital technologies have generated a medium that constantly mediates between both, establishing much more complex situations and conditions where new 'publicness' is achieved and performed. Living-rooms become offices, garages function as DIY industries, bedrooms perform as TV sets, corridors as gyms, kitchens as playgrounds, and balconies as plazas. Colomina, too, believes that the fact that we are doing so many more things from home than previously, which might continue after the crisis, will have huge consequences for our cities. It may even put an end to the division between the "city of rest" and the "city of work" which only emerged with industrialisation. In particular – because people increasingly work from home – this will create a significant transformation in the ways we live and might make the idea of big office towers and the city of business obsolete, which means that we have to think the city differently. Nonetheless, Jachnow reminds us that cities are complex adaptive systems, capable of producing solutions to the challenges they face and that we should be confident that through responsible collective behaviour of individuals we will overcome not only the threats of the pandemic, but find ways to better deal with the current distressing precautions. And if it could be coupled, as Bridger demands, with the urgently needed responses to the coming climate crisis – for her the crisis to end all crises – then Covid-19 will provide more than a silver lining. It will be the foundation for a new kind of shining, silver city upon a hill.
Bernd Upmeyer, Editor-in-Chief, October 2020

(Cover: Image is part of Peter Dench's contribution "Lockdown London: Tale of the Tape" on page 27. ©Peter Dench)
Find out more about this issue on MONU's website.