07-02-22 // EXHIBITION OF ARCHITECTURAL THEORY SEMINAR "UNFINISHED URBANISM"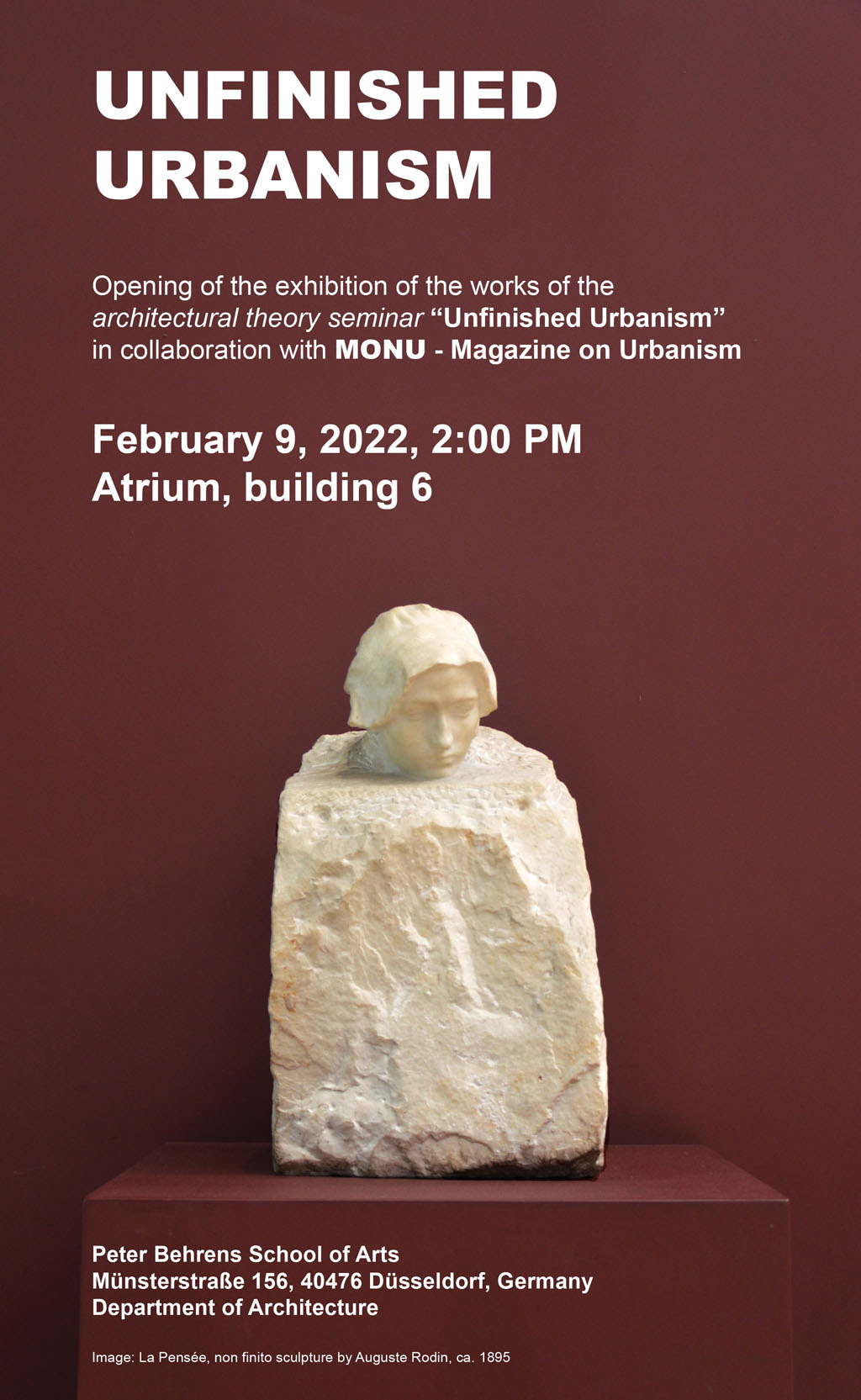 On Wednesday, February 9 at 2:00 PM the exhibition of the works of the architectural theory seminar "Unfinished Urbanism" of Bernd Upmeyer at the Peter Behrens School of Arts (atrium, building 6) will be opened.
As rich and broad "unfinishedness" is applied and discussed in the world of art, music, and fashion, Upmeyer and the students of the seminar tried to examine the "unfinished" in architecture and urbanism in the winter term 2021/2022 at the Peter Behrens School of Arts. One of the most famous unfinished architectural structures is possibly Antoni Gaudí's Sagrada Família in Barcelona that has been under construction for around 140 years. Even with portions of the basilica incomplete to this day, it is still the most popular tourist destination in Spain with millions of visitors every year and one might wonder whether it is the "unfinishedness" of the building or the building itself that attracts that many people.
Since an important aspect of "Unfinished Urbanism" can be found in buildings themselves, the research in the seminar was focused on unfinished buildings. Accordingly, 25 unfinished buildings can be seen in the exhibition, which were found and examined by the participants of the seminar worldwide and on 6 continents. One goal of the seminar was therefore to find out how "Unfinished Urbanism" could be defined when investigating unfinished buildings.
The topic of the architecture theory seminar "Unfinished Urbanism" is based on the upcoming topic of MONU with the same title.
Location of the exhibition opening:
Peter Behrens School of Arts
Department of Architecture
Münsterstraße 156
40476 Düsseldorf
Germany