25-08-09 // MONU #11 – CLEAN URBANISM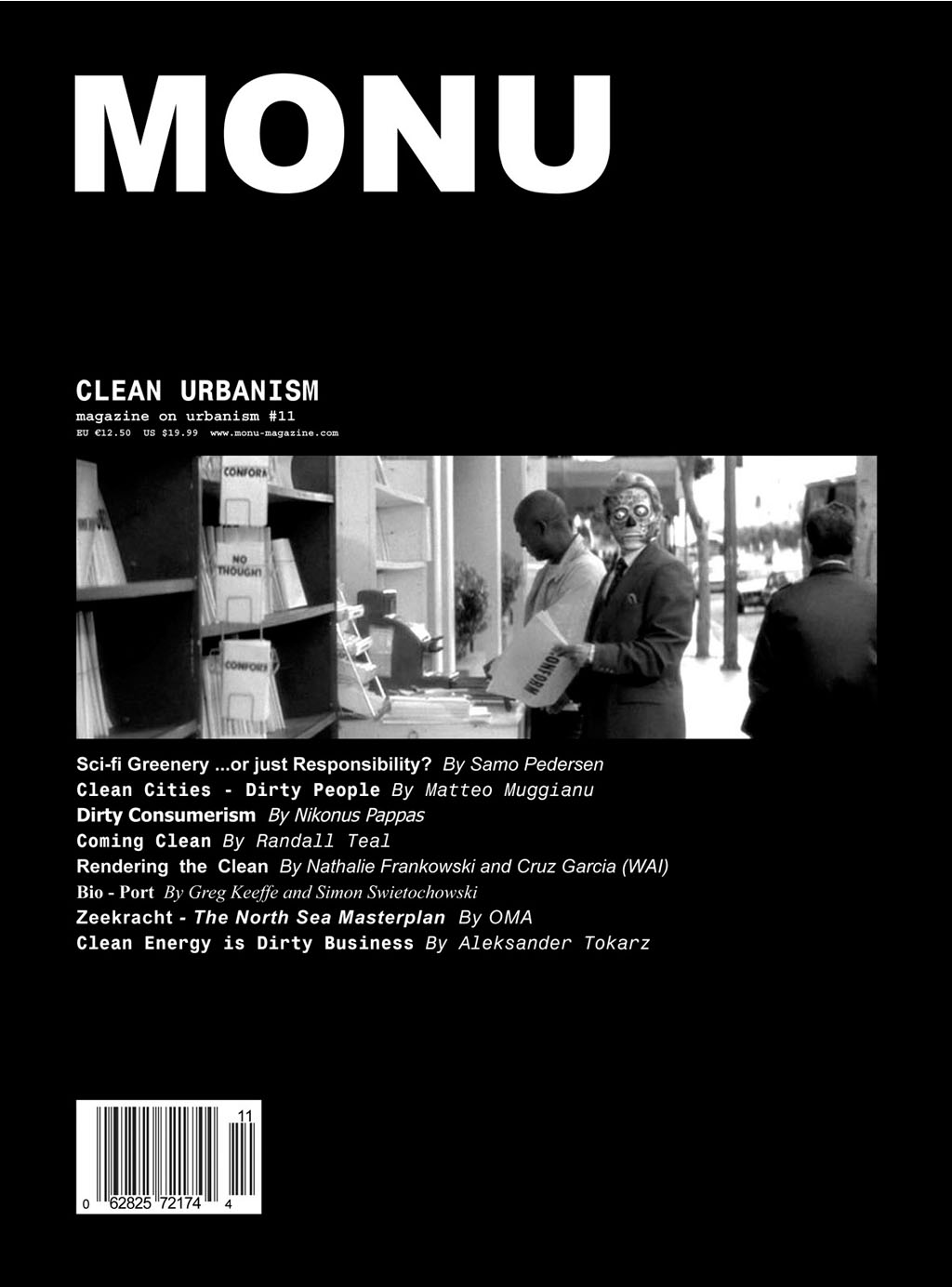 (browse the entire issue #11 on Youtube)
Sci-fi Greenery …or just Responsibility? By Samo Pedersen; Clean Cities – Dirty People By Matteo Muggianu; Dirty Consumerism By Nikonus Pappas; Coming Clean By Randall Teal ; Domes over Manhattan – Interview with Gerd Hauser By Bernd Upmeyer; Rendering the Clean By Nathalie Frankowski and Cruz Garcia (WAI); The Mobile Library Unit By John Southern; Where the Grass Is Greener By Tomorrow'sThoughtsToday; Clean around the Edges By Lee Altman; Bio – Port By Greg Keeffe and Simon Swietochowski; Zeekracht – The North Sea Masterplan By OMA; Scarcity: Bipolar Urbanism in the Sonoran Desert By Felipe Correa; Regenerative Ecologies By Claudio Astudillo Barra; Clean Energy is Dirty Business By Aleksander Tokarz; Dystopic Verdure By Jacob Ross Boswell; How to Win Poetic Praise and Influence Architects By Amanda Webb; The Cooperative City By Rogier van den Berg; Mania By Bryan Norwood and the Jackson Community Design Center
Do we simply have to stop having sex to produce Clean Urbanism – i.e. an urbanism that is dedicated to minimizing both the required inputs of energy, water, and food for a city as well as its waste output of heat, air pollution as CO2, methan, and water pollution, Samo Pedersen asks in his piece "Sci-fi greenery..or just Responsibility?". In fact Randall Teal sees the growing world population frequently ignored in discussions on sustainability, as he points out in his article "Coming Clean: Owning Up to the Real Demands of a Sustainable Existence". Fewer people spend less energy, and as the gas and oil supply will come to an end sooner or later, saving energy may be a cheaper and smarter solution for cities than depending on renewable energies, as Gerd Hauser, one of the leading researchers on the implementation of the EU Directive on Energy Performance of Buildings, explains in an interview with us, entitled "Domes over Manhatten". Although sustainability has recently become a cache misère for our lack of intent, a trendy make-up hiding our incompetence, with Clean Urbanism being its apotheosis as Nathalie Frankowski and Cruz Garcia (WAI) maintain in their contribution "Rendering the Clean", energy self-sufficient cities are technically possible as Gerd Hauser states and explains using a five-point manifesto. Greg Keeffe and Simon Swietochowski support that view by introducing their "Bio-Port" project, a vision of a "Free Energy City" set in Liverpool, where the old dockyards have been transformed into bio-productive algae farms. Furthermore, the Office of Metropolitan Architecture (OMA) illustrates in its project "Zeekracht – The North Sea Masterplan" how wind farms could be clustered along an Energy Super-Ring in the North Sea, distributing national surpluses and supplying regional energy needs efficiently and profitably. On the other hand, Clean Urbanism cannot only be understood from a purely technocratic perspective, but also needs a social one as Claudio Astudillo Barra articulates in his article "Regenerative Ecologies – A Prototypical Approach to the Territory", introducing Felix Guattari's ideas of ecosophy. On such social aspects Rogier van den Berg focuses in his piece on "The Cooperative City", where a community is created that triggers individual initiative and the cooperation of its users to generate collective values. The Cooperative City requires a flexible plan with an open end that is only guided by one set of rules, described by Bryan Norwood and the Jackson Community Center as "Mania: An Emergent Sustainability of Density and Intensity", created by the disorganized, hyperactivity of an actualized system with no specified, singular goal, a bottom-up phenomenon that emerges from the individual events of architecture within the city, combined with the ideology of urbanism conceived as anti-capitalism and anti-homogenization. It is mania, and mania is clean.
(Bernd Upmeyer, Editor-in-Chief, August 2009)
Find out more about this issue on MONU's website.