11-03-10 // MONU #12 – REAL URBANISM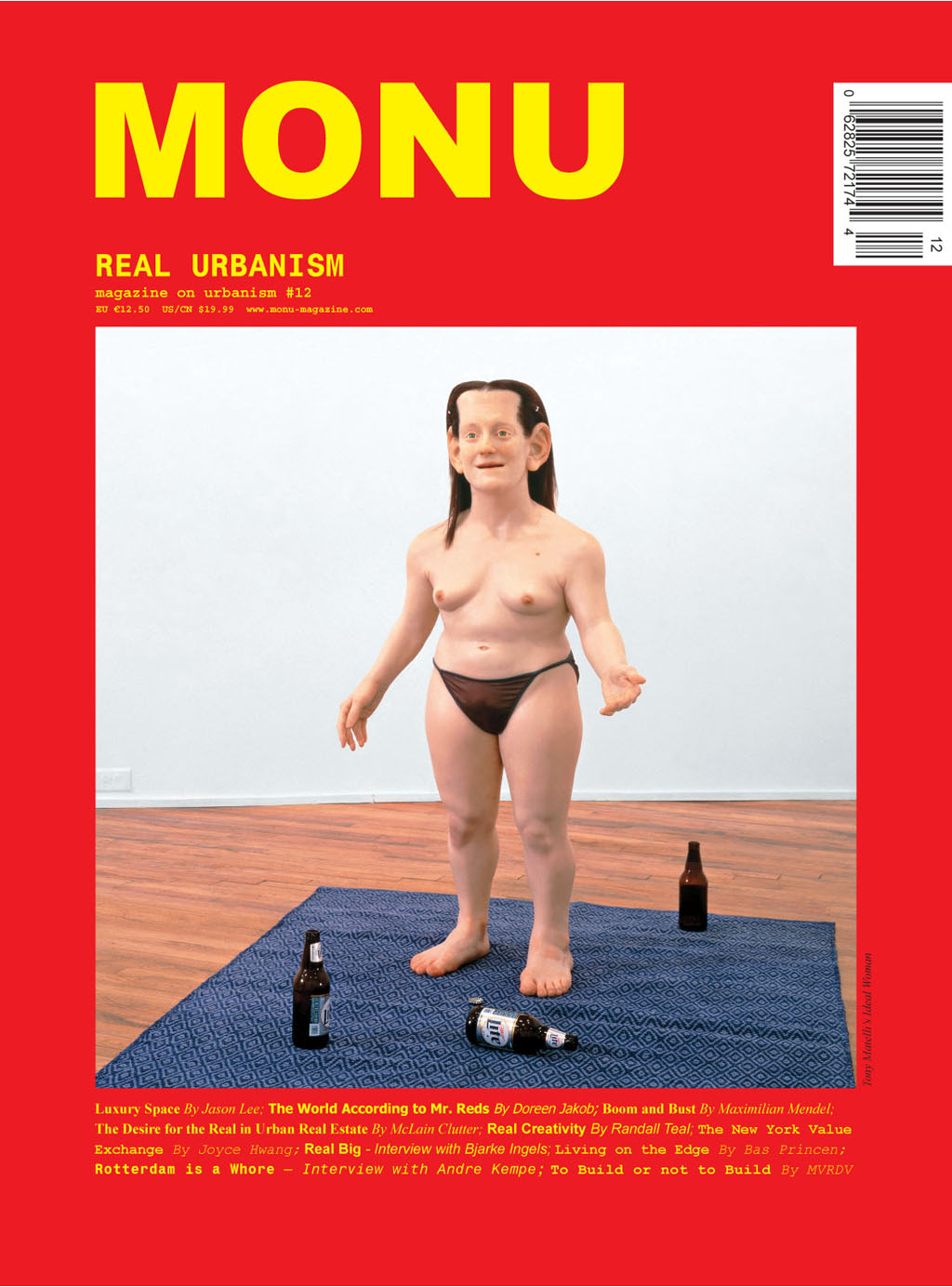 (browse the entire issue #12 on Youtube)
Luxury Space By Jason Lee; The World According to Mr. Reds By Doreen Jakob; The Shelter Category By Mammoth (Stephen Becker and Rob Holmes); How the City of Broad Shoulders Bought its Growth Spurt By Karl Johann Hakken; Residential Developers and Investors in Central Europe: Boom and Bust By Maximilian Mendel; Pyongyang in a New Era By Yim Dongwoo; Casino City State By Rustam Mehta and Thomas Moran; Solidere, Inc., or Downtown Beirut By Carol Moukheiber; Real High – The Desire for the Real in Urban Real Estate By McLain Clutter; Real Creativity: A Case for Ethical Freedom in Architecture By Randall Teal; Life without Architects – Interview with Magriet Smit By Bernd Upmeyer; The New York Value Exchange By Joyce Hwang; Real Big – Interview with Bjarke Ingels By Beatriz Ramo; Magic Realism – A New Skyline for Rome By Simone De Iacobis; Business Park De Hoef Revisited 1998-2008 By Arjan Harbers (Topotronic); Brand New Landlords By Daan Roggeveen and Michiel Hulshof; Market Value(s) By STAR; Living on the Edge By Bas Princen; Why should a Developer read Aristotle By Marta Relats; Unbuilt Rotterdam By ZUS [Zones Urbaines Sensibles]; Rotterdam is a Whore – Interview with Andre Kempe By Beatriz Ramo and Bernd Upmeyer; To Build or not to Build By MVRDV
Just like the "Ideal Woman" on the cover of this issue on Real Urbanism – a sculpture by the Brooklyn based artist Tony Matelli – most of our cities are shaped by a particular set of values that does not necessarily lead to high quality urban spaces, but instead to scary, ethically unacceptable and distorted forms. As the "Ideal Woman", so "Ideal Cities" can easily end up only fulfilling the wishes and dreams of a powerful minority, but neglect the needs of most of the other people. Jason Lee, one of the contributors to this issue, that deals more with "Real Estate" Urbanism rather than with Actual or Factual Urbanism, uses this sculpture in his article "Luxury Space" to display the consequences that can occur when a financially powerful elite develops real estate projects in the city of Shanghai merely to accommodate their consumerist desires. Cities have been reduced to machines for making and spending money as Stephen Becker and Rob Holmes put it in their piece "The Shelter Category". Especially in Central European countries, where two decades ago the state-controlled economy changed into a market-economy, developers are driven by pure profit rather than by a genuine desire or even awareness of sustainable neighbourhoods and city development as Maximilian Mendel describes in his text "Residential Developers and Investors in Central Europe: Boom and Bust". But blaming only the financial elites and the real estate industry for the prevailing urbanism of mediocrity would be too easy. For successful urban planning, cities depend on private financing as Carol Moukheiber points out in her contribution "Solidere, Inc., or Downtown Beirut", where a productive collaboration between a corporate and a cooperative party led – although heavily criticised and carried out in a kind of pseudo democratic Berlusconian way – to prosperous results. In the case of Rotterdam, where the municipality actually cares very little about the city, real estate developers seem to be even more concerned about the quality of urban spaces than the city itself, as stated by Andre Kempe in an interview with us entitled "Rotterdam is a Whore". To halt the process by which the built-up form of our cities continues to be mainly driven by practical concerns such as efficiency, profit, and self-promotion, Randall Teal proposes in his piece "Real Creativity: A Case for Ethical Freedom in Architecture" that architects should become developers themselves. But how many architects would be able and interested in doing that? Magriet Smit, a Rotterdam based real estate developer, explains in the interview "Life without Architects" that she actually tries more and more to avoid working with planners and rather collaborates directly with construction companies as they share a greater understanding of their profession. But to prevent our cities from turning into monstrous "Ideal Cities", as perverted as the "Ideal Woman", all the parties involved that are shaping the cities – the developers, the municipalities and the planners – have to accept their interdependencies, and have to try to understand the different interests of each party and have to dare to navigate into unknown territory as Bjarke Ingels concludes in an interview with us entitled "Real Big".
(Bernd Upmeyer, Editor-in-Chief, March 2010)
Find out more about this issue on MONU's website.