01-02-16 // LAGOON BREITENBRUNN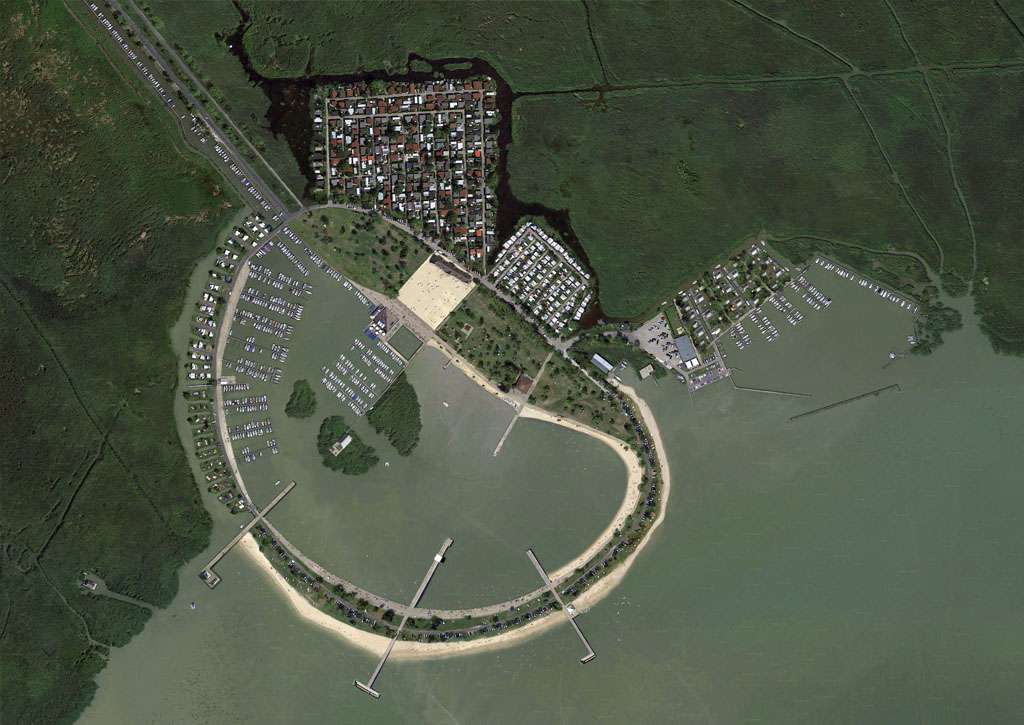 Aerial view of the lagoon
Lagoon
To increase the attractiveness of the seaside resort of Breitenbrunn at the Lake Neusiedl in Austria, we propose to expand the existing identity-creating beach in such a way that it creates a lagoon. Around this lagoon all functions will be organized.
Recognition
With a lagoon the resort will exploit its outstanding natural potential, obtaining a stronger identity on the shores of Lake Neusiedl. Due to the clearer shape, the seaside resort will be more recognizable among the other lake baths, which is necessary for its successful future.
Paths
In addition to a new boardwalk, we propose a new bike path around the lagoon as well, which will connect directly to several biking paths around Lake Neusiedl. The remaining bicycle ferry Breitenbrunn-Podersdorf will allow additionally shorter cycle trips around the lake.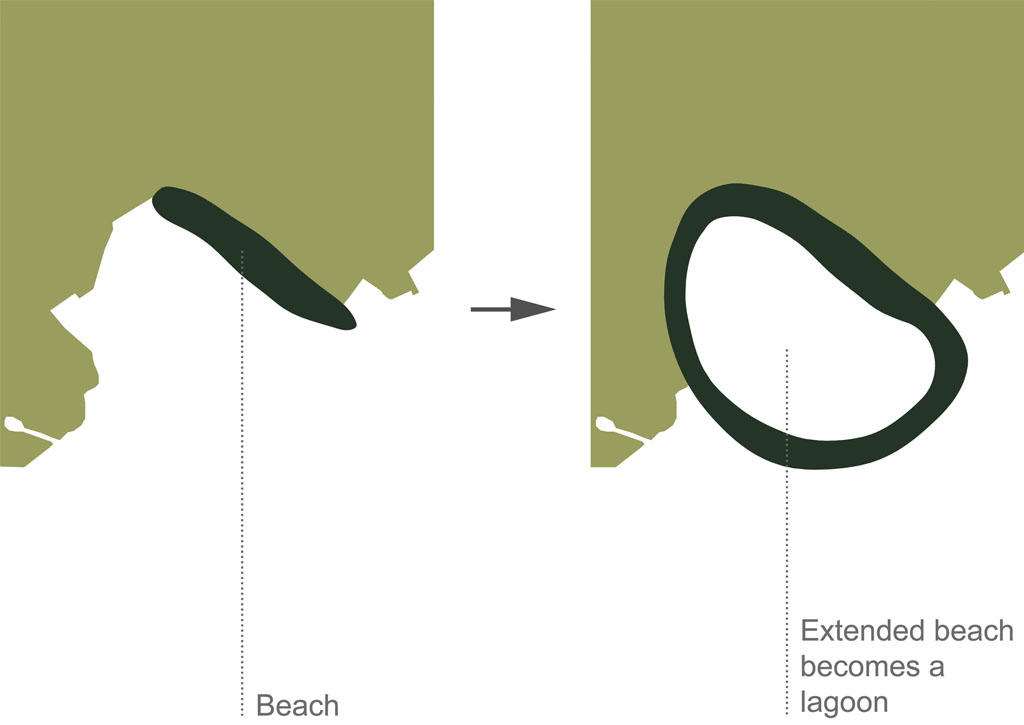 Extension of the beach of the resort to form a lagoon
Synergies
With the help of the lagoon, the resort could be restructured by organizing all of its functions around it. This creates synergies among the functions and allows it to add easily further functions in the future.
Zoning
The existing wooden bridges already divide the seaside resort into different zones. We want to make use of this space-building capability and propose to add more wooden bridges to the seaside resort to divide the entire area into clear zones. In this way, zones can be created that offer spaces for, for example, camping buses or for guests with dogs.
Feasibility
In order to make our proposal feasible and economically sustainable, we propose a development in phases, where each phase may also be the end result. In the beginning the development could focus, for example, only on the creation of the new centre of the seaside resort with the marina building.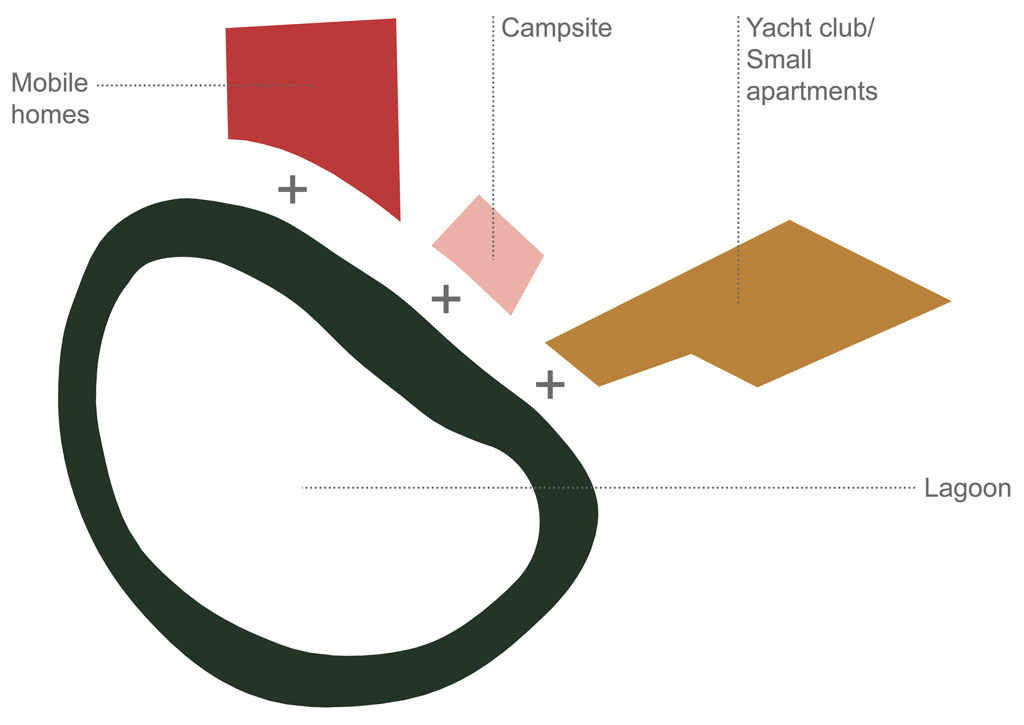 With the help of the lagoon, the resort could be restructured by organizing all of its functions around it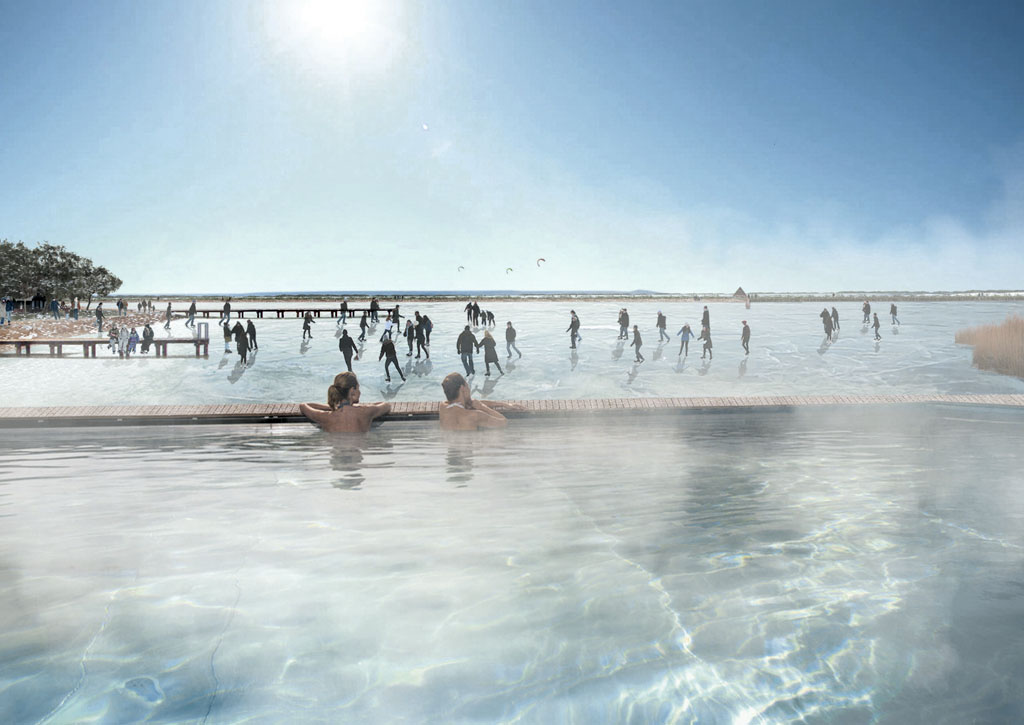 View from the terrace of the new Marina building onto the heated pool and the lake in winter
Year-round operation
To ensure an all-year operation of the seaside resort in the future, we propose to create around the lagoon and along the boardwalk a multi-functional range of facilities, including cafés, for leisure and recreational activities.
Mobility
To create short distances to the beach, we propose parking for bikes, as well as for cars, all around the lagoon and along the loop road. Additionally a small shuttle bus will be used to transport the non-motorized guests around the lagoon.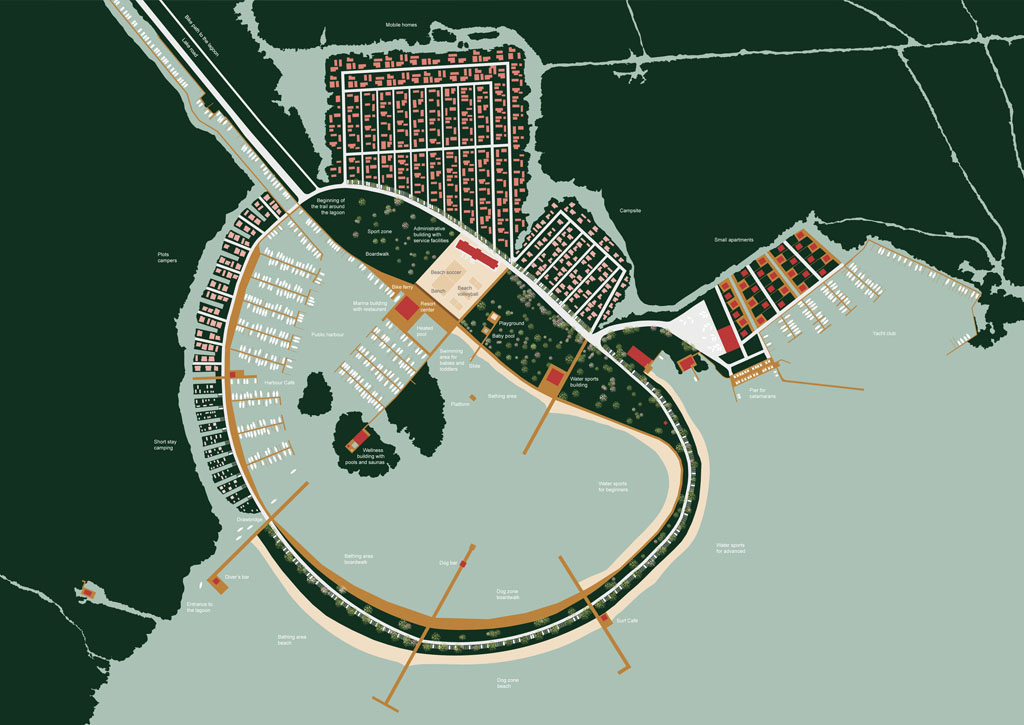 Master plan showing the distribution of the functions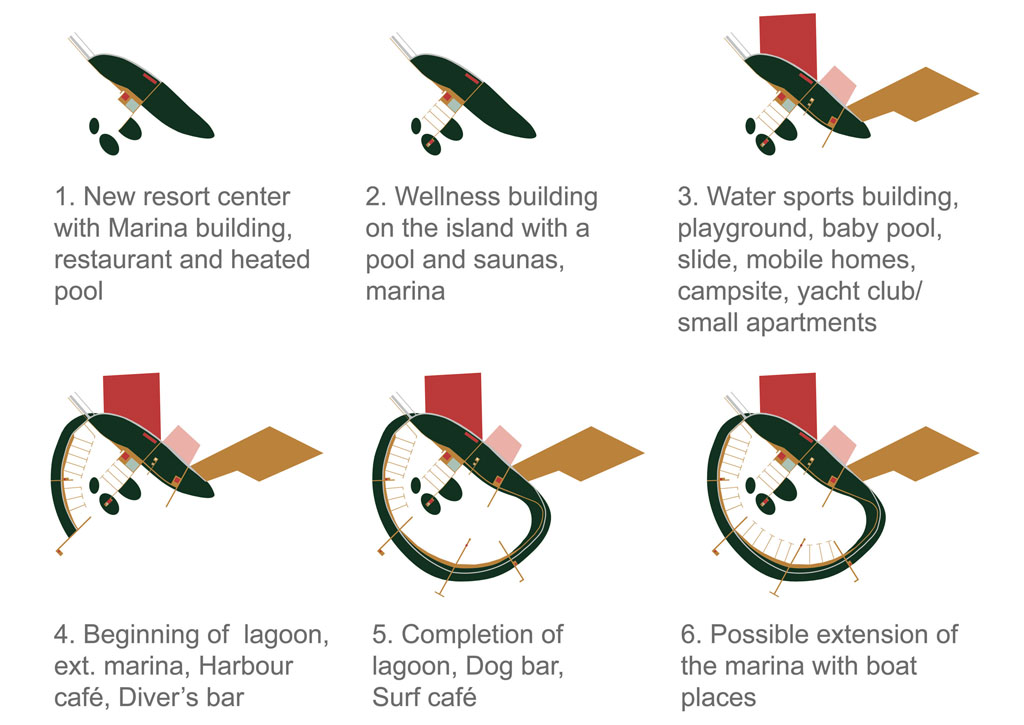 In order to make our proposal feasible and economically sustainable, we propose a development in phases, where each phase may also be the end result
Title: Lagoon Breitenbrunn
Project: Masterplan and redesign of a tourist resort at Lake Neusiedl, Austria
Date: January 2016
Type: Open 2-Phase Urban Design Competition
Organizer: Knollconsult Umweltplanung ZT GmbH
Participants: 48
Location: Lake Neusiedl, Austria
Site: Breitenbrunn, State of Burgenland, Austria
Programme: Sea resort
Surface: 182,000 m²
Status: Competition
Client: F. E. Family Private Foundation, Eisenstadt
Team: Bernd Upmeyer, Efrain Perez del Barrio, Filippo Foschi