29-06-16 // ONE FOR ALL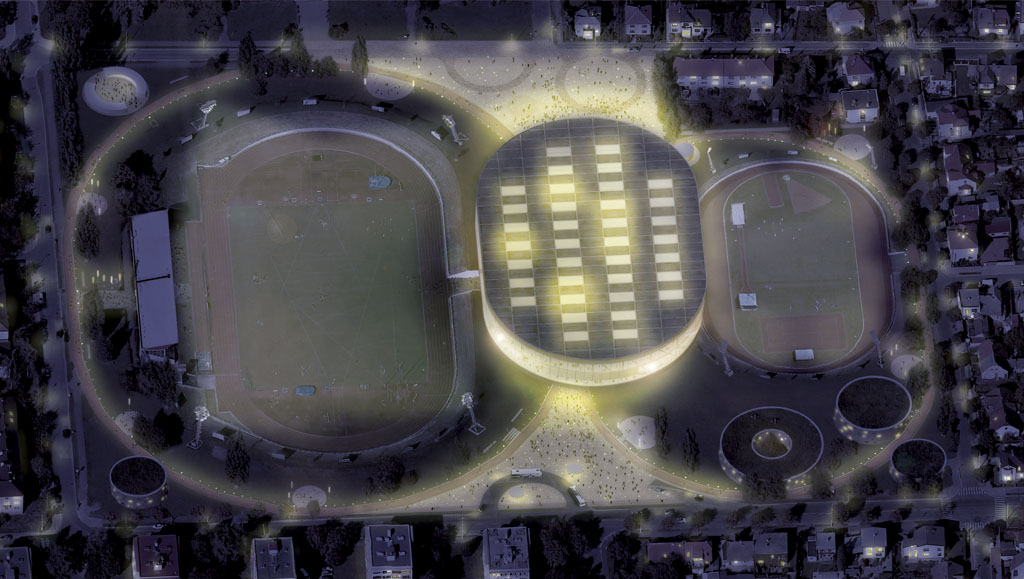 Aerial view of the entire complex in the evening
To open up the Dukla sports complex to the inhabitants of Pardubice and connect it stronger to its immediate surroundings, we propose to create an irregularly shaped multipurpose running circuit in the shape of an 8 that connects directly to the pedestrian path of the perimeter and organizes and restructures the entire site. Additionally paths and public spaces are created that make the crossing of the site in all directions possible.


Where all the paths are crossing, we place a new multipurpose athletics hall
Multipurpose Athletics Hall
Where all the paths are crossing, we place the new athletics hall. This hall will be very flexible and can be used as well as a multipurpose hall, a covered sports field, a gymnastics hall, and for sport wrestling. The compactness of the hall and its central position, which will create short distances on the site, will create a sustainable building when it comes to energy consumption. Next to the hall in the east, we propose a multipurpose outdoor sports ground with space for a hurling ground, a 300m run. track, outdoor multip. playing fields and a temp. beach volleyball court.
Accessibility
In order to make it possible that the sports complex can be crossed as easily as possible, we propose to place the new hall 5 meters above the ground creating a central square under it. To achieve that, the building will be constructed by a system of rigid frames of steel trusses. Due to its glass facade, the new building will offer high quality public areas on the perimeter of its main floor, from where the entire complex and events can be watched.


East West section of the area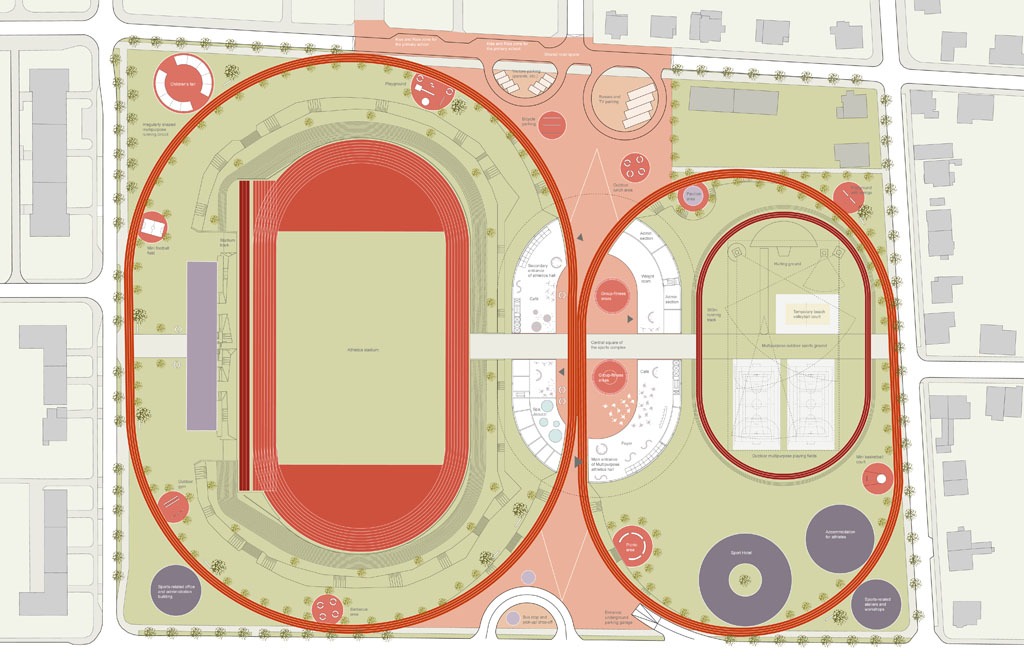 Ground floor of the multipurpose athletics hall with its surroundings
Flexible Hall
The main floor of the new multipurpose athletics hall will be organized in a very simple way: it follows the shape of a 200m athletic oval and includes additionally an infrastructural ring, where all the facilities, such as the changing rooms, lockers, etc, but also 2 large storage spaces for temporary seating areas for 2500 spectators, are accommodated. Without any permanent seating, the hall will be extremely flexible and can accommodate all kinds of sports events and even several different events, both, indoor and outdoor, at the same time.
Landscape
The irregularly shaped circuit will have a surface that will work not only for running, but as well for cycling, inline skating, walking, etc. It has to be understood as a path in a park that will define the landscape of the site. Because not only trees will be placed along this circuit, but many other small areas for a variety of leisure activities as well, such as outdoor gyms, picnic areas or playgrounds for children. The circuit shapes also the public space in the north that extends up to the Staňkova Primary School creating a shared space with K+R zones.


Landscape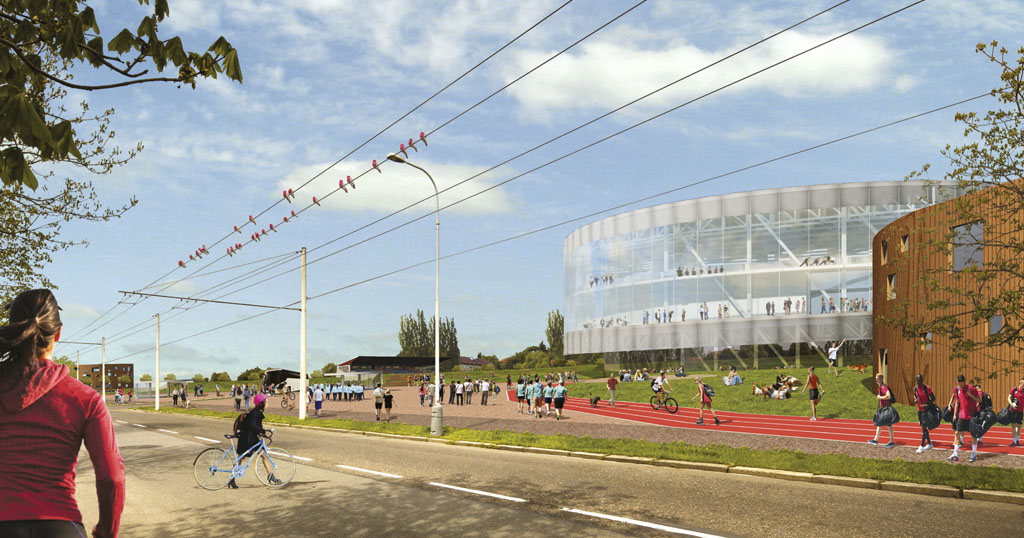 View of the new main entrance at ul. Demokr. mládeže with the new multipurpose athletic hall in the background


Without any permanent seating, the hall will be extremely flexible
Title: One for All
Project: Sports complex Dukla of Sports
Date: June 2016
Type: Open 2-Phase Architecture Design Competition
Organizer: Chief City Architect Department Pardubice
Participants: 20
Location: Pardubice, Czech Republic
Site: City athletics stadium "Dukla", Pardubice
Programme: Sports complex
Surface: 85,000 m²
Status: Competition
Clients: City of Pardubice
Team: Bernd Upmeyer, Filippo Foschi, Efrain Perez del Barrio