20-01-14 // SEARCHING FOR THE HIDDEN URBAN TRUTHS – INTERVIEW WITH BERND UPMEYER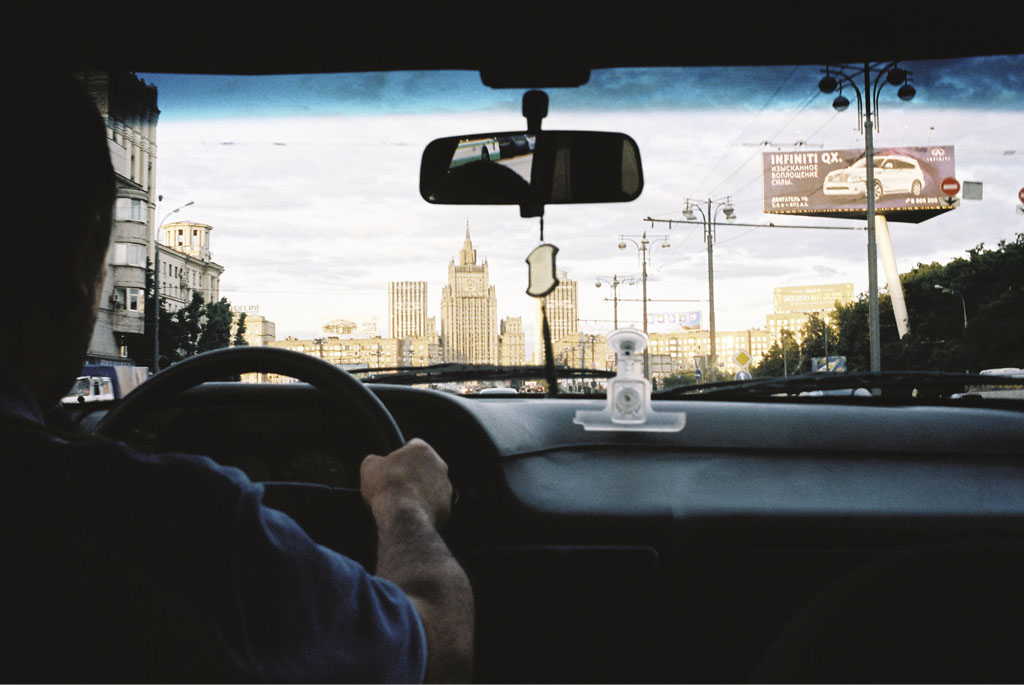 Image of Flavien Menu´s contribution "From the Kremlin to Dachas" to MONU #19: View from Kaluzhskaya Road in Moscow, Russia
Searching for the Hidden Urban Truths – Interview with Bernd Upmeyer
MILK X: How did you come up with the name for the magazine?
Bernd Upmeyer: At the beginning we had several ideas for the name. But as the magazine was originally conceived as a way to keep in touch and to continue the debates that I and a student colleague of mine had during our studies – in which the urban scale had always been the basis and common ground of all our discussions – the term "urbanism" came up, which eventually led to the simple title "Magazine ON Urbanism" and its acronym "MONU". We also felt that in an increasingly globalized world, topics such as architecture should be discussed as part of a wider and more complex field – that of urbanism.
MILK X: When was the 1st issue published? How long did it take from you to go from nothing to printing?
BU: I graduated from the faculty of architecture in 2002 and MONU's first issue was published in June 2004, almost ten years ago. As the magazine appears twice per year the 20th issue will be released in April 2014. But it took around one year from the first ideas to the printing of issue #1 entitled "Paid Urbanism" which investigated how cities are shaped by government spending and how a Kafkaesque web of bureaucracies constantly recreates and resuscitates our urban landscapes. So the first ideas were created in spring 2003 and later manifested during a trip to New York in summer 2003.

MILK X: How do you start producing an issue of your magazine?
BU: I usually start every new issue with an idea about one particular urban phenomenon that – in most cases – I had experienced personally and that is then captured in a short essay that later defines the text of an "open call for submissions". In that way the themes are the product of personal reflections and experiences but also to a certain extent related to specific contemporary or historical events. Once this "call for submissions" is released, people can submit abstracts and ideas for a contribution. The most relevant and interesting submissions will be selected and will be published in the printed magazine.

MILK X: What kind of magazine do you want to make?
BU: What interests me the most is the creation of an extremely open magazine that stimulates new ideas and fearless, fresh thinking. It should open new perspectives about architecture and cities that eventually should lead to a better understanding of what cities are made of and ultimately improve our living conditions within them. To stimulate all of that, I believe, the device of open calls works very well. With every new issue of MONU I am always fascinated with the diversity of the articles, images, concepts, projects and urban critiques that come in from writers, architects, and urbanists from all over the world in our mailbox.
MILK X: Which magazine is your favorite?
BU: I must admit that I am not a person that reads a lot of magazines. I prefer to read daily and weekly newspapers. I am subscribed to several. I am, for example, a huge fan of The Economist and appreciate their very smart yet easy to read journalism. Although I don't appreciate their editorial anonymity leading to the fact that articles almost never carry a byline of the author, which is an important thing for me, for MONU, and the reason why we always print bylines identifying and describing the authors of contributions to emphasize transparency, the individual voice, and the diversity in perspectives and viewpoints.
MILK X: Do you have any favorite editor/art director/photographer/stylist?
BU: I appreciate, for example, the work of the photographer Thomas Ruff. Two years ago he contributed to MONU's issue #15 that dealt with the topic of "Post-Ideological Urbanism" with a fascinating "Nacht Series" for which he photographed parts of cities with a night-vision, infrared technology device that made them look like suspicious territories where hypocrisy and fakery prevail when it comes to urban ideologies. The topic of Post-Ideological Urbanism probably touched on one of the most challenging and biggest issues of our time and in our culture, or what is left of it: the non-ideological – or better post-ideological – conditions of our society when it comes to cities.
MILK X: What kind of message do you want to share with your readers?
BU: What is important to understand is that it is not just me who wants to share something with the readers, but I, the authors, and the readers exchange something among each other, as readers are also authors and authors are readers as well. I am also a curious reader of the contributions myself. In that way the magazine functions as a platform for the exchanging of ideas. The whole thing is based on the belief that today the division between the author on the one hand, and the reader on the other, has almost ceased to exist due to an increasingly informed society made possible by the internet.
MILK X: How easy/difficult is it to produce a magazine?
BU: I think that it is fairly easy to start a magazine, but rather difficult to make an interesting one, and one of a certain quality. It is almost impossible to continue producing an interesting and high-quality magazine over many years without getting sick and tired of the unavoidable problems and difficulties, whether in terms of content, money, time, or a general lack of support that occurs over the years. It is no coincidence that most of the new magazines don't live longer than around five years. It is complicated and almost heroic to keep on going for a long time. You need to have a very strong will.

MILK X: When you start working on a new issue, what's your main concern?
Bernd Upmeyer: My main concern is always – and has been from the very beginning – the fear not to receive enough contributions that truly answer the open call and relate strongly enough to the topic of a particular issue. I am always very concerned about the quality of the content and its relevance. But this is the risk of working with open calls. In that sense every new issue is an experiment. It is not that we don't receive enough proposals of a high quality for each issue – we receive a lot – but not all of them are strongly enough related to the particular topic of a particular issue, and this is what matters the most.
MILK X: Please share some exciting news about your work or daily life? Or some rumors?
BU: We just recently released a new issue, MONU #19, that focused on the metropolitan or "greater" areas of cities and was thus entitled "Greater Urbanism". It discussed the problem that cities of today, and especially big cities, all around the world, are all struggling with similar problems, as they all have developed huge territories that cannot be properly understood by anyone in terms of their form, but that now need to be recognized as something that truly exists, because it is a form that is in perpetual transformation and without limits.
MILK X: What do you do except working?
BU: I must say that I work quite a lot, so there is very little time left for extensive and time-consuming hobbies, as I also have my own architecture office in Rotterdam called "BOARD", an acronym for "Bureau of Architecture, Research, and Design". Since I am originally trained as an architect, I am also very much interested in the design of buildings, urban master-plans or all kind of other objects. My team at BOARD, for example, helps me producing MONU. But at BOARD we are working on a lot of research and studies as well. Currently, we are involved in a study about the future of Greater Paris, a project that was initiated by the French Government.
MILK X: What is your hobby? How much do you like it?
BU: Although the work on MONU Magazine has become over the past few years a rather serious and frequent occupation, it still feels most of the times as a hobby, which has a lot to do with the fact that there are six months between each issue. And yes, I like doing it a lot and what I like the most is the intellectual challenge of it. To create topics and raise questions, seeing how people respond to it and putting all those ideas together, draw conclusions and connect the different viewpoints in an editorial statement into something new and unpredictable: that is what makes it most exciting to produce a magazine such as MONU.
MILK X: Which is your favorite city? Why?
BU: At the moment, my favorite city to live and work in is clearly Rotterdam. I very much like its creative atmosphere and its status of being something that is in the middle of a process of development and change that one day will become something very exciting, but not quite yet. That kind of open-ended and premature condition is very thrilling, leaving you a lot of freedom to project your own dreams on that kind of unfinished painting while being surrounded by a kind of transitional status and urban adolescence. That is very fascinating.
MILK X: How do you relax?
BU: I think that the diversity of projects and subjects that I am involved with relaxes me a lot and keeps me from burning out. When I am tired of reading or writing, I focus more on architecture and vice visa. That keeps me from getting frustrated and protects me from having too many repetitive days, which kills you on the long term.
MILK X: When is your happiest moment?
BU: It happens when I can occupy myself with things that are meaningful to me, for example, working on MONU Magazine. But I think that only when you dedicate yourself strongly to something and engage yourself for a longer period of undisturbed concentration and deep focus, that makes you forget yourself and everything around you, you can experience a kind of feeling of euphoria, a kind of floating moment that is similar to a runners-high.
MILK X: Who is your idol?
BU: I can not say that I have one particular idol. Of course, I respect and appreciate certain writers, architects, and theorists, but calling them idols would be too much. I try very much to focus on my own work without looking too much to others. I think that this is essential in order to create something unique. Only then can one create something such as MONU Magazine, something pioneering.
MILK X: If you should choose a drink to describe your magazine, which one would it be?
BU: I don't think that is possible. At the moment we sometimes in the office drink a very strong traditional Latvian herbal liqueur called "Riga Black Balsam" with an alcohol content of 45% that a former employee from Latvia gave us as a present when he left the office to go back to his country. The recipe of the liqueur is based on a mixture of 24 different plants, flowers, buds, juices, roots, oils, and berries. The drink itself is black and very bitter, but with a distinct sweetness.
MILK X: Please use a short sentence to describe your magazine.
BU: Generally speaking, MONU is an architecture and urbanism magazine that focuses on the city in a broad sense and every of its new issues is a research project and experiment to explore every kind of urban aspect and everything that relates to cities. From the very beginning MONU has been dedicated to finding out the hidden political, economic, geographical, ecological and social truths, formal realities, and interdependencies in cities. It is based on the belief that an open-source mentality will lead eventually to radically new insights in the complex phenomena connected to cities.
Title: Searching for the Hidden Urban Truths
Author: Interview with Bernd Upmeyer
Date: January 2014
Type: Commissioned interview
Publications: Milk X #89
Publisher: IMAGE FACTORY LTD.
Location: Hong Kong
Pages: 8-9