09-08-16 // ART MUSEUM AND CULTURAL QUARTER KRISTIANSAND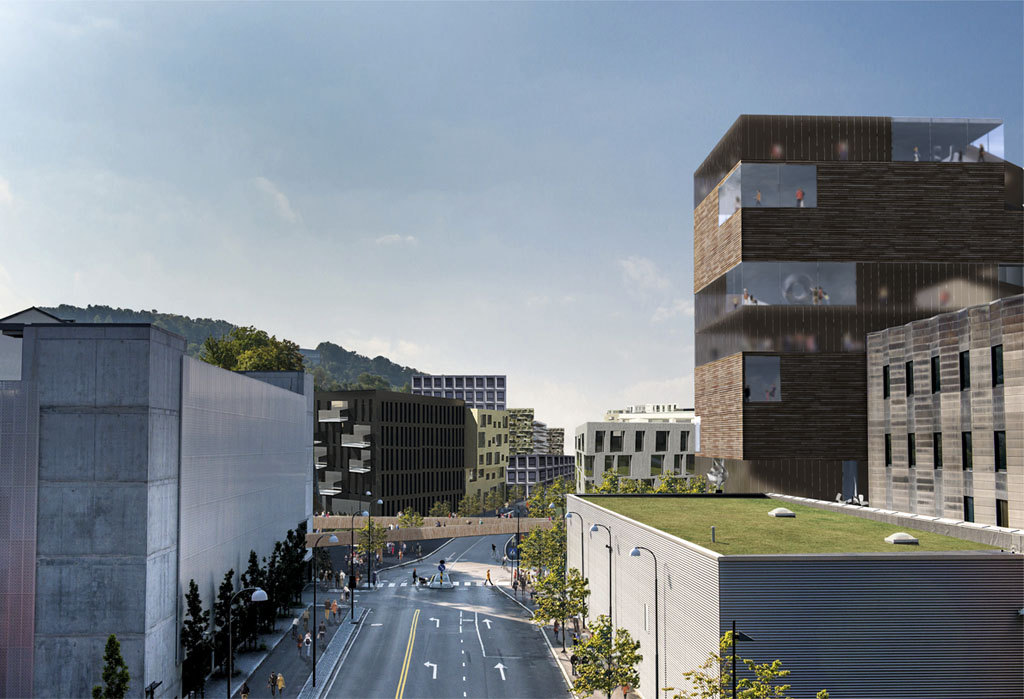 View of the new building and the new pedestrian bridges from Sjølystveien
Connected
To make the most of the potential of the competition area, we propose two cultural loops for pedestrians and bicycles that cross and connect the site: an Urban Cultural Loop connecting the site to the Vest-Agder Museum and the city centre and a Nature Cultural Loop that connects the site to the culturally interesting areas on the island of Odderøya. These loops will be upgraded by wind breaking stair sculptures and a new underpass.
Bridges
In order to create a public space of high quality while keeping the pick-up/drop-off point beside the south wall of Kilden and the traffic as planned in the master plan, we suggest an elevated square that connects with bridges to the cultural loops, Kilden's car park and the neighbourhood. The new building – a compact, flexible and feasible cube – will connect with further bridges to the silo and Kilden. On top of the silo we propose to add a Museum Café/ Club and a hotel with artist's residences.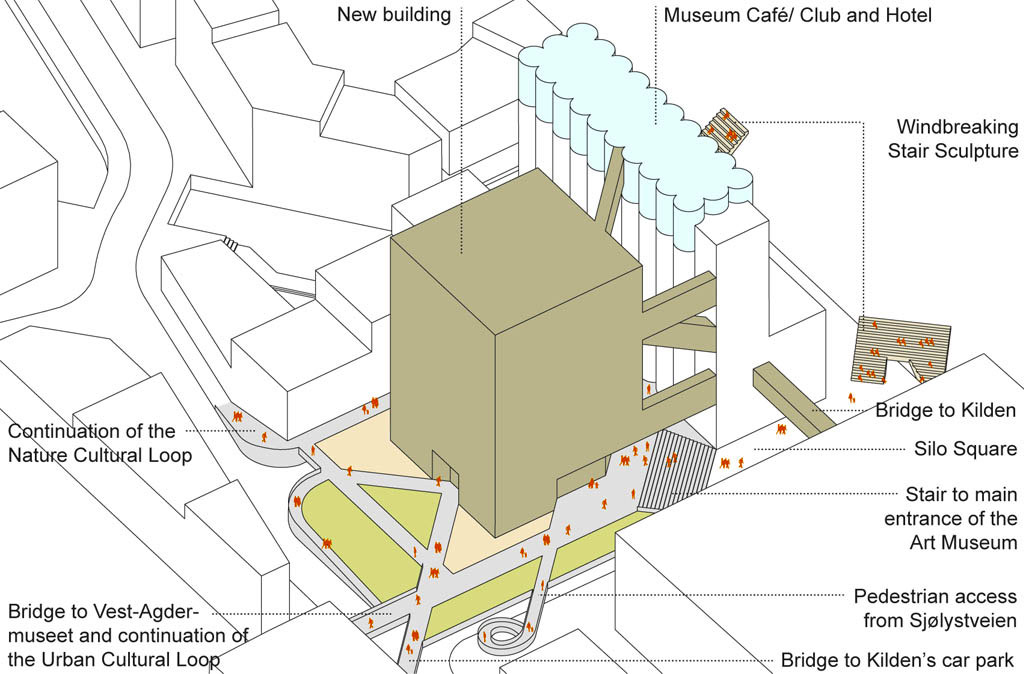 The new building is connected with bridges to the existing silo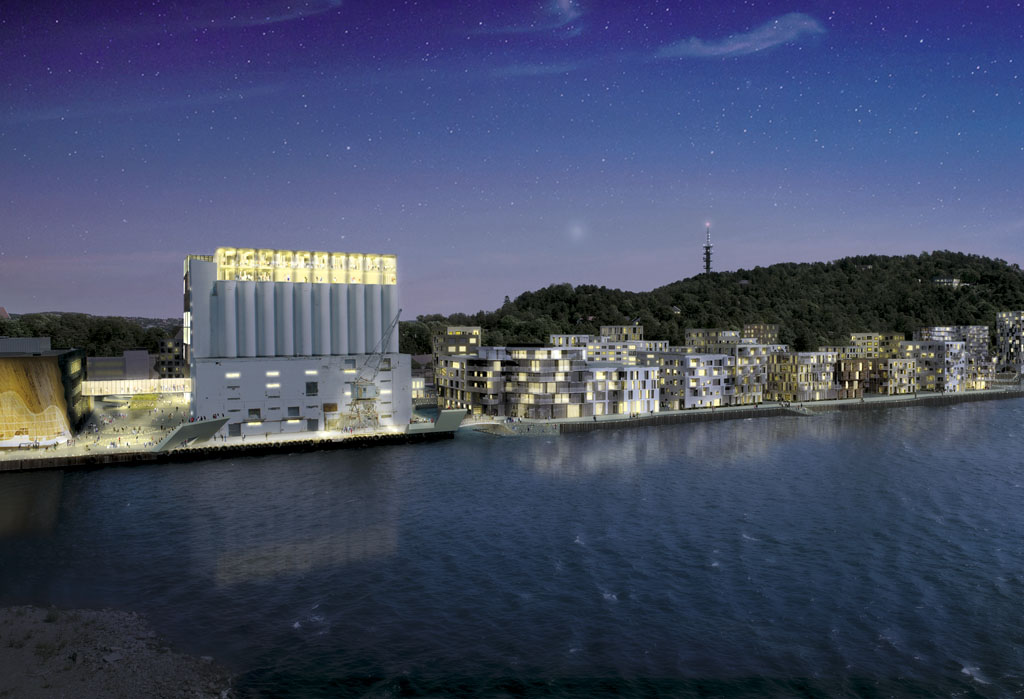 View of the silo with the new extensions in the evening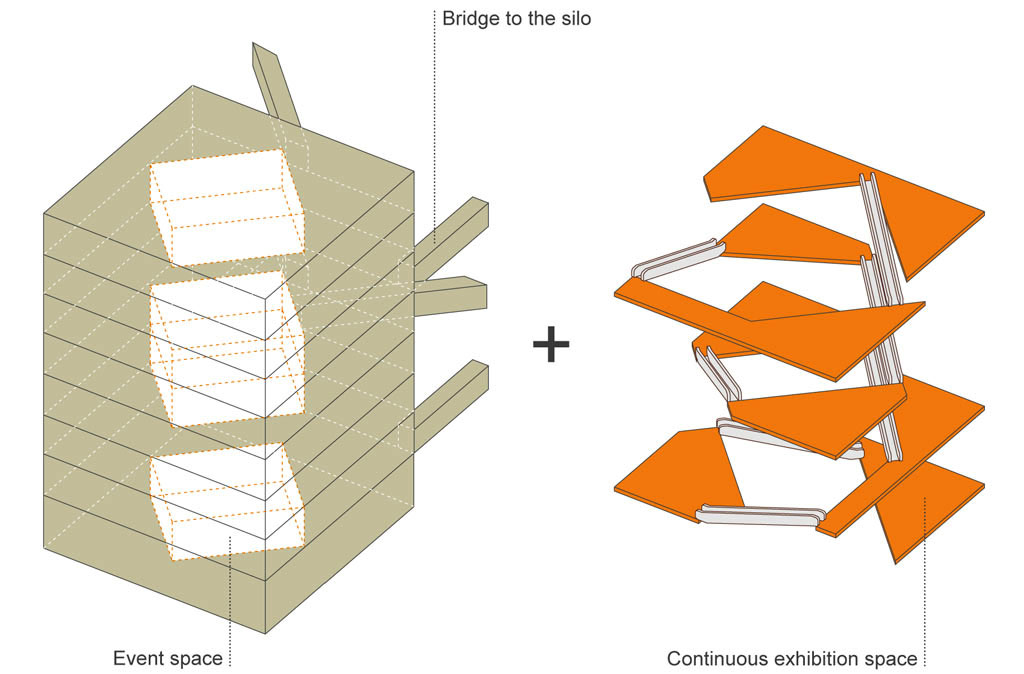 The two main organisational principles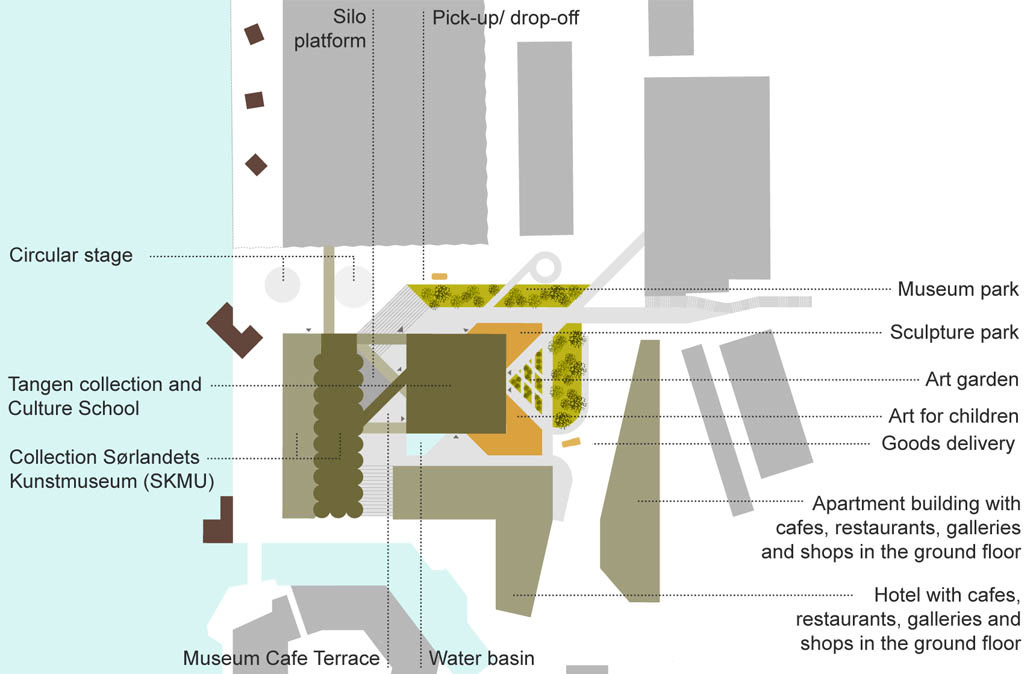 Public Spaces
Public Spaces
We propose a diversity of connected public spaces, including cafe terraces, a museum park, an area for art for children, and circular stages for events. The ground floor of the new building will also be a public space that can be crossed through several entrances to continue, for example, the Nature Cultural Loop. Thus this indoor space on the ground floor will be the cultural centre of the area with an event space in its centre and other flexible spaces for cultural activities and art.
Indoor Walkways
The new building has two main organisational principles: the first is that it has event spaces in its centre on five of the eight floors altering the floor plans and the bridges to the silo on these floors. The second is that it has a continuous walkway of connected exhibition spaces from the bottom to the top. The remaining spaces can be used by the cultural school. For the building facades we propose to use wood and transparent and translucent glass to communicate the interior organisation to the outside.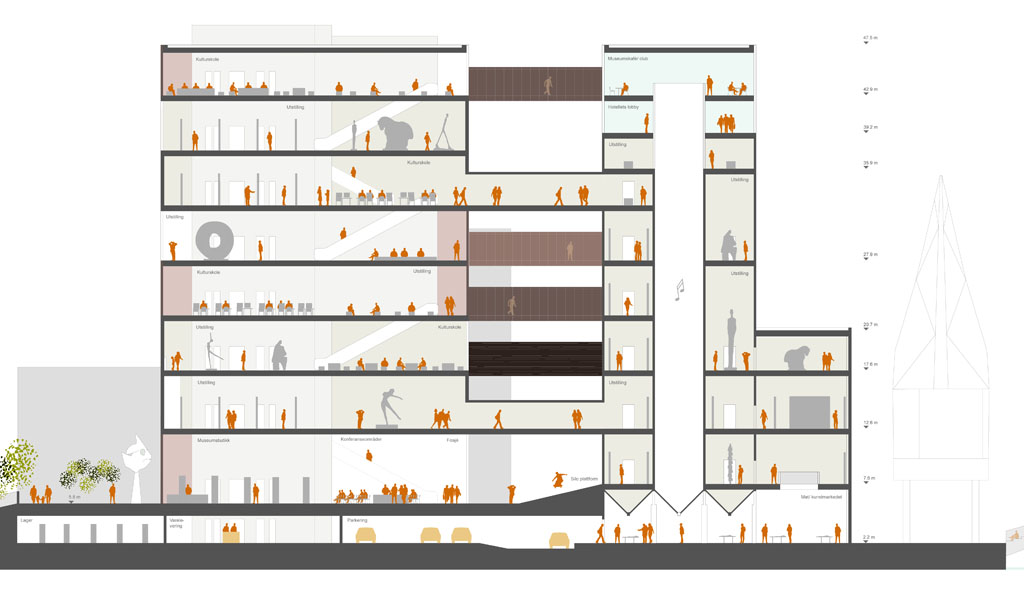 East-West section
Title: Art Museum and Cultural Quarter Kristiansand
Project: Art Museum and Cultural Quarter in Kristiansand, Norway
Date: August 2016
Type: Open 2-Phase Architecture Design Competition
Organizer: Sørlandet Kunstmuseum, Kanalbyen Eiendom AS and Kristiansand municipality
Participants: 101
Location: Kristiansand, Norway
Site: Kanalbyen area, Kristiansand
Programme: Museum, Cultural Quarter
Surface: 9,730 m²
Status: Competition
Clients: Kristiansand municipality, Kanalbyen Eiendom AS, SKMU Sørlandets Kunstmuseum
Team: Bernd Upmeyer, Filippo Foschi, Efrain Perez del Barrio