17-07-09 // FIRST PRIZE FOR THE PALMERAL OF ELCHE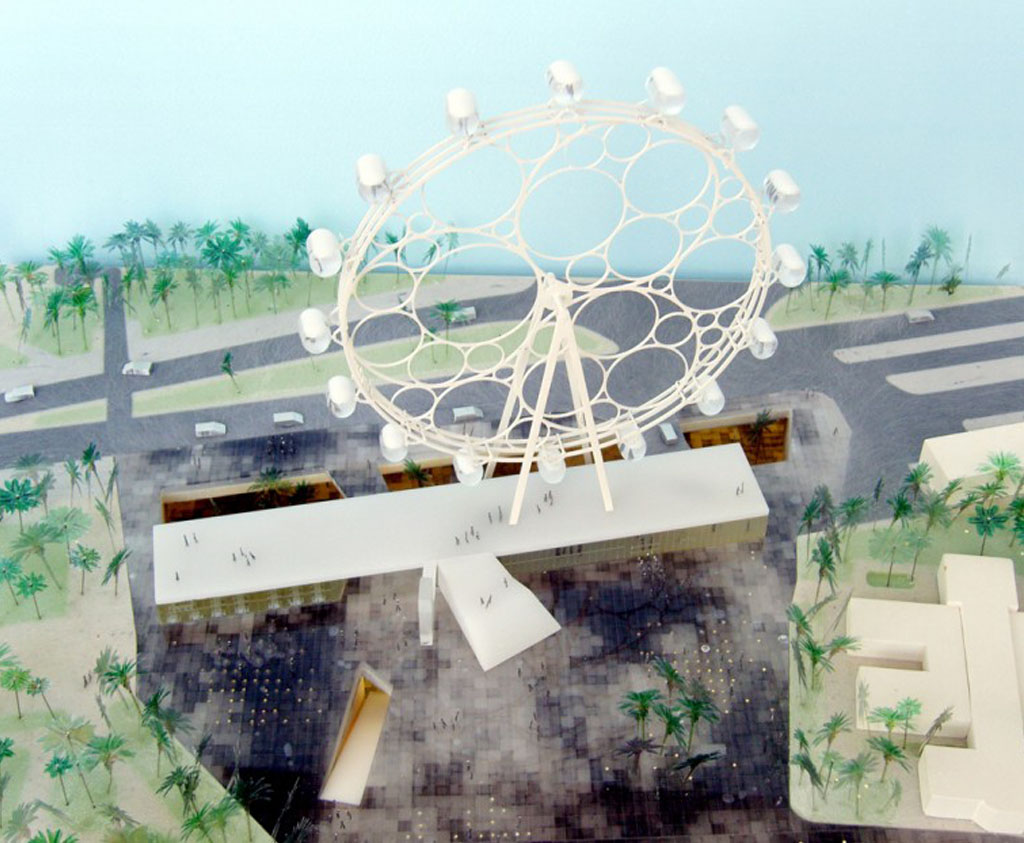 In 2009 BOARD collaborated with STAR for the international competition for the Mirador del Palmeral (Palm Grove's Viewpoint). The entry won the first prize in a two-phased competition and received a lot of attention, not only because renowned firms such as: MVRDV, SANAA, Foster, Abalos + Sentkiewicz, and Lapeña & Torres were invited to participate, but because it won the competition with a strategy, rather than a design.
More information about this project can be found on STAR's website.
Title: Mirador del Palmeral
Project: Mirador del Palmeral de Elche
Date:
First phase: February 2009 – results March 23, 2009
Second phase: May 2009 – results July 17, 2009
Type:
First phase: Open International Competition, selection of two teams from 56 participants (145 registrations).
Second phase: Invited Competition (2 teams from first phase + 5 invited teams: SANAA, MVRDV, Foster & Partners, Lapeña & Torres, Ábalos & Sentkiewicz + Teresa Galí-Arquitectura Agronomía)
Organizer: OCOA – Oficina de Concursos Comunidad Valenciana
Ranking: 1. Prize
Location: Elche, Alicante, Spain
Site: Avenida del Paseo de la Estación + Roundabout with Avenida del Ferrocarril View point + Reurbanization + Proposed: Railway Station, Parking, Cultural Centre, Strategy for the reintegration of the Palm Grove in the city
Surface: 15.000 m² of public spaces + 1200 m² of exhibition rooms + Mirador –Viewpoint + Railway Station 1.100 m² + Parking 7.800 m²
Client: Ayuntamiento de Elche (Elche City Council)
Budget: € 10 Mill. + € 6 Mill. – Already reserved for the Railway Station
Publications: Selection:
– Arquitectos Movilidad, Madrid, Spain, June, 2011
-A New Generation in Architecture. West Arch vol.1, Berlin, Germany, September, 2010
-Met Stip 2010, Amsterdam, the Netherlands, June, 2010
-Architectuur NL #06, Amsterdam, the Netherlands, May, 2010
-TC Cuadernos, Concursos #94, Valencia, Spain, May 2010
-AV Proyectos #35, Madrid, Spain, March 2010
-AWM – Architectenweb Magazine #31, Bussum, the Netherlands, February 2010
-Arte y Cemento #2109, Bilbao, Spain, December 2009
-Paisajismo #31, Barcelona, Spain, November 2009
-Mark Magazine #22, Amsterdam, the Netherlands, Sept/Oct 2009
-A10 magazine #29, Amsterdam, The Netherlands, Sept/Oct 2009
-Cyan Magazine #5, (Spain), Sept/Oct 2009
-a+u. Architecture and Urbanism #468, Tokyo, Japan, September 2009
-Space Magazine #502, Seoul, Korea, September 09
-Design ReportMagazine # Spanien, Leinfelden, Germany, September 2009
-AD Algeem Dagblad #230709, Amsterdam, the Netherlands, July 2009
-Diario La Verdad #180709, Elche, Spain, July 2009
-Diario Información #180709, Elche, Spain, July 2009
-Diario Información #050609, Elche, Spain, June 2009
-Diario La Verdad #050609, Elche, Spain, June 2009
Exhibitions: Selection:
-West Arch – A New Generation in Architecture at the Ludwig Forum für International Kunst, Aachen, Germany, September 12 – November 14, 2010
-Traveling Exhibition Elche, Spain June 29–17 July 2009
-Lonja del Ayuntamiento, Elche, Spain June 5 – 29, 2009
-Solo Presentation at Menage a Trois in Matadero, during the Madrid Architecture Week, October 5, 2010
-Solo Presentation at FITUR 2010, IFEMA, Madrid, Spain, January 20, 2010
STAR Team: First phase: Beatriz Ramo, Jean-Vianney Deleersnyder, Simone de Iacobis
Second phase: Beatriz Ramo, Jean-Vianney Deleersnyder, Jordi Milà, Albert Perez, Luca Vandini
Collaborators: Competition phase: Logistics: Javier Ramo, Ana López – Angulo, Bernd Upmeyer (BOARD) Model: Vincent de Rijk + STAR; Text Editing: Maarten Doude van Troostwijk; Model 2011: Vincent de Rijk + STAR (Philip Vandermey, Francesca Rizzetto, Genoveva Carrión)
Consulting: ARUP España, Project director: Ignacio Fernández Solla (Associate Director) Coordinator: Fernando García Colorado, Structure: Patricio García Hernández, Kayin Dawoodi; Sustainability: Ramón Rodríguez Cabezón (Associate), Albert Hassan, Susana Saiz Alcázar; Electrical installation: Pablo Checa Sanz (Associate), Valentín García Rasero