25-11-2017 // BEYOND ANTIKRAAK – THE LIMITS OF URBAN PROPERTY OWNERSHIP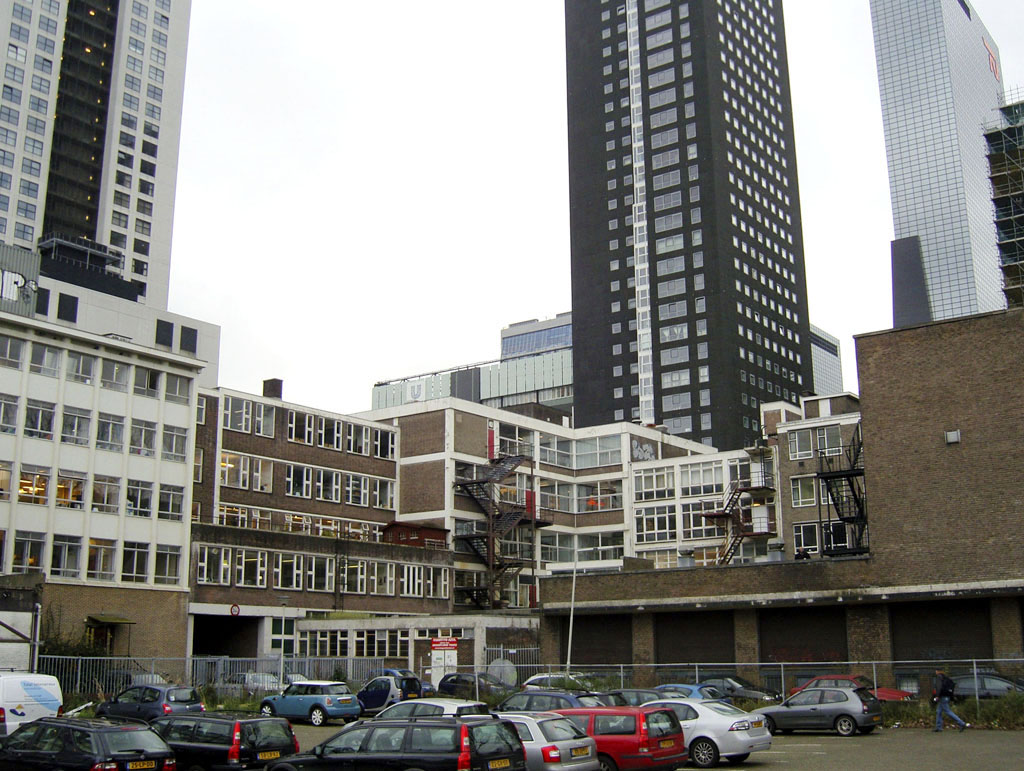 Back facade of the Delftsestraat in Rotterdam, 2009. Photo by Beatriz Ramo ©Beatriz Ramo
Beyond Antikraak – The Limits of Urban Property Ownership
By Bernd Upmeyer
The first image that comes to mind for many when they hear the word "loft" is that of apartments on the upper floor of a building in some desirable neighborhood of a big city. But for me, what comes to mind is precarious living at odds with a building's owners—that is, squatting. In the Netherlands, as in other places, squatting is one way to attain an affordable space to both live and work.
After graduating with an architecture degree in 2002, I began to work at an architecture studio in Amsterdam, one of Europe's squatting capitals. Some of my colleagues, due to Amsterdam's expensive housing market, were only able to find decent and affordable places to live by squatting in empty buildings or by a process known in the Netherlands as antikraak, which might be translated as "anti-squatting", and is known in the UK as "property guardianship". Antikraak works in this way: empty buildings that their owners can't sell, renovate, or demolish are rented out cheaply as temporary live-work spaces. Antikraak is intended to provide affordable housing, but it also carries benefits for the owners—renters are expected to keep "real" squatters away from the building.
One of the antikraak spaces I visited was a former school with large empty classrooms to live in, sparse electricity supply, problems with the heating system, and an improvised shower that delivered water through a tube that residents found in the street from the sink into the toilet. Staying in the school cost about $175 per month.
The Renovation Cycle
In 2005, I opened my own architecture office in the Delftsestraat 27 Rotterdam, about an hour south of Amsterdam by car. The studio was also in an antikraak space, though this one was intended mainly for working. Some friends and I shared a space of around 120 square yards—about half the size of a tennis court—and paid only a few hundred dollars between us. However, after six years in the building, we left the space, as there were too many uncertainties, and we only had a temporary agreement with the owner of the building.
The reason the owner gave was that the building was going to be demolished soon to make space for new towers. But we heard rumors that the building was instead going to be rented out to a company called Codum. When we called company representatives and the owner of the building on the phone, they both confirmed that these rumors were true. Codum specialized in marketing out empty buildings with the message that it would bring back life, creativity, and culture into the empty center of Rotterdam. But our building wasn't empty at all—it was full of life and art. When we confronted Codum and asked why they were interested in converting a building that was already full of creative people, they answered, "Because we can make money with you people."
Ironically, around three months after we had left the building, Codum called us to offer to rent us our former space at three times the price we'd paid previously, justifying the rise with the typical argument that they had extensively renovated it. But after visiting other Codum projects, we didn't feel the price increase could be justified.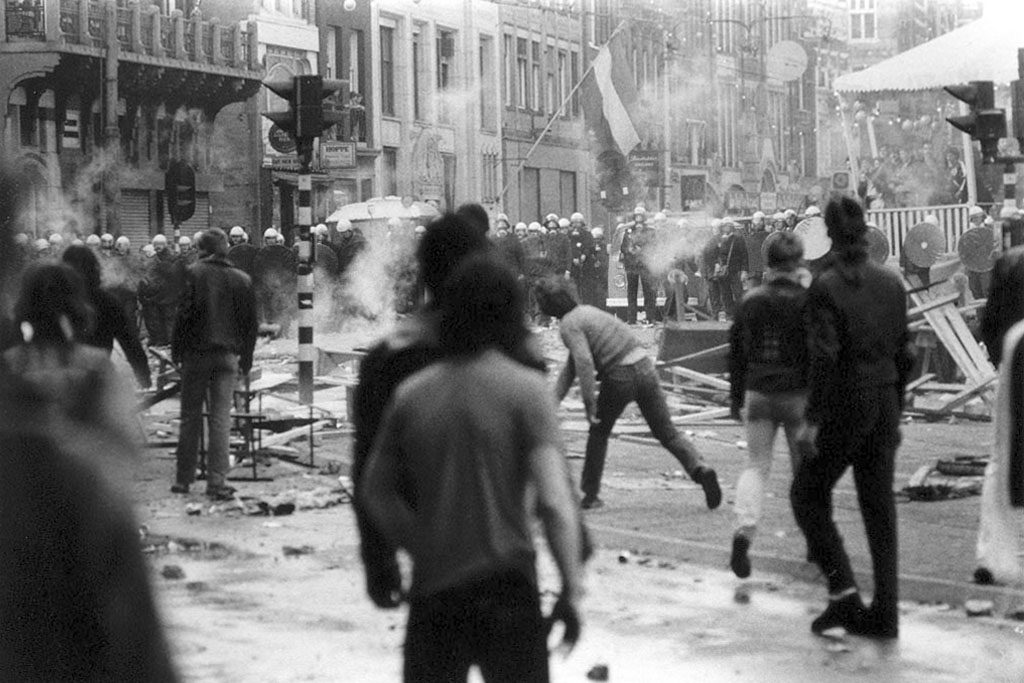 The coronation riot of April 30, 1980
Squatting as a Housing Movement
Squatting is almost always, by definition, an illegal activity—squatters occupy abandoned or unused buildings that they don't own, rent, or otherwise have permission to use. But antikraak also has its limits, and the system is misused far too often, as my experience with our office space demonstrated. When it comes to genuine stability, privacy, and control over one's space, antikraak is still lacking. There I agree with Kesia Reeve's position in the 2005 book Housing and Social Policy, that squatting is largely absent from policy and academic debate and is rarely conceptualized as a problem, as a symptom, or as a social or housing movement.
In the Netherlands, squatting began gaining traction as a movement in the 1960s, according to squatting history documented by the Amsterdam-based International Institute of Social History. The first organized squatting activities took place as early as 1964. A crucial inciting event in these early years was a plan by the municipality of Amsterdam to redevelop the district of Kattenburg, located on one of Amsterdam's three eastern islands. This led to a lot of protests, especially among students from Amsterdam, who expressed their anger in the satirical student newspaper Propria Cures (Latin for "Mind your own business").
According to researchers Pellenbarg and Steen (2005), severe housing shortages of the 1950s, '60s, and '70s as a result of wartime stagnation in construction on the one hand, and a post-war birth explosion on the other. Students and others complained that many houses in the district, in a time of a housing shortage, were unjustly declared "uninhabitable" by the municipality, despite the fact that renovating them would take years. They also objected to the fact that in and around the center of Amsterdam, well-preserved homes and buildings stood empty for years. Property owners would keep buildings empty for the purpose of driving up prices in the real estate market or let buildings decay on purpose to obtain permission from the municipality to demolish them.
In the second half of the 1960s a Dutch counterculture movement called Provo called on people who were looking for housing to occupy vacant buildings. One strategy they used was painting the doorposts of vacant houses white, to indicate that anyone in need of housing could move in. This led to further squatting activities in the years to come, particularly in the area around the Nieuwmarkt, a square in the center of Amsterdam, which is in the so-called Bethaniënbuurt.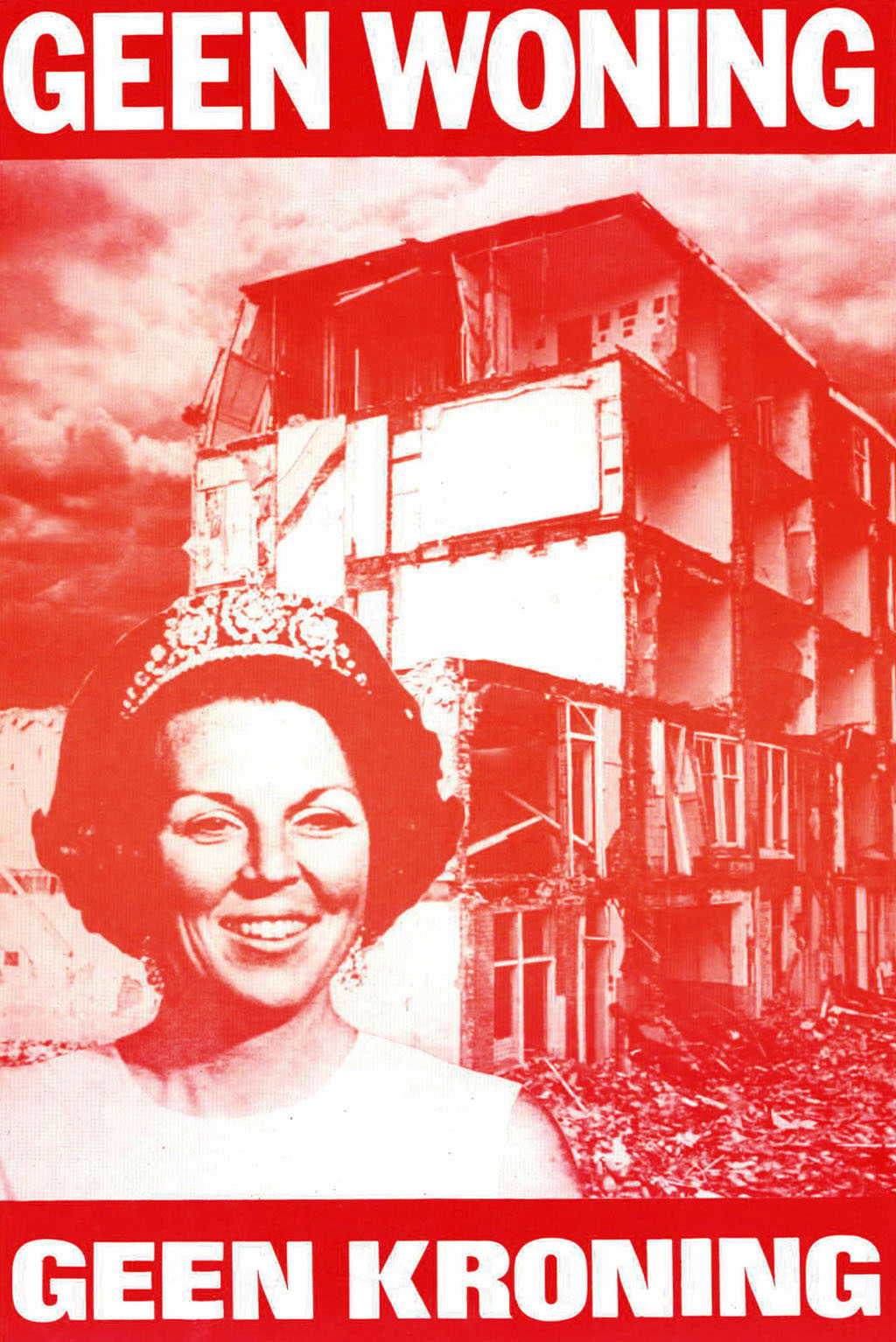 Campaign poster "Geen woning, geen kroning" (No home, no coronation) from 1980
The Boom of Antikraak
Due to ongoing problems with the housing shortage, in 1971, the Dutch Supreme Court ruled that the concept of huisvrede (domestic peace) applied to squatters, just as to any other occupant of a home. Huisvrede is defined in the European Convention on Human Rights and the Dutch Constitution as the right of residents to prevent others from trespassing in their homes. It can only be broken with legal precedent, such as a search warrant, and property owners can only evict squatters through the legal system. Thus, squatting gained a degree of legal protection.
However, as the housing shortage and long-term vacancy of buildings continued during the 1970s, tensions between left-wing activists—especially young people without living space—and the Dutch establishment increased. A rapidly increasing number of squatting activities, which led to an ever-increasing number of legally sanctioned evictions, fueled these tensions.
In 1980, after the Dutch ministry renovated the royal palaces for the coronation ceremony of Queen Beatrix, instead of investing this money to create more affordable living spaces, squatters rioted under the slogan Geen woning, geen kroning (No home, no coronation).
Increasingly, the lack of government response to the housing shortage led the squatting movement to turn to more militant tactics such as riots, street fights, and barricades. Politicians cultivated a moral panic about illegal immigrants invading the country, blaming them for what the official saw as the growing violence of the squatting movement. In reality, there were other factors at play, such as a law passed in 1994 that made it illegal to squat in a building that had been empty for less than one year. In 2010, politicians passed a new law banning squatting based on the argument that it would combat the vacancy problem by putting empty buildings back into use faster. The penalty is up to one year in prison.
Beginning in the 1990s, antikraak began to be used more and more as a business model, a trend that has continued to grow until today, with more than fifty companies using it nationally. This was aided by the financial crisis of 2008, which made the re-use of unoccupied buildings once again an important political issue, as well as the re-criminalization of squatting in 2010. In 2014, ARTE TV reported that there were 120,000 antikraakers in the Netherlands.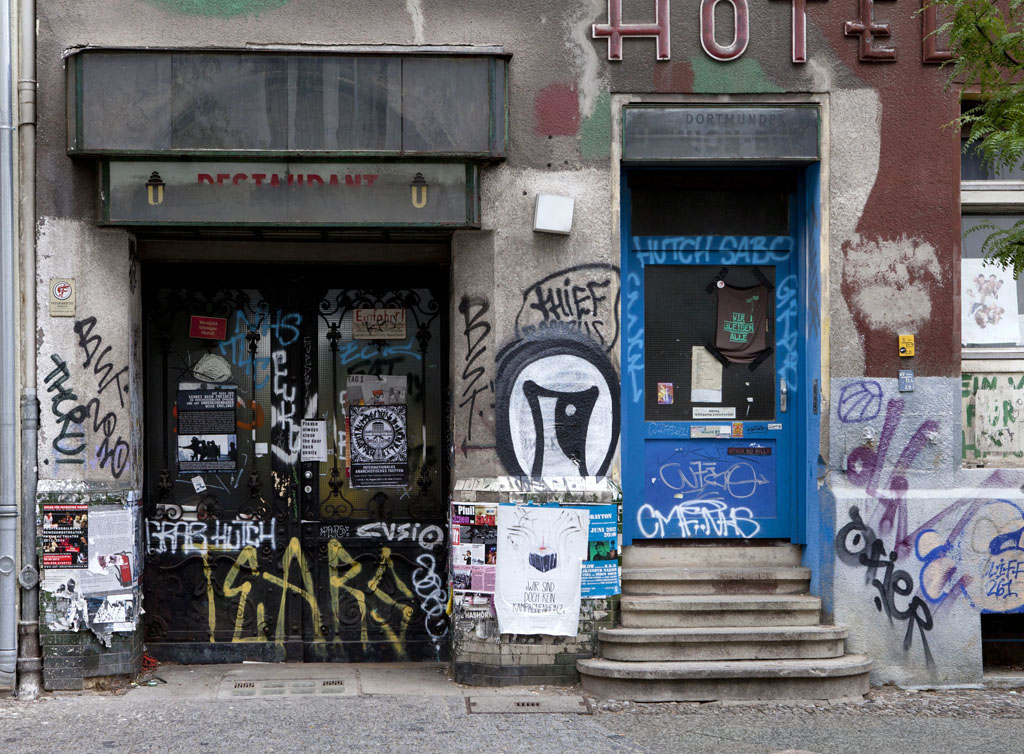 Entrance of the communal housing project "Walde" in Berlin. Photo by Kathrin Windhorst
Teaming Up
In an ideal world, such antikraak landlords might indeed enter into fair contracts with tenants to make use of unoccupied buildings. Martin Abbott demonstrates in his essay "Learning to Live Together" in MONU #18 that some landlords exist (in exceptional cases) and use antikraak in a way that benefits tenants. His research focused on Walde, a communal housing project in Berlin. At Walde, the building owner was sympathetic to the tenants' needs, allowing them to negotiate fair rental agreements. In 2000, the project was purchased by Luisenstadt eG—a nonprofit organization that was founded in 1986 as a cooperative by inhabitants of seven houses in Berlin, which is partly subsidized by the government of Berlin. They intended to prevent their homes from becoming speculative objects by owning them as communal property and renting them out at affordable rates, rather than inflating prices in order to profit financially from a growing demand for housing in the district.
Nevertheless, this case is an exception, and there are no legal safeguards to prevent most landlords from abusing the system. It's unsustainable to rely on reasonable landlords—a better current solution lies in creative, active, and well-organized users. What people can immediately do to avoid experiencing what happened to us in our former architecture office, is to team up with other tenants and create tenants' associations.
In our case, that would have meant that we created an association of around ten different tenants in our building, who negotiate with the owner as a united front. We believe that with the creation of such an association, we could still be there today, as the owner was very interested in dealing with fewer parties to which he had to write invoices. This was part of the reason he considered renting to Codum.. At the very least, such an organization would have provided us with a greater degree of control over the building we inhabited.
Co-Residence
Using this concept, one solution, developed by Beatriz Ramo in 2012 in collaboration with my office BOARD, is "co-residence" (a term coined by Ramo). Currently, Ramo's office STAR strategies + architecture is developing a housing project in Paris of around 270 apartments, of which ten apartments are co-residences, scheduled for construction beginning in 2018.
A co-residence is an apartment in which some of the basic elements are shared by two or more "units"—a unit can refer to any type of household, from a single person to a family. Each unit has a private bedroom and bathroom, and common use of shared spaces, such as the living room and kitchen. This leads to a 30-40% reduction in the total space used in an apartment, while doubling the space available to each inhabitant. Ideally, such a living style will also result in cost savings for tenants.
Co-residence is intended as a starting point to increased social cohesion among the residents, making it easier to establish tenants' associations and shared tenantships – a kind of "co-anti-squatting"- with an increased power over the building that is inhabited. Such groups commonly have sliding-scale payments based on income level, as well as other tactics to work around the profit-based landlord model.
The end goal of such a project is the creation of small tenants' associations or micro housing cooperatives that can rent or own properties collectively, providing them with even greater agency over their building. One prior successful example of such a model is the Zurich-based housing cooperative Kraftwerk 1, which has been operating since the late 1990s. One of its founders, the author Hans Widmer, wrote bolo'bolo, one of the major works on non-capitalist self-determined communities, in 1983.
There often remain legal and political obstacles, at varying degrees in different countries, to implementing this type of membership-based ownership model. Tenant organizations and housing models like co-residence provide a method through which fairer housing agreements can be negotiated, providing a bridge away from the profit-based housing model.
Title: Beyond Antikraak – The Limits of Urban Property Ownership
Author: Bernd Upmeyer
Date: November 2017
Type: Commissioned article
Publication: Take Shape issue no.1 – LOFT
Publisher: Take Shape
Location: New York City, NY, USA
Pages: 65–69