02-05-2018 // AMONG THE TREES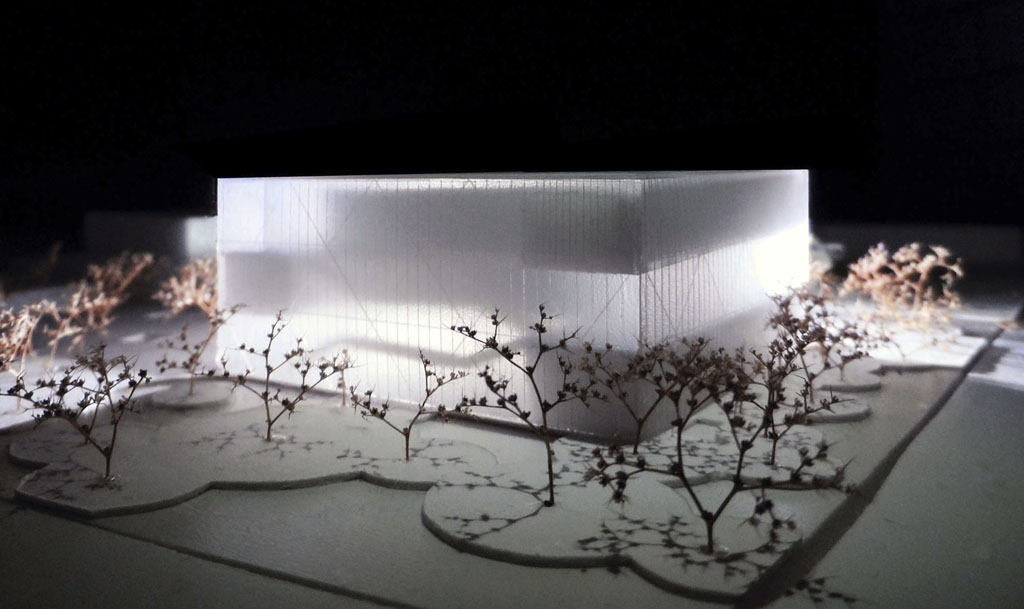 View of the new concert hall
Tree Plaza
In order to make the attractive trees of the area more tangible and to create a green, high-quality entrance into the site, we make the existing trees the main actors of the outdoor facilities and propose a "tree plaza". It consists of small round, interconnected squares under the trees, which allows people to cross the complex on foot or by bicycle in all directions and reach the main entrance to the new compact and sustainable concert hall and entrances of the newly renovated Meistersingerhalle in the center of the Plaza.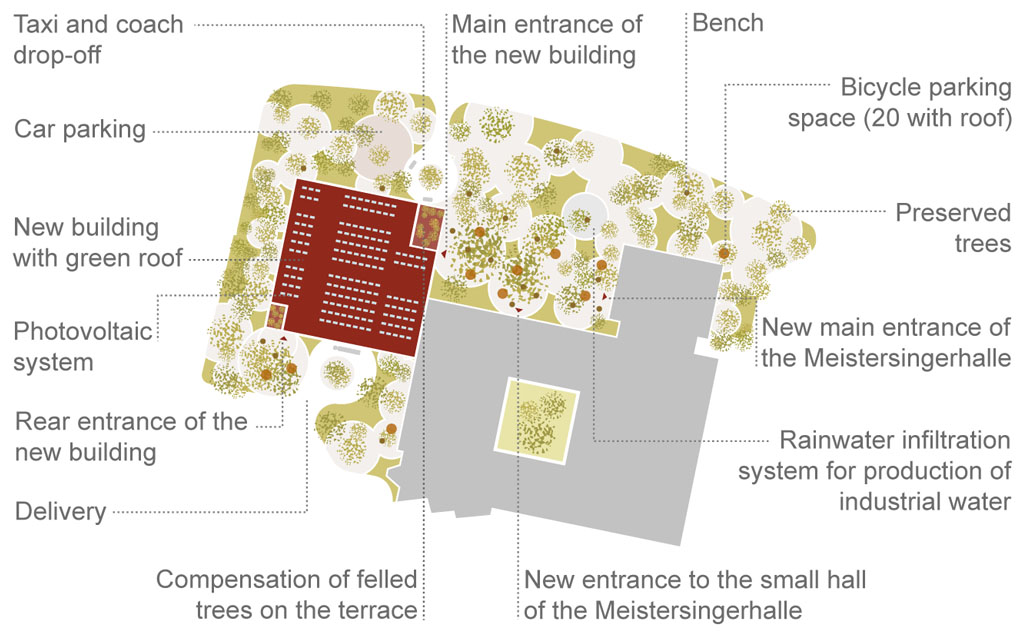 The "Tree Plaza"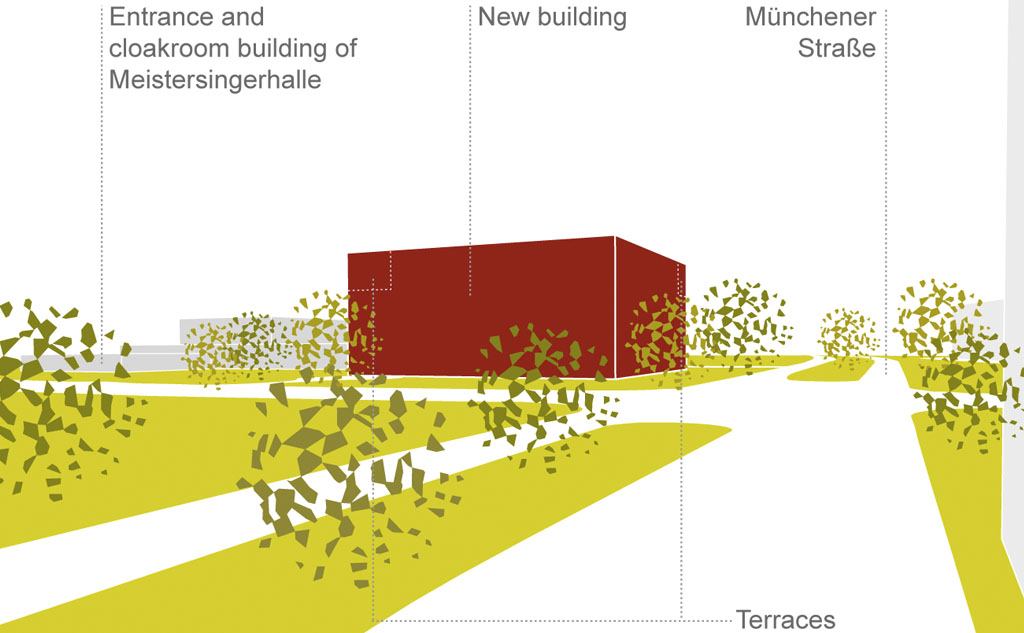 A recognizable new building
Place making
As a compact cube, the new building positions itself clearly in the urban space of Nuremberg and thus forms an independent address. Despite the many trees, the 28m high new building, in contrast to the lower Meistersingerhalle, remains clearly visible. At the same time, however, the new building also looks like another part of the Meistersingerhalle, comparable to the entrance and cloakroom building, which honors, complements and strengthens its significance. Since 17 trees have to be felled despite the compactness of the building, we compensate them with 17 potted trees on the two terraces.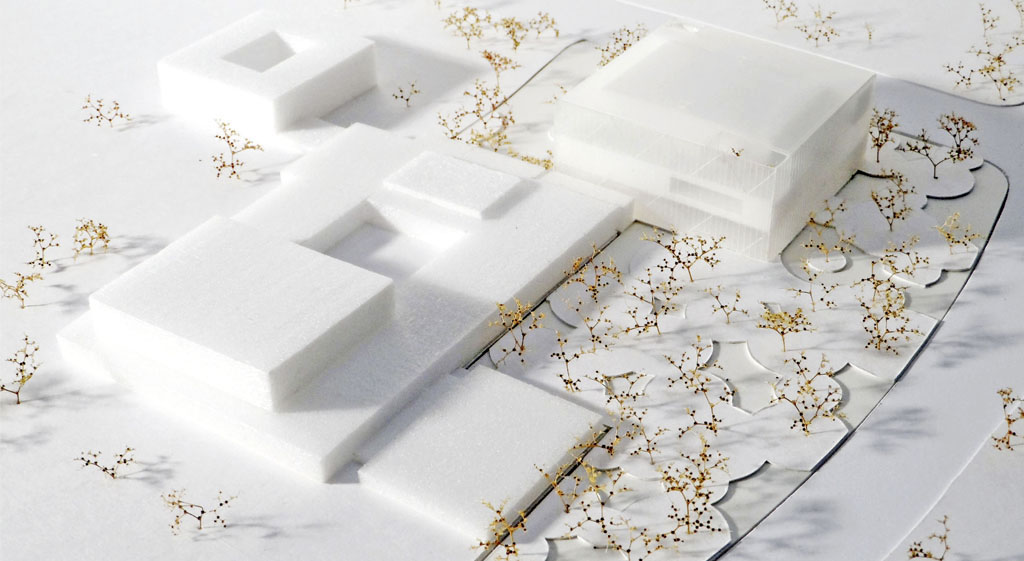 View of the existing Meistersingerhalle and the new building from the northeast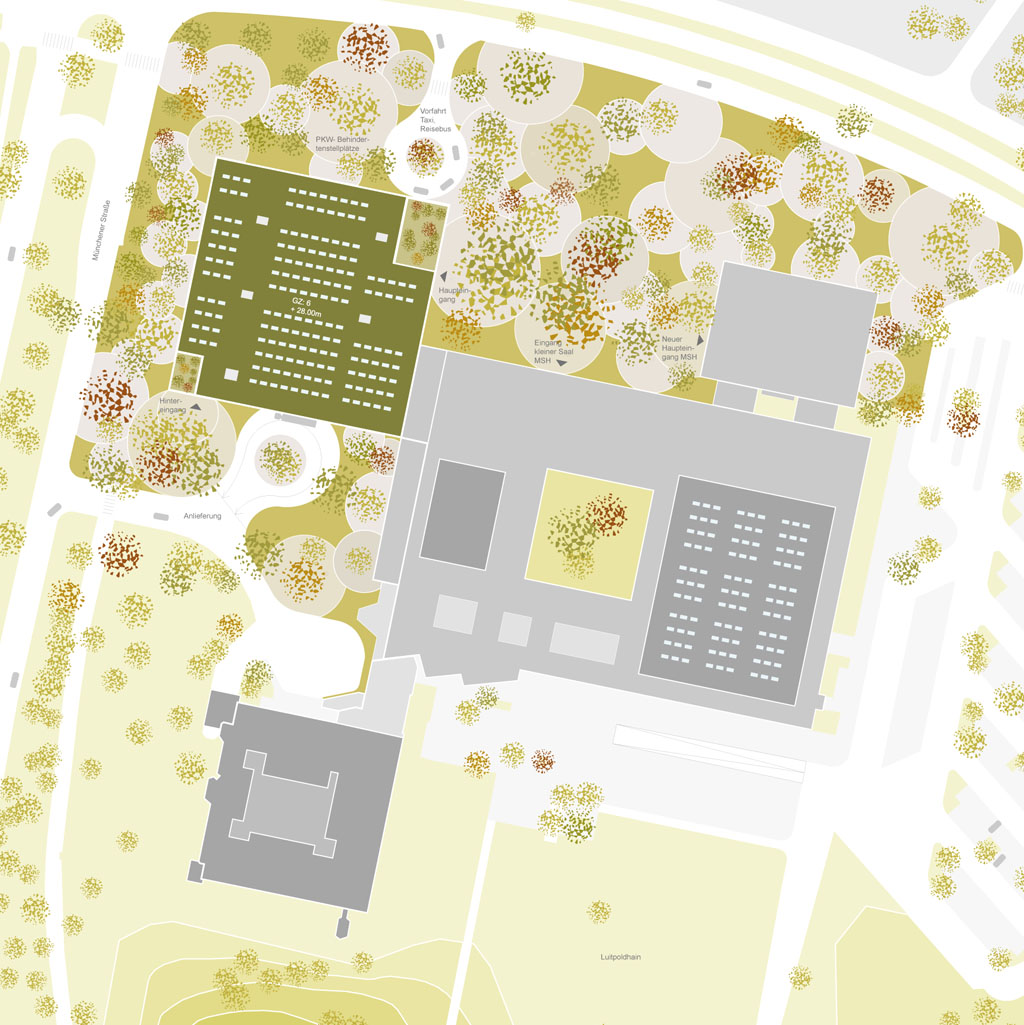 Site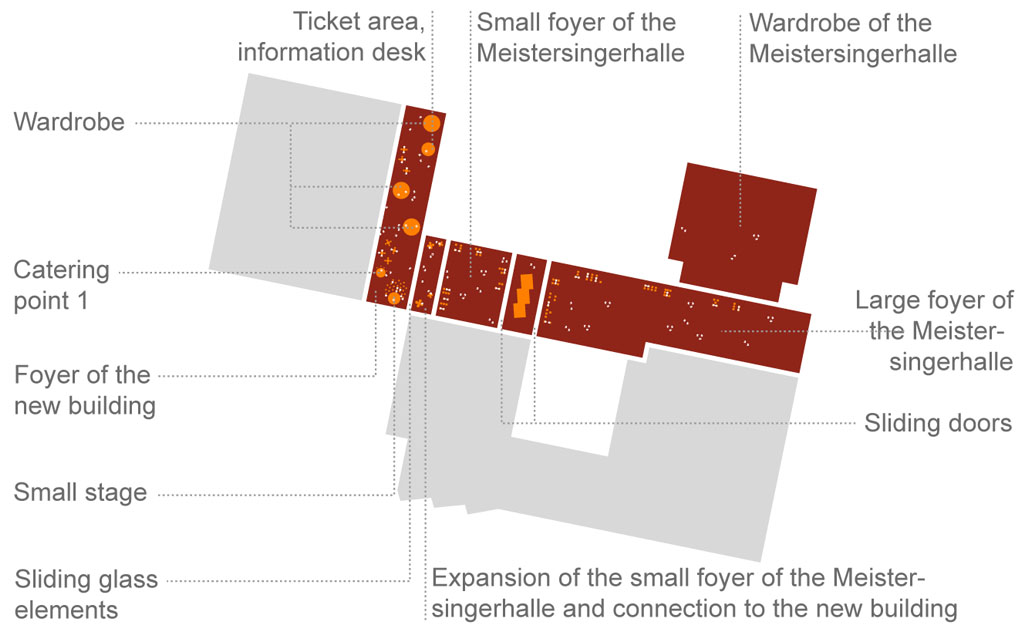 Foyer areas
Connected foyer
To create as many synergy effects as possible between the Meistersingerhalle and the new building, we connect the foyers of both buildings. With the help of sliding glass elements and the existing large sliding doors, the various foyer areas can be used both independently and as a large contiguous foyer that frames and restructures the surrounding public space with the "Tree Plaza" in a U-shape. This results in flexible, generous and inviting foyer areas that offer visitors a variety of possibilities for activities.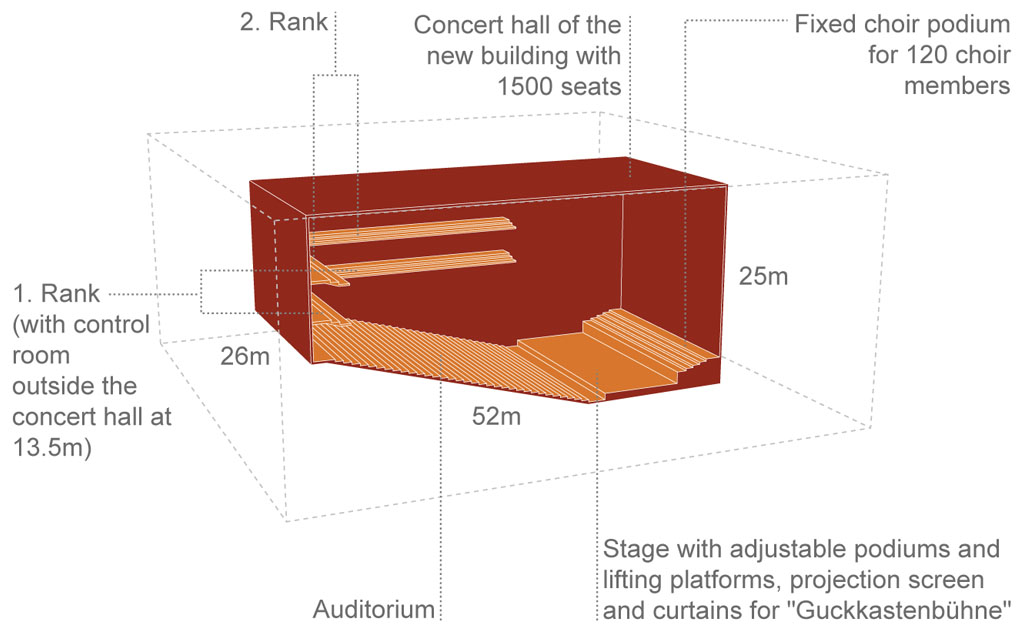 The concert hall in the centre of the building
Shoebox
As the city of Nuremberg expects a concert hall with excellent acoustics, we integrate the hall as a "shoebox" into the building, which, apart from the optimal acoustics, provides very good visual connections too. 1,500 spectators will find space in the rising auditorium. In addition, behind the stage will be a fixed choir podium with adjustable podiums and lifting platforms, for 120 choir members, which can also be used as an extension of the auditorium.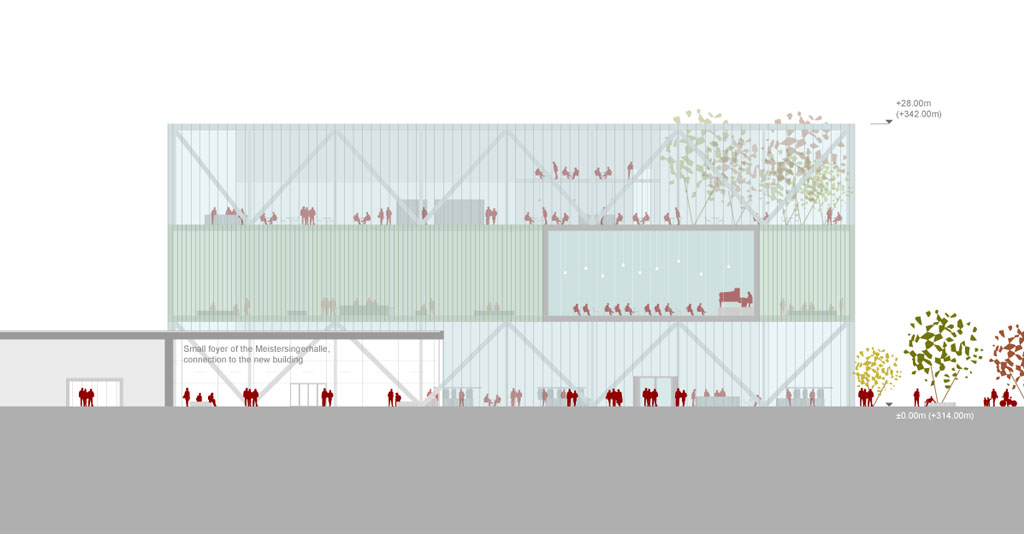 East elevation with main entrance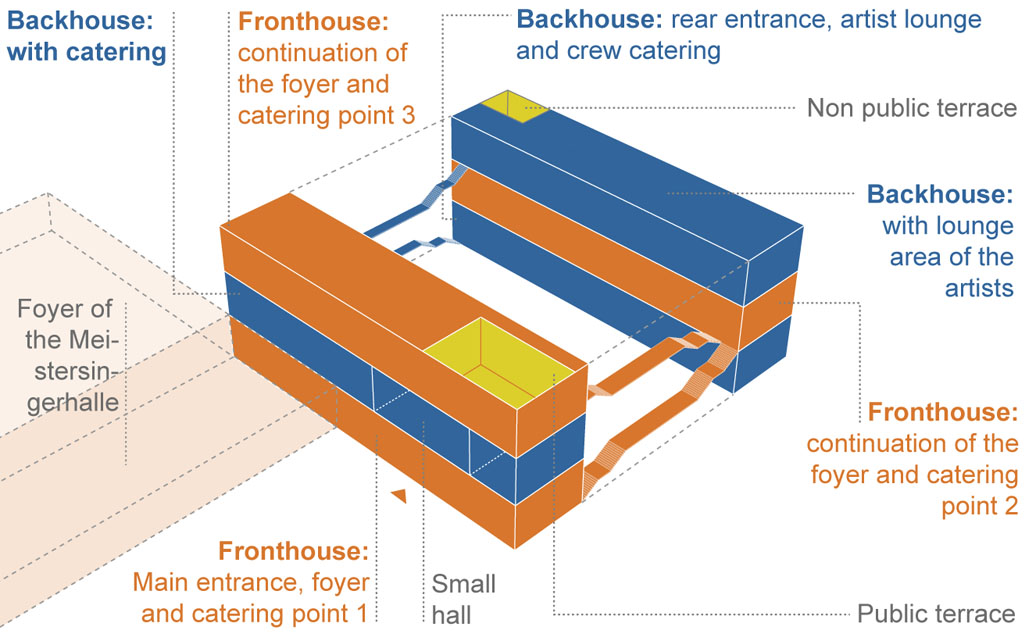 The fronthouse and the backhouse intertwined
Front and back
We propose a compact concert hall not only because of the energetic sustainability and the short distances in the building, but also use the compactness to create dramatic spatial sequences by making the fronthouse and backhouse appear both in the front and the back of the building. This creates exciting spatial relationships between the two usually separate parts and makes it possible that the small hall of the backhouse can be located at the front of the building and directly above the main entrance.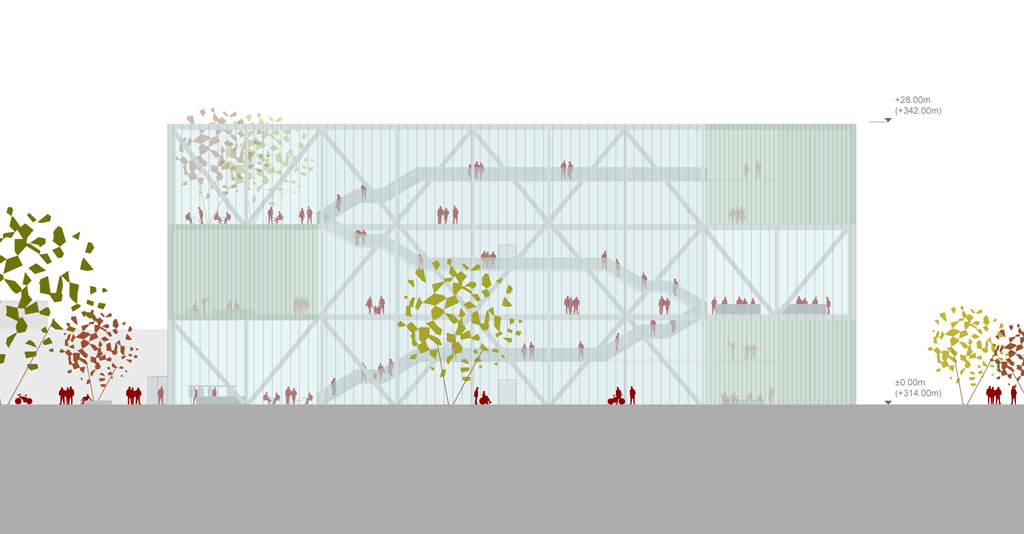 North elevation
Title: Among the Trees
Project: Concert Hall, Nuremberg
Date: May 2018
Type: Open 2-Phase Architecture Competition
Organizer: City of Nuremberg, Germany
Location: Nuremberg, Germany
Site: Meistersingerhalle, Nuremberg
Programme: Public building, concert hall
Surface: 13,200 m²
Status: Competition
Clients: City of Nuremberg, Germany
Team: Bernd Upmeyer, Danae Zachariaki, Claudia Consonni