30-11-18 // 1 SQUARE, 2 LINKS AND 3 NEIGHBORHOODS Honourable Mention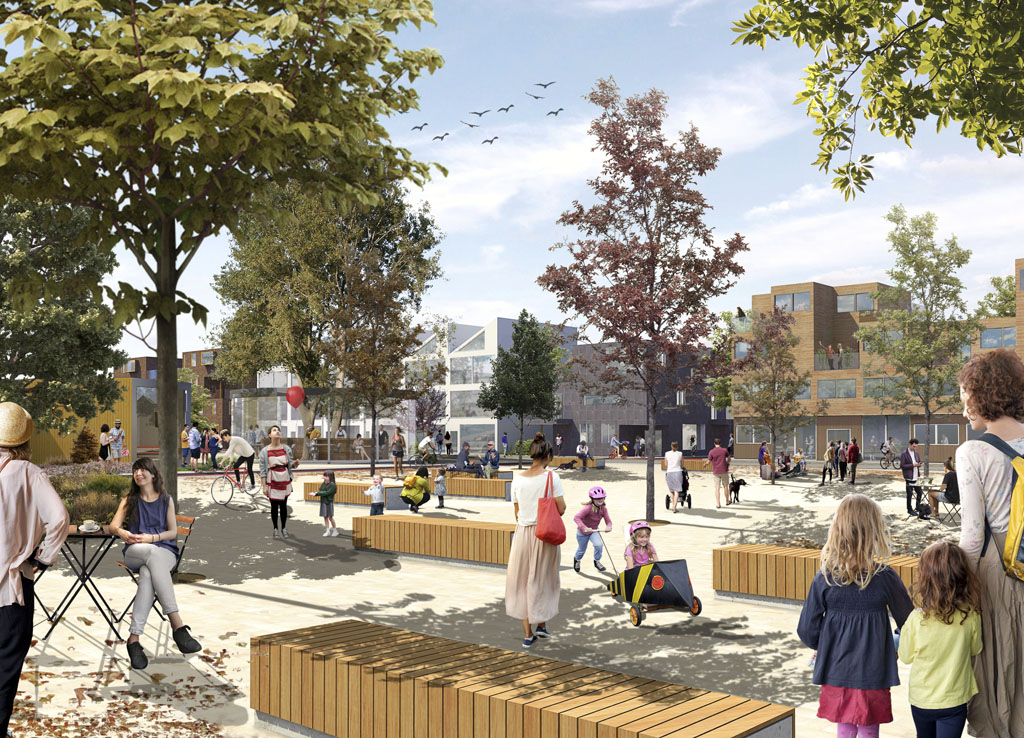 View from the Glade Square to the Tree House Cafe
2 Links
To link the area with the floodplain landscape and the park in the north, the old town of Lippstadt in the west and the University of Applied Sciences Hamm-Lippstadt in the east on foot and by bicycle, we propose two new car-free foot and bike paths. As a result, the site is structured and divided into three neighborhoods. These new connections take advantage of the existing connections, such as access to the floodplain landscape in the north, a path in the east and the pedestrian underpass in the east of the district.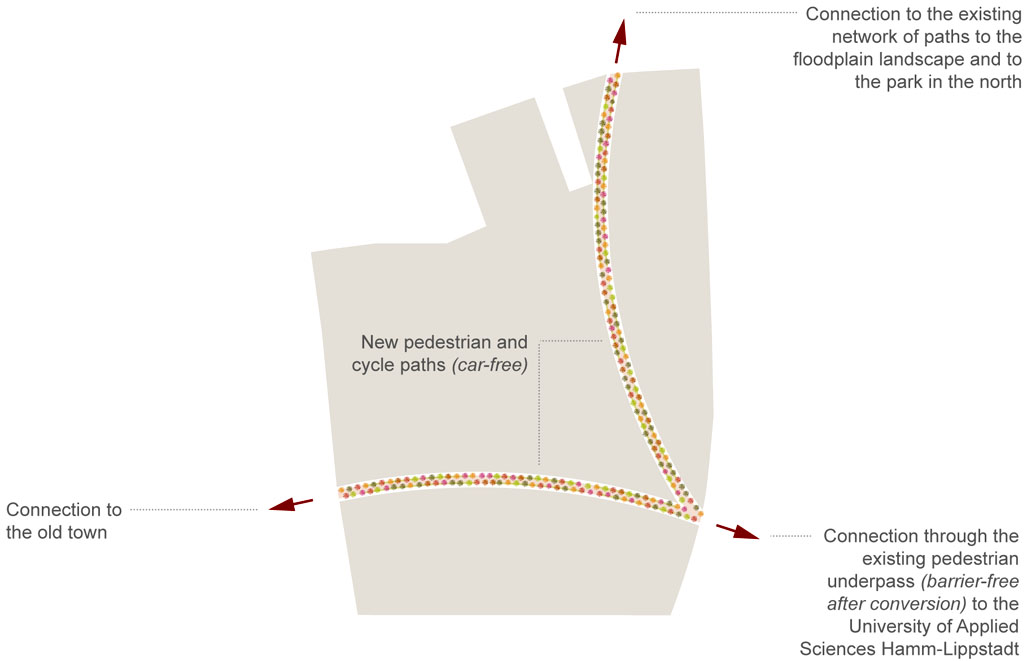 New connections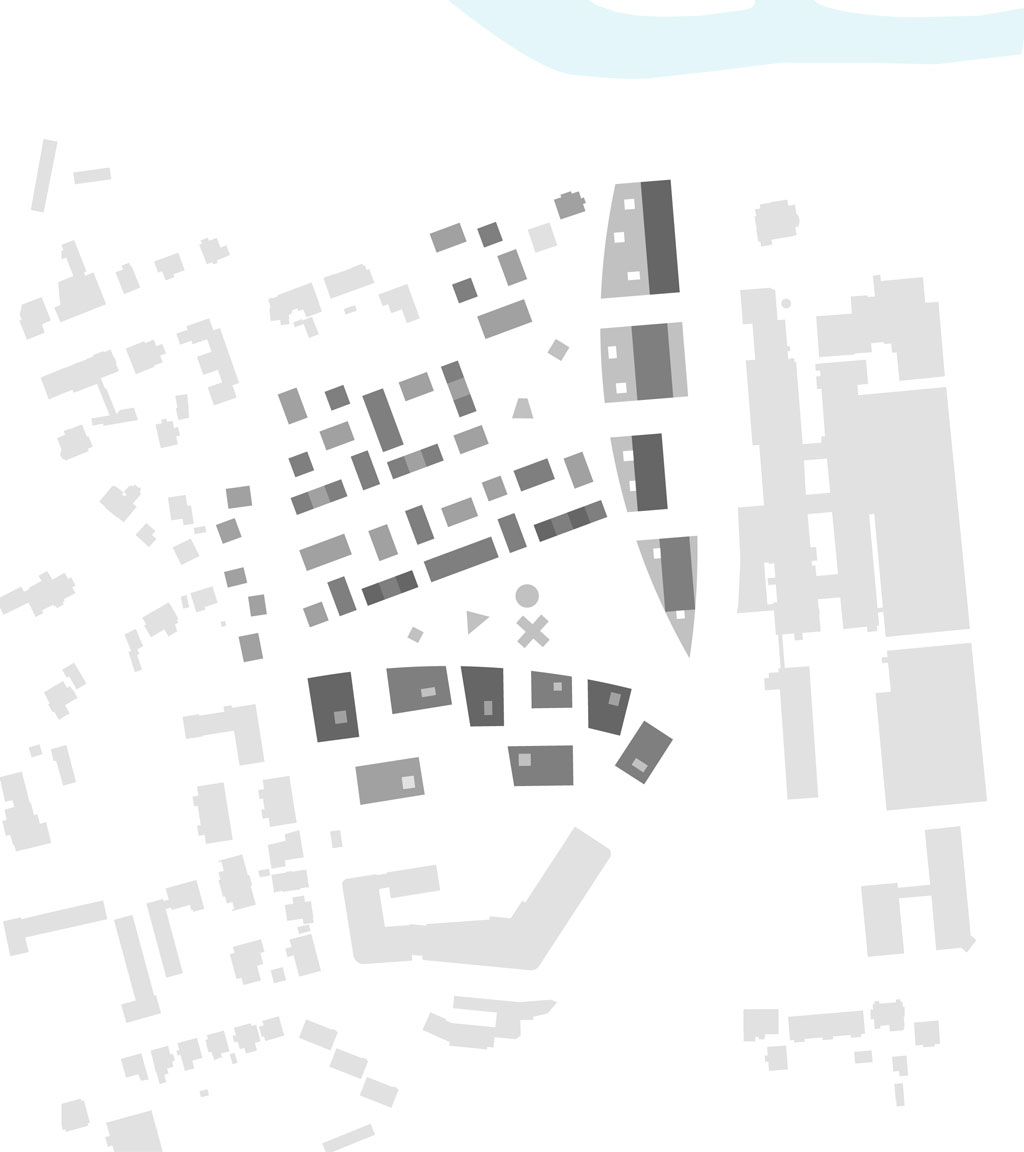 Urban integration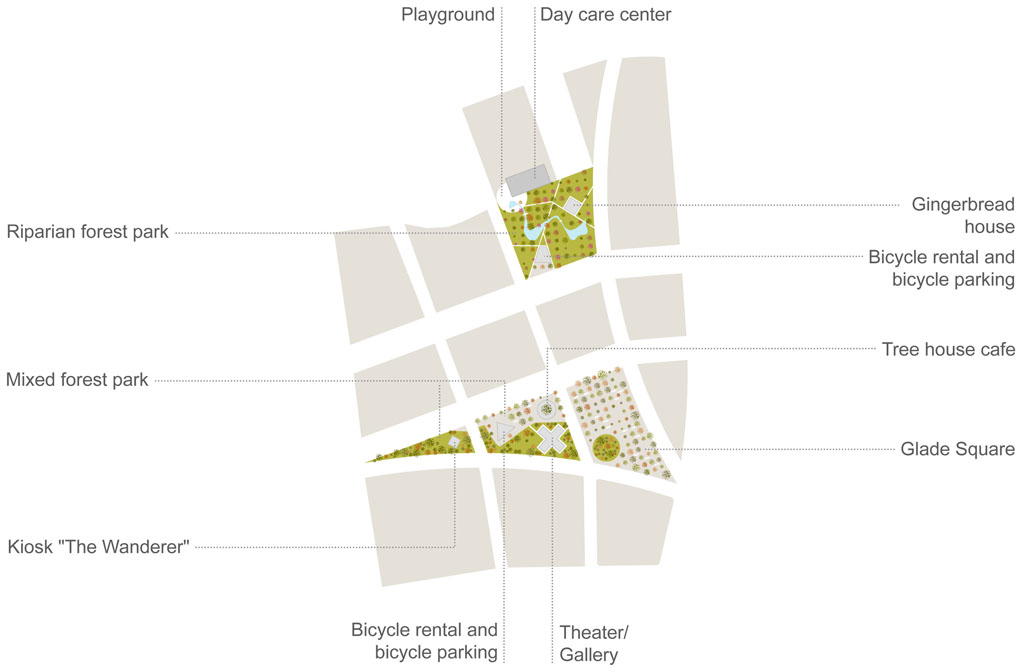 Glade Square, playgrounds and parks
1 Square
In the southeast, where the two new footpaths and cycle paths meet, we create the so-called "Glade Square" as an identity-forming public space and crystallization point of the urban life within the district. Around the square catering, supply and small-scale retail are provided. In addition, there are two public green and open spaces of varying quality: the "Mixed forest park" with the "Tree house cafe" and a small theater with a gallery and the "Riparian forest park" in the north with a playground and a day care center. All three open spaces thematize the forest.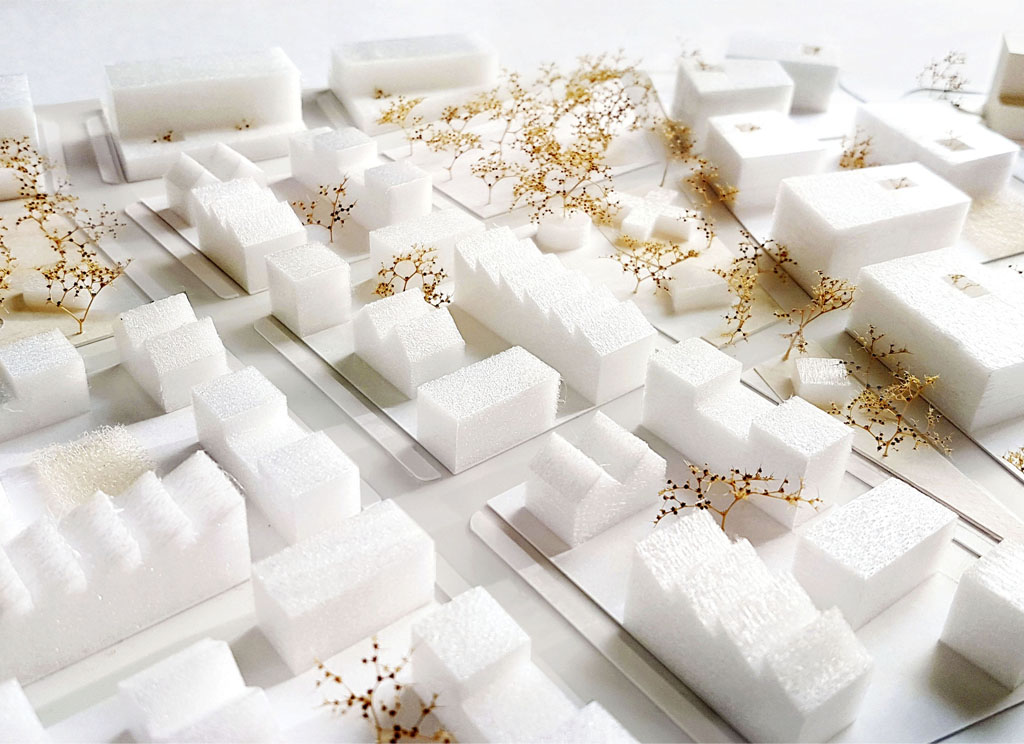 View from the west with the Residential Meadow Landscape in the foreground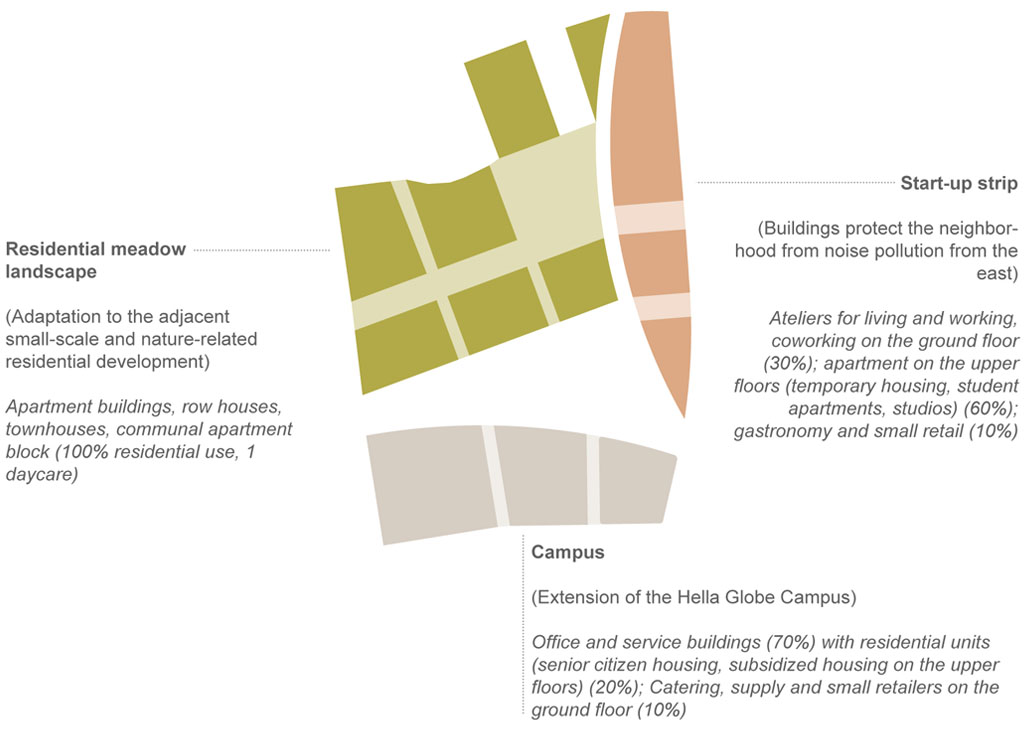 Residential meadow landscape, Start-up strip and Campus
3 Neighborhoods
This results in three neighborhoods with different functional orientations, typologies, densities and heights for a sustainable, mixed-use, urban, lively but also adaptable neighborhood: a "Residential Meadow Landscape" as a family-oriented residential area, based on the adjoining small-scale development; a "Start-up Strip" that protects the entire site from noise, with studios for living and working, co-working, temporary housing, student apartments and studios; and a "Campus" as an extension of the Hella Globe campus for offices and services with residential units on the upper floors.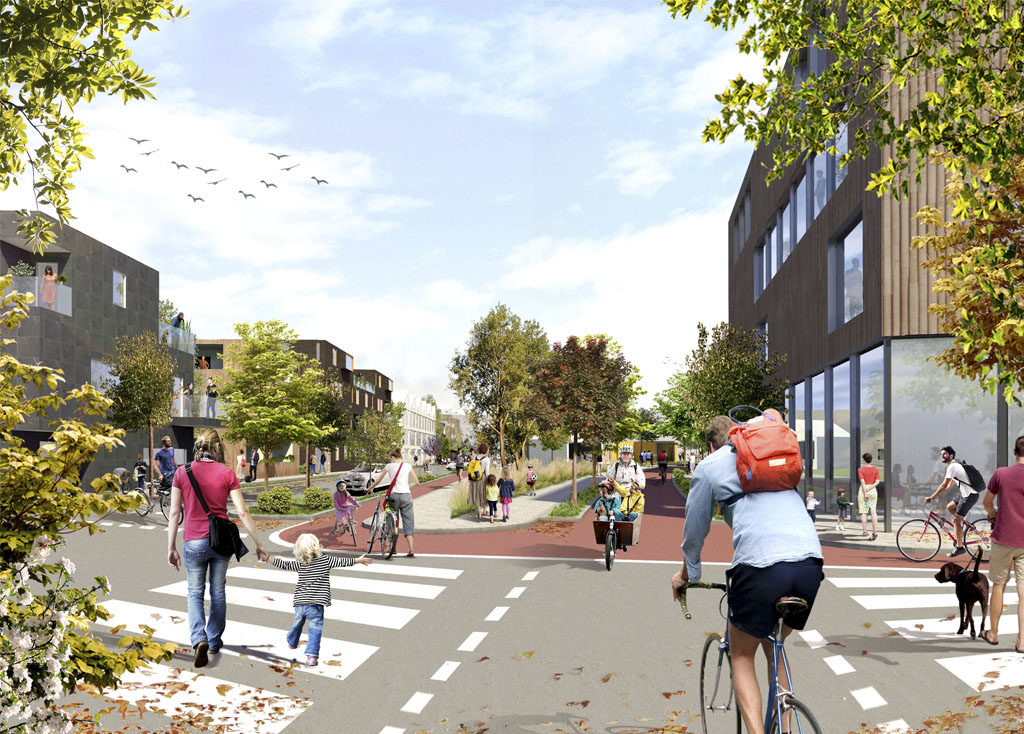 View from Steinstraße into the new car-free pedestrian and cycle path (southern link)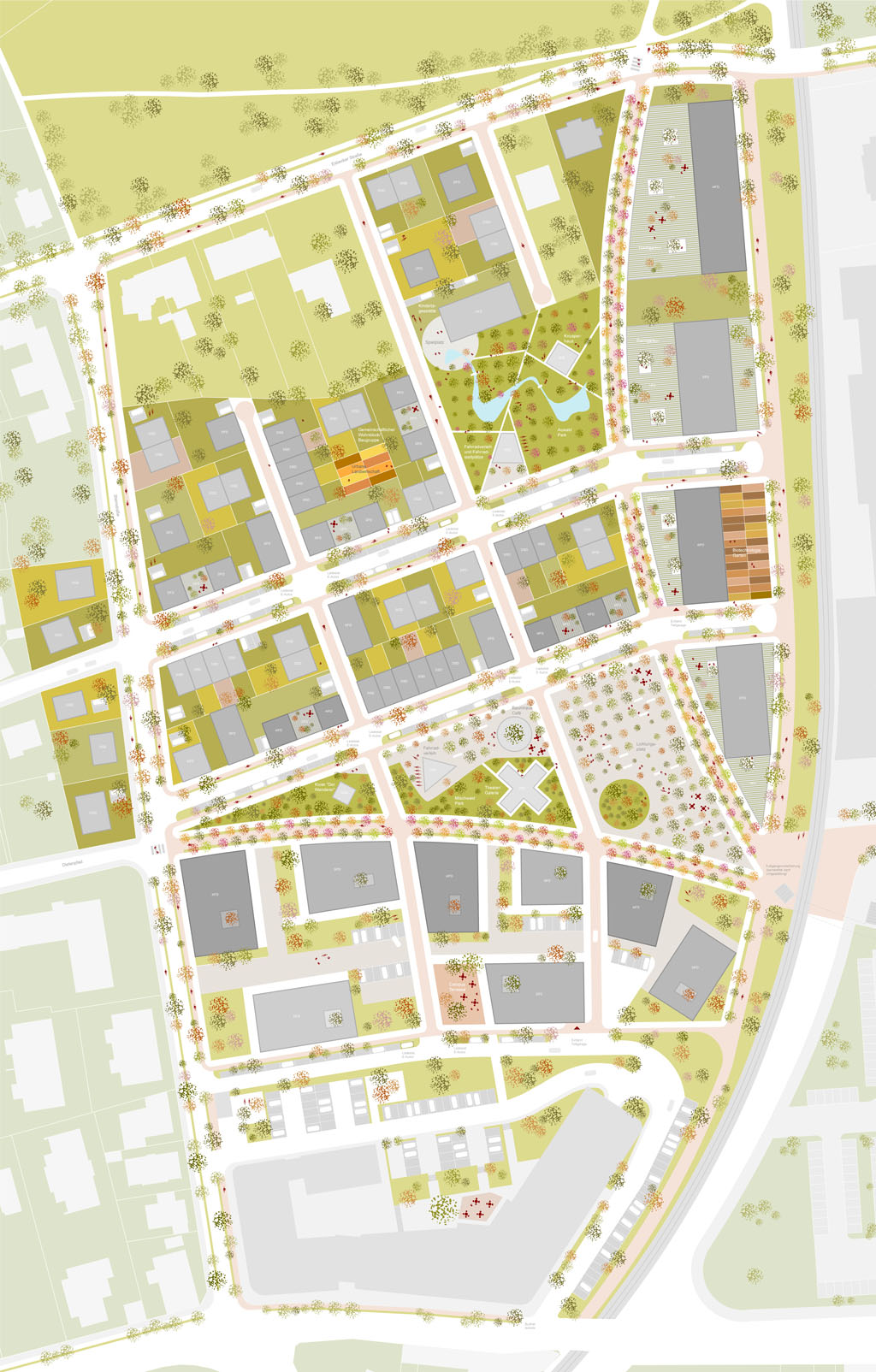 Site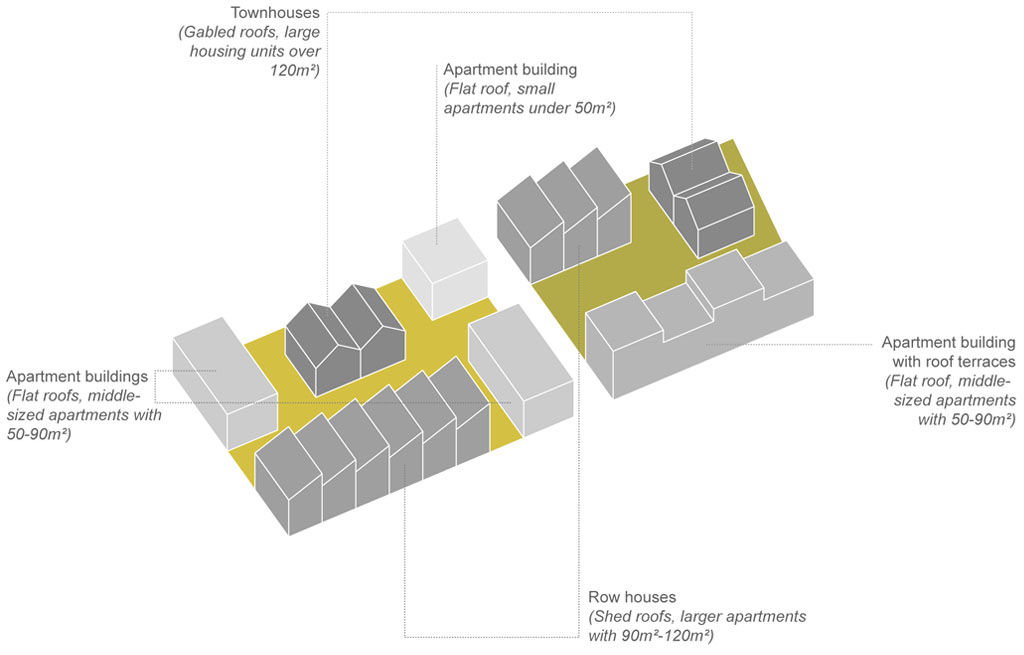 Typologies of the Residential Meadow Landscape
Title: 1 Square, 2 Links and 3 Neighborhoods
Project: Restructuring of the "Kernstadt Ost" in Lippstadt
Date: November 2018
Type: Restricted Urban Design Competition
Organizer: Post Welters + Partner, Dortmund, Germany
Location: Lippstadt, Germany
Site: Steinstraße, Lippstadt
Programme: Residential development with complementary service and office spaces
Surface: 6,4ha
Status: Competition
Awards: Honourable mention
Client: Municipality of Lippstadt
Team: Bernd Upmeyer, Danae Zachariaki, Lorenzo Gambara (BOARD), Silvia Lupini (LOOP)