04-11-19 // AFFORDABLE URBANISM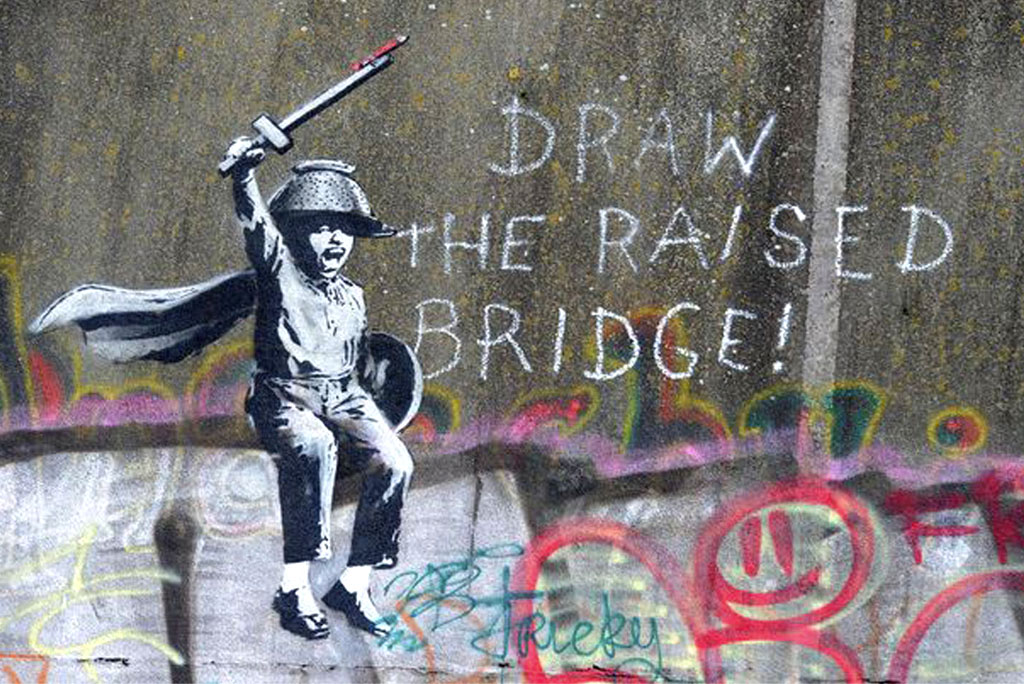 Banksy's artwork on Scott Street bridge in Kingston upon Hull, UK, 2018
Affordable Urbanism
By Bernd Upmeyer
One motivation for our previous issue #31 on "After Life Urbanism" was based on an interest in finding innovative solutions for the creation of affordable housing in spite of the increasing amount of city-space that is covered by cemeteries. But the question how to generate affordable urban spaces in general – whether for housing, work spaces, public spaces, urban infrastructure or other spaces – has, as a matter of fact, been nagging us for a very long time, if not since day one of the magazine around 15 years ago when we started with MONU #1 on "Paid Urbanism". In that first issue we demonstrated how subsidies and public spending shape our urban spaces, supporting people to afford their urban lives and have access to urban places and activities. Thus, this new topic of MONU has a lot to do with Lefebvre's famous idea of the "right to the city", but projected onto our contemporary world, and therefore also touches on themes such as accessibility to urban life, inclusiveness, spatial inequality, liveability, social interaction, collective life, co-creation, openness, and the re-thinking of capitalism when it comes to the cities of today.
The topic of "affordability" has indeed had a long tradition in the magazine and has become, since its foundation in 2004, a latent subject of many subsequent issues. There was, for example, #13 – "Most Valuable Urbanism", in which Jürgen Krusche complained that the constant striving towards clean, safe, and beautiful public spaces had banished unwelcome individuals from marginalized social groups from public life. In our own contribution "Co-Residence: Habiter en Grand", together with STAR strategies + architecture, in #18 – "Communal Urbanism", we argued that the introduction of a new form of communal life on the domestic scale of the apartment might contribute considerably to solving some of our current problems on the metropolitan scale, whether of an economic, social, or environmental nature. In further issues, such as #24 – "Domestic Urbanism", for example, Neeraj Bhatia and Christopher Roach showed, how to re-imagine and re-think the domestic and the house as one of the smallest and most valuable urban units in order to create new affordable housing. One solution they proposed was to make use of the many illegal secondary units that exist within a city, such as hidden garages, attics, rear yards, or underutilized spaces of homes.
But we believe that the topic of "affordability" related to cities is even bigger than that, has much more to offer, and needs still more research and debate than it has attracted already in MONU's past issues and in other places. Recent and current protests around the world addressing economic justice, such as the French yellow vests movement that was motivated by rising fuel prices and the high cost of living, or the current Chilean protests against rising fares on public transit that triggered the biggest demonstration the country has ever seen, are proof of the urgency of the matter. That is why we think it is time to dedicate an entire issue to the topic of "Affordable Urbanism" and dig deeper than ever into the subject with the aim of coming up with new and innovative strategies and proposals. Nevertheless, one important aspect of "Affordable Urbanism" certainly relates to housing alone, especially since purchase and rent prices are ever increasing in most of the major and most densely populated cities around the world. An obvious solution to this problem is often seen in the construction of more units, the provision of subsidies, or the implementation of rent-controls. However, as so often, things are much more complicated than that, as many cities struggle to provide the necessary number of units for all kinds of reasons such as too stringent building regulations or NIMBY ("Not In My Back Yard") activities; moreover, not all cities can afford to spend, like Paris, 1% of its country's GDP on rent subsidies, which often do not even benefit renters, but landlords; and rent-controls can easily constrain housing supply and thus drive up prices in cities.
Title: Affordable Urbanism
Author: Bernd Upmeyer
Date: November 2019
Type: Call for Submissions, MONU #32
Publications: MONU – Magazine on Urbanism
Publisher: Board Publishers
Location: Rotterdam, The Netherlands