15-05-20 // PANDEMIC URBANISM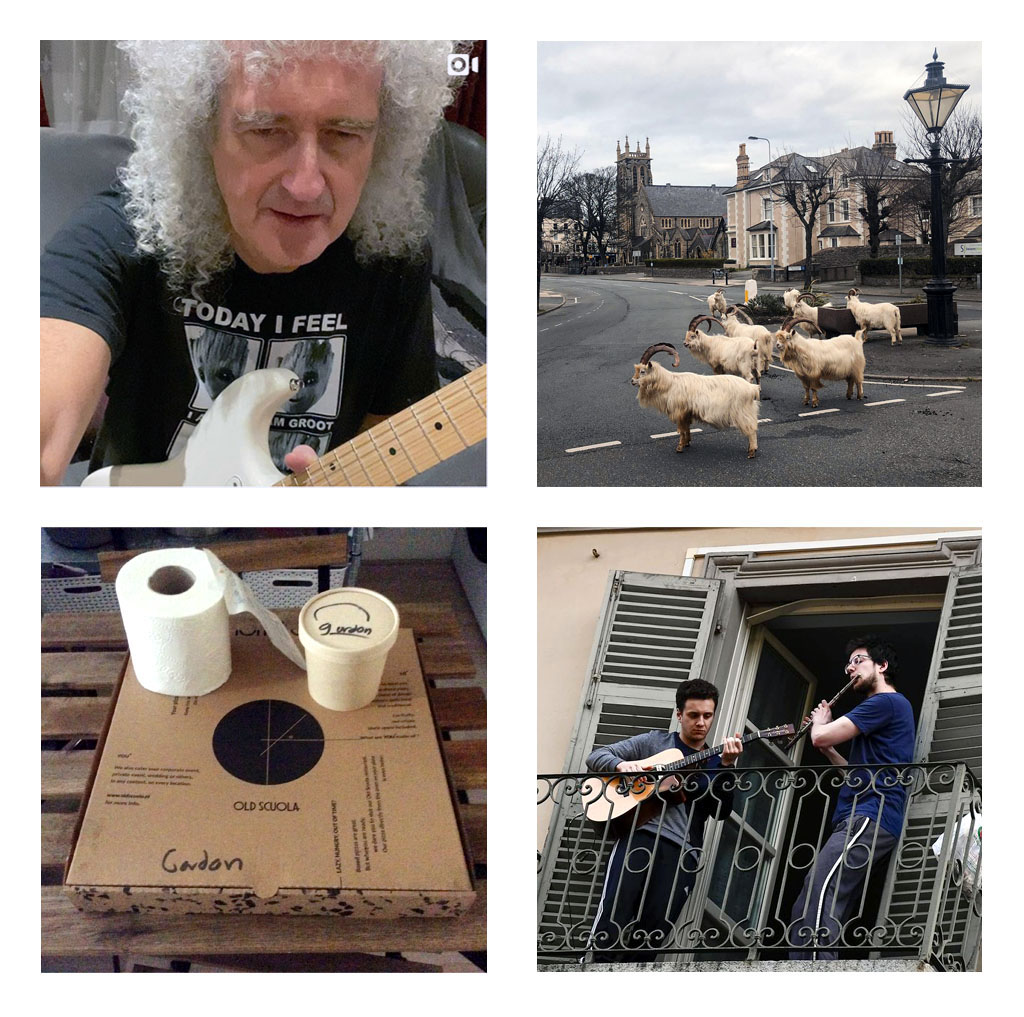 Above left: Brian May's micro concerts on his Instagram page
Above right: Great Orme Kashmiri goats on the streets of Llandudno, Wales
Below left: Pizza delivery with toilet paper, Rotterdam, Netherlands
Below right: Two men jam out on the guitar and flute on a balcony in Turin, Italy
Bernd Upmeyer defined a new topic for MONU's coming issue on "Pandemic Urbanism":
"When in 2009 Jacob Ross Boswell, in his article "Dystopic Verdure" in MONU #11 on "Clean Urbanism", introduced the topic of diseases, such as malaria, cholera, tuberculosis, yellow fever, and typhus etc, and how they had impacted urban landscapes and the shape of cities in the past, we were very intrigued and considered dedicating an entire issue on this topic. Particularly fascinating were his elaborations on how, by the second half of the 19th Century, urban designers and landscape architects such as Daniel Burnham, Frederick Law Olmsted, and a host of other architects, planners, and landscape architects collaborated with medical colleagues like Chicago's John Rauch in reshaping American cities: broadening streets and boulevards to allow for more sanitary air flow, moving pestilential cemeteries and dumps to the fringes of the city, carving out, reclaiming, or simply seizing land for America's first great urban parks, such as New York's Central Park. However, in the end we abandoned the idea to create an entire MONU issue on the relation between diseases and cities, since it seemed to us as something that belonged to the past only.
However, since the recent outbreak of the global coronavirus pandemic with which the entire world struggles currently, there does not seem to be a theme that is more present than discussing the consequences of diseases – and in particular infectious and contagious diseases – for cities. Thus, we deem it necessary, important, and urgently relevant to initiate a reflection on "Pandemic Urbanism"…" continue reading on MONU's website.