05-05-20 // PANDEMIC URBANISM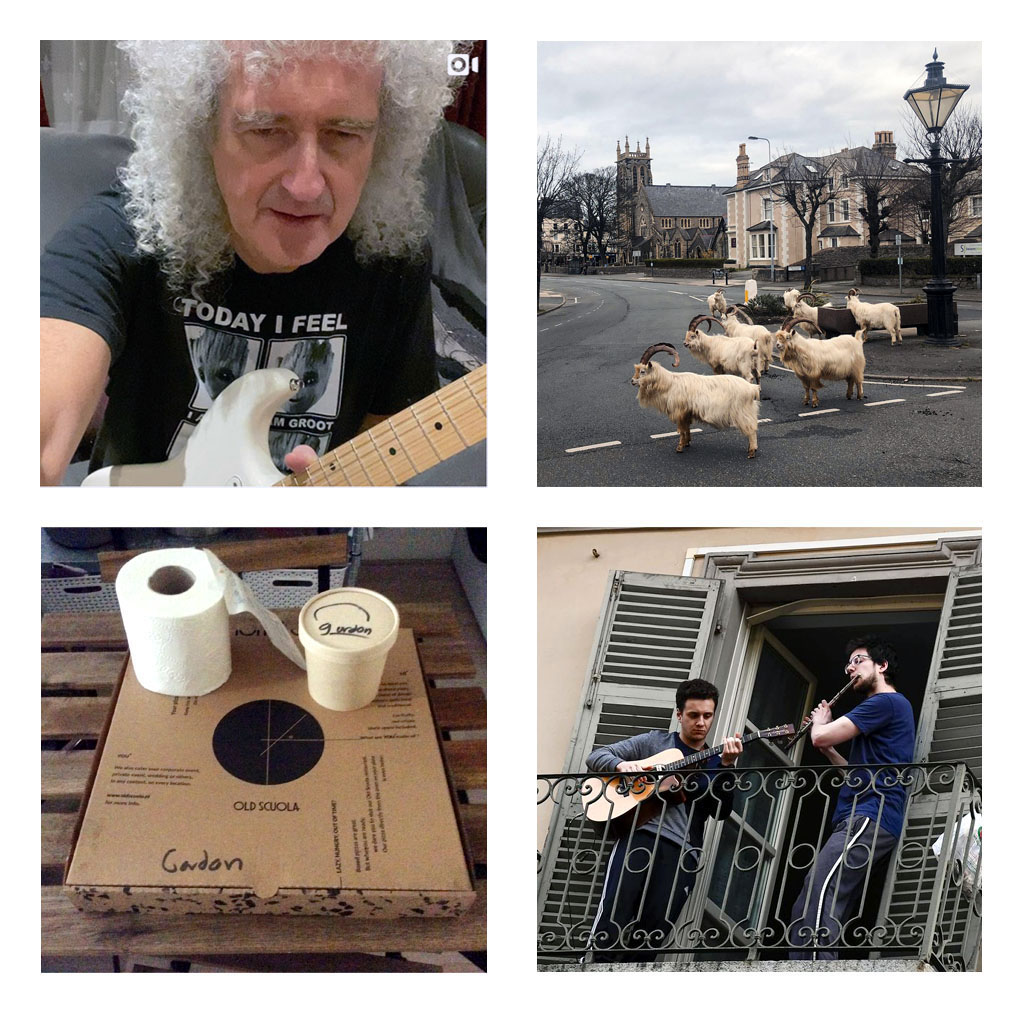 Above left: Brian May's micro concerts on his Instagram page
Above right: Great Orme Kashmiri goats on the streets of Llandudno, Wales
Below left: Pizza delivery with toilet paper, Rotterdam, Netherlands
Below right: Two men jam out on the guitar and flute on a balcony in Turin, Italy
Pandemic Urbanism
By Bernd Upmeyer
When in 2009 Jacob Ross Boswell, in his article "Dystopic Verdure" in MONU #11 on "Clean Urbanism", introduced the topic of diseases, such as malaria, cholera, tuberculosis, yellow fever, and typhus etc, and how they had impacted urban landscapes and the shape of cities in the past, we were very intrigued and considered dedicating an entire issue on this topic. Particularly fascinating were his elaborations on how, by the second half of the 19th Century, urban designers and landscape architects such as Daniel Burnham, Frederick Law Olmsted, and a host of other architects, planners, and landscape architects collaborated with medical colleagues like Chicago's John Rauch in reshaping American cities: broadening streets and boulevards to allow for more sanitary air flow, moving pestilential cemeteries and dumps to the fringes of the city, carving out, reclaiming, or simply seizing land for America's first great urban parks, such as New York's Central Park. However, in the end we abandoned the idea to create an entire MONU issue on the relation between diseases and cities, since it seemed to us as something that belonged to the past only.
However, since the recent outbreak of the global coronavirus pandemic with which the entire world struggles currently, there does not seem to be a theme that is more present than discussing the consequences of diseases – and in particular infectious and contagious diseases – for cities. Thus, we deem it necessary, important, and urgently relevant to initiate a reflection on "Pandemic Urbanism". In that way we wish to connect to – and continue – discussions that have started already, in which some predict, or hope that covid-19, the coronavirus disease, re-shapes and transforms cities. The urbanist Joel Kotkin, seems to forecast the end of the era of the megacity, arguing that 'germy' cities such as New York will lose their appeal. On the other hand Richard Florida, one of the contributors to our current MONU issue #32 on "Affordable Urbanism", appears to question this, pointing out that the flue pandemic of 1918-19 did not interrupt the growth of cities such as Chicago. Although terrible outbreaks of the plague and cholera barely delayed the growth of cities such as London or Paris in the past, these diseases evidently influenced those cities in various ways.
Obviously, there is a lot to debate as to what changes the present coronavirus pandemic might bring to cities. Some changes might indeed be spatial, although maybe not on the scale of the urban fabric, but on a smaller scale with more subtle changes that are triggered by social distancing, confinements, and stay-at-home orders, and articulated in activities such as social interactions from balcony to balcony, probably most beautifully expressed in the making music and singing together. And since the coronavirus pandemic seems to last for a while longer than we expected, there might be long-term effects that influence the politics, socioeconomics, culture, environment, and even the climate of cities. All of this might lead to new ways of living and new routines altogether, particularly in the domestic spaces of our cities, where people increasingly intensify their activities when it comes to exercising, cleaning, organising, cooking, baking, TV-watching, online communicating, and – of course – working from home. And that what happens in domestic interiors appears to be very relevant for our societies and cities we already demonstrated in MONU #24 on "Domestic Urbanism".
Therefore, this new issue of MONU on "Pandemic Urbanism" would like to discuss what these changes will look like, or which of them have already occurred, and what kind of urban adaptations and designs will be necessary that help us cope with the challenges of this pandemic. Will those adaptations be merely temporary such as the added shelves in apartment blocks where delivery drivers can leave food and other goods, which we presently find in many countries, or will there be lasting transformations? Might the entry of wild animals into cities fulfil the dream of many to bring nature back to cities? Will the ever cleaner air, rivers, and nature in general teach us a lesson on how to combat climate-change, making our cities more habitable than ever? And since history has shown that pandemics of all sorts indeed had certain impacts on cities and their architecture, particularly in the Middle Ages – just think about the outbreaks of the plague that periodically ravaged European cities during that time which generated many new ideas about how cities should be organised – MONU #33 will focus on pandemics of the past too, to learn from them.
Thus, with this new issue of MONU on "Pandemic Urbanism" we would like to talk about and understand what pandemics do to cities, whether today or in the past, analyse and interpret their urban impacts, but come up with new ideas for cities and buildings too that improve our dealings with the current coronavirus pandemic and with pandemics in general. Additionally, we are also interested in all those stories and narratives that have taken place and continue to happen in our cities – such as rock stars giving private concerts from home, communal clapping on rooftops, the all day long wearing of pyjamas and tracksuits, to name just a few – that contribute to happy days despite – or especially due to – these weird times.
Title: Pandemic Urbanism
Author: Bernd Upmeyer
Date: May 2020
Type: Call for Submissions, MONU #33
Publications: MONU – Magazine on Urbanism
Publisher: Board Publishers
Location: Rotterdam, The Netherlands