13-12-22 // TO BE FINISHED IS TO BE DEAD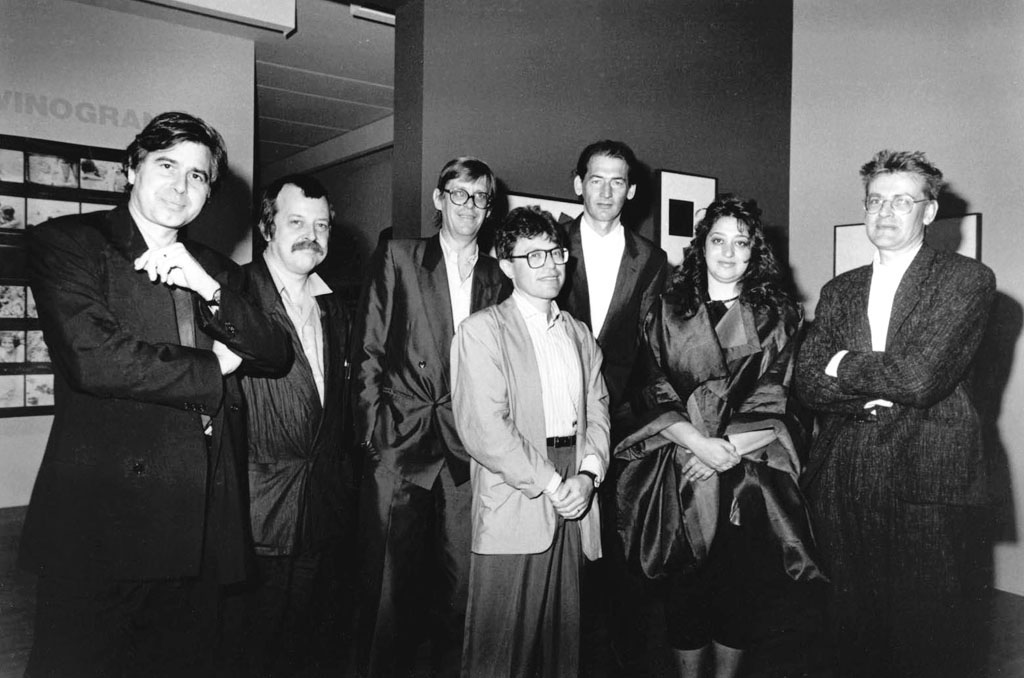 The architects in the Deconstructivist Architecture exhibition at MoMA, New York, 1988. From left to right: Bernard Tschumi,
Helmut Swiczinsky, Wolf D. Prix, Daniel Libeskind, Rem Koolhaas, Zaha Hadid, and curator Mark Wigley.
Bernd Upmeyer spoke on behalf of MONU Magazine's Unfinished Urbanism-issue with Mark Wigley, who is Professor of Architecture and Dean Emeritus at Columbia University. He is a historian, theorist, and critic who explores the intersection of architecture, art, philosophy, culture, and technology. His books include Cutting Matta-Clark: The Anarchitecture Investigation; Are We Human? Notes on an Archaeology of Design; Constant's New Babylon: The Hyper-Architecture of Desire; and Derrida's Haunt: The Architecture of Deconstruction. He has curated exhibitions at the Museum of Modern Art, the Drawing Center, Columbia University, Witte de With Center for Contemporary Art, Het Nieuwe Instituut, and the Canadian Centre for Architecture.
[…]
Constructivism, Deconstructivism, and Unfinishedness

Bernd Upmeyer: In 1988 you co-curated the MoMA exhibition Deconstructivist Architecture. In MoMA's catalogue for the exhibition in 1988 you wrote about the relation of Deconstructivism to Constructivism, the constructivist style of modern architecture that flourished in the Soviet Union in the 1920s and early 1930. You stated that Tatlin's Constructivist tower placed simple forms in conflict to produce an unstable geometry. What role do you think "unfinishedness" plays in the intended instability of the Constructivist architecture?
Mark Wigley: I am not sure whether "unfinishedness" plays a role there. But I think that there is a certain connection in the sense that Tatlin's colossal leaning tower, which was iconic for so many radical artists and architects, is constituted by a vast twisting open frame that confuses our sense of stability, with even the more conventionally finished prismatic volumes for human occupation being suspended within that uncertain yet monumental frame and continually spinning at different speeds. The appearance of stability, the very idea of stability, is challenged. A revolutionary society necessarily takes structure, or the idea of what is structural, beyond its conventional limits. A revolutionary architecture cannot be finished. So, I think you are right, there is a connection, but it is a tricky one that is related to the psychological mindset that makes us unconsciously search for the imagined structural support of buildings that challenge us. It is the same mindset that calls for architecture to be straightforward and uncomplicated in our society. Because we too spend most of our lives keeping our problems and complications hidden. But what if architecture would spend most of its time not keeping all its uncertainties and ambiguities hidden? Then there would be something always unfinished about the object. But that does not mean it falls down or goes away, and it does not mean it is inadequate. It would never claim to be adequate and we would not want it to be anything else. For whatever reason we have this deep insecurity about uncertainties and ambiguities and therefore unfinishedness that calls us to deny them…
… the complete interview was published in MONU #35 on the topic of Unfinished Urbanism on October 17, 2022.