25-11-13 // SEE YOU AT THE OPEN AIR THEATRE Final round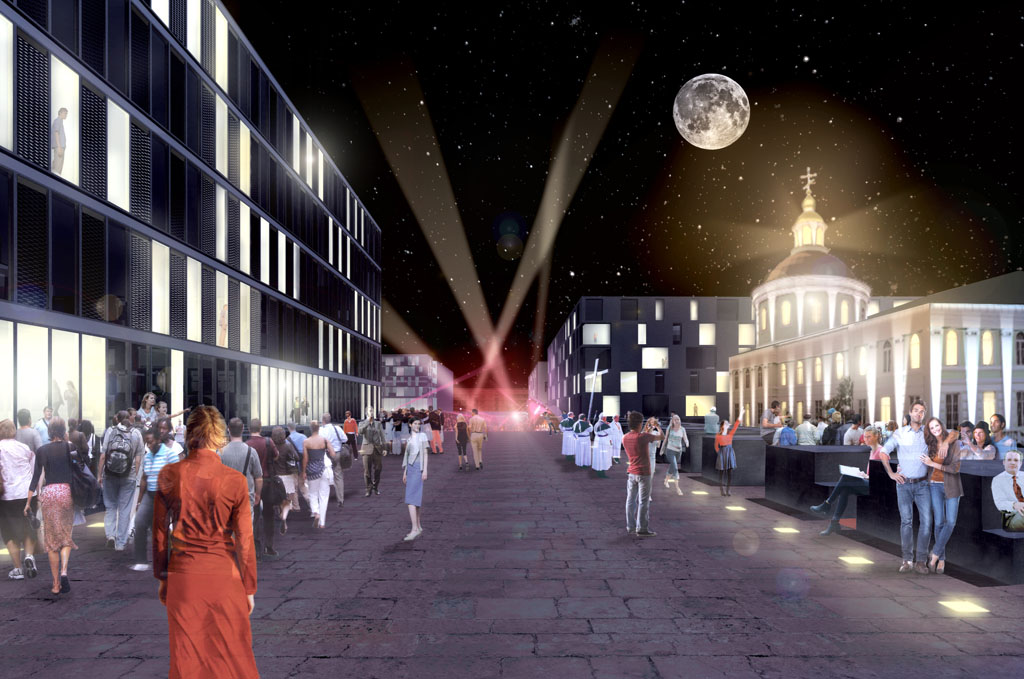 View of the Monastery Wall at night
This proposal reached the final round of the competition that chose the best 8 projects out of 126 entries. 3 prizes and 4 honorable mentions were given.
7 Public Spaces
In order to improve Belgorod's historical centre, we suggest to divide the site into smaller units, creating 6 squares and 1 central open air theatre that uses the difference in height of 6 metres of the existing topography, and that may be used for a multitude of functions and events, whether as a simple cascading park or as an auditorium for concerts.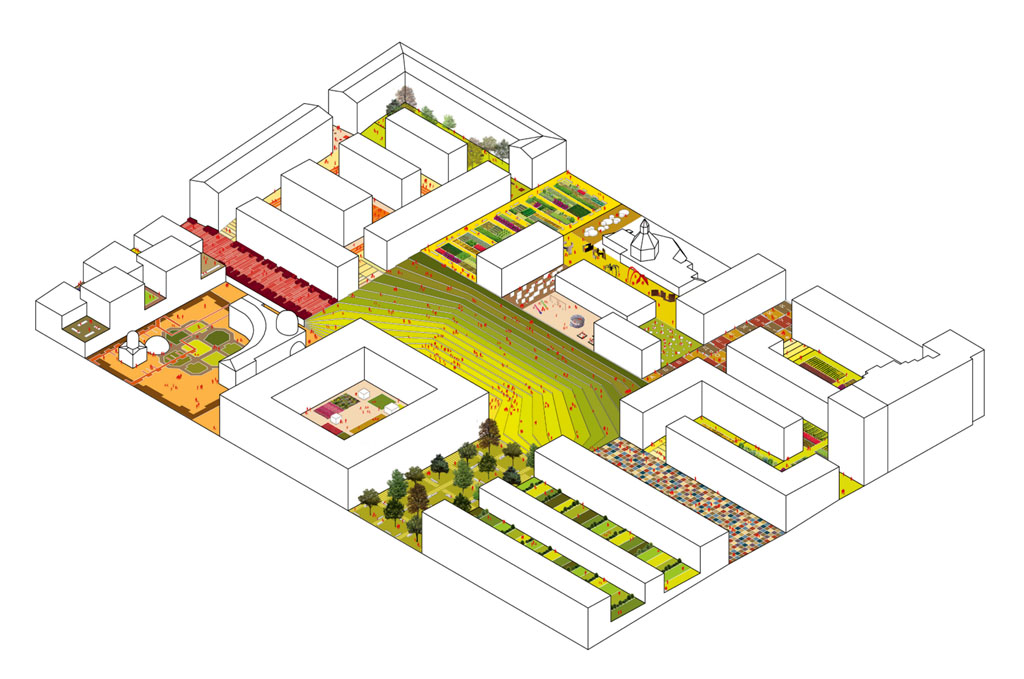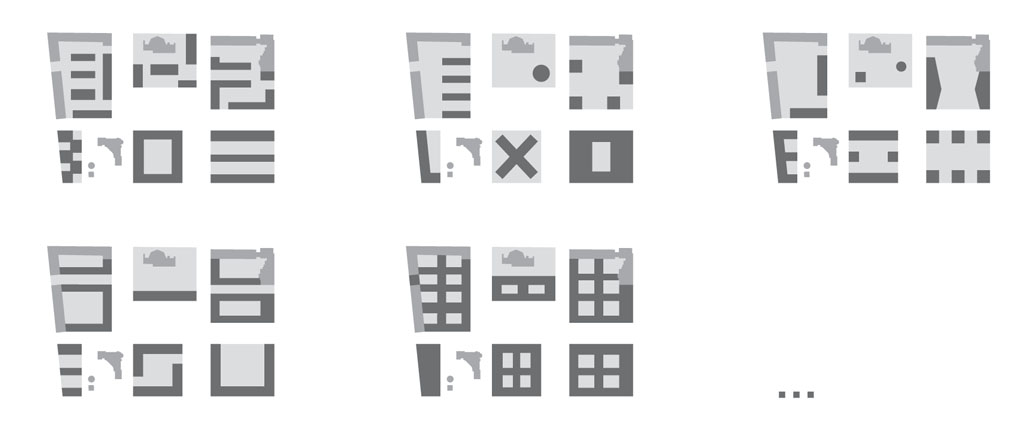 6 Blocks
Around these 7 linked public spaces, we propose to create 6 urban blocks that integrate the existing and planned buildings of the site, just as the 7 public spaces integrate the existing Episcopal Centre. Although we suggest a clear design for the blocks, they remain flexible enough to allow for different designs and densities.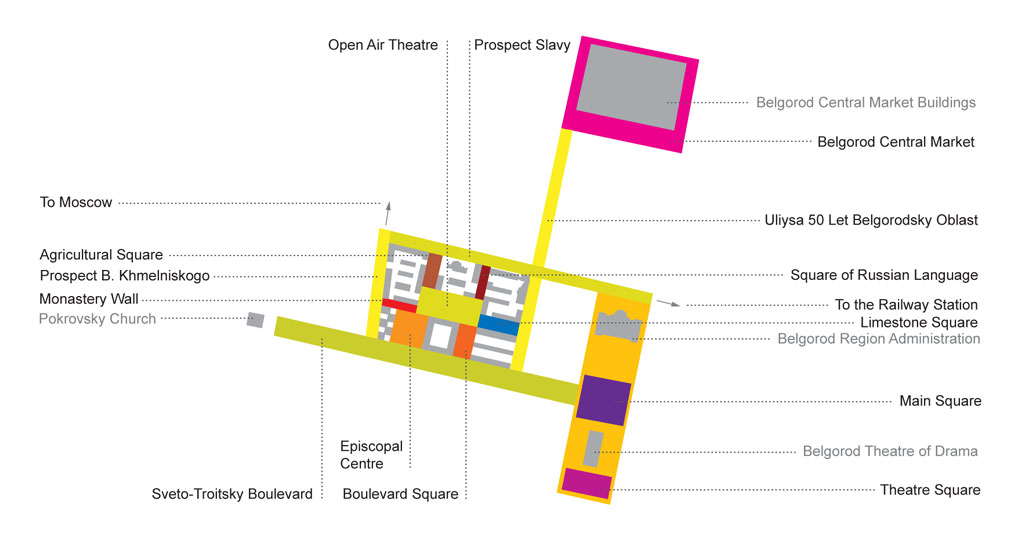 Connections
Our proposed 7 public spaces will create a network of spaces and connect the existing public spaces in a more direct way and in all directions, whether you wish to walk from the Pokrovsky Church to the Belgorod C. Market or from the Theatre Square to the Pr. B. Khmelniskogo, where you parked your car to go to Moscow.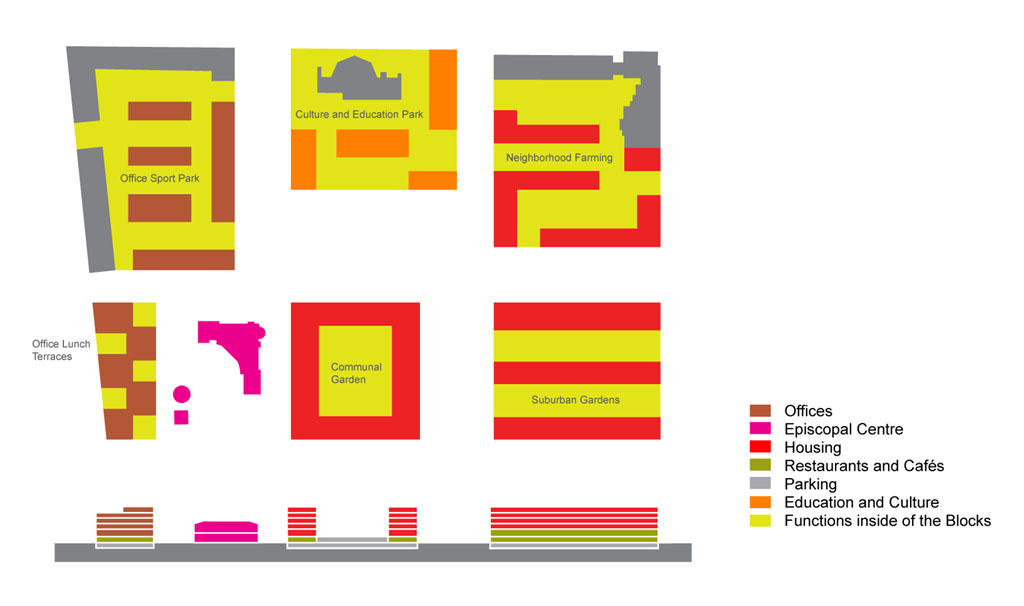 Programme
We suggest offices to the west, housing to the east and in the centre, and cultural functions and the Kindergarten to the north. All ground floors will accommodate functions such as cafés or boutiques. Parking will be underground. For the inside of the 6 blocks we propose community functions such as communal gardens.
Phasing
In order to make the development of the site easier, we propose to build the project in several phases, starting with the block on the corner of the Sveto-Tr. Boulevard and Uliysa 50 Let Belgorodsky Obl. The Open Air Theatre in the centre of the site will be build, once enough buildings have been erected and the necessary density has been reached.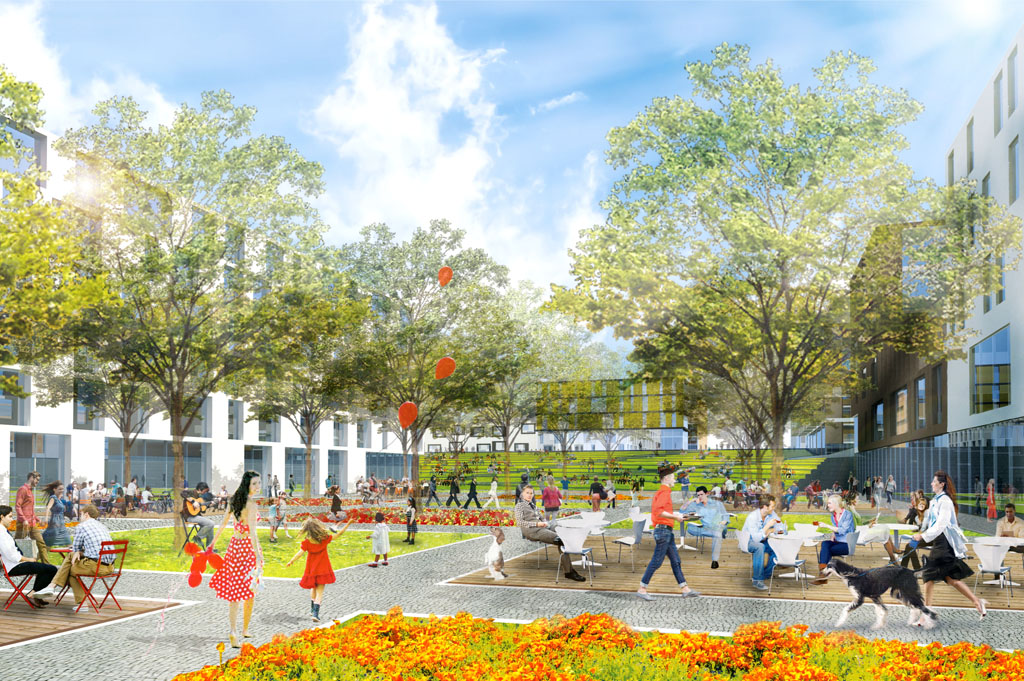 View of the Boulevard Square
Typologies
With different building heights and building depths, our proposed blocks will be able to accommodate different typologies for a great diversity of users. The apartment typologies will range from premium class apartments with private gardens that are typical in suburban areas, to more affordable apartments with gallery access.
Title: See you at the Open Air Theatre
Project: Belgorod City Centre
Date: November 2013
Type: Open International Urban Design Competition
Organizer: Project Russia
Participants: 126
Ranking: 8.
Location: Belgorod, Russia
Site: Belgorod City Centre
Programme: Urban block with mixed-use
Surface: 120.000m2
Status: Competition
Awards: Final round
Team: Bernd Upmeyer, Mario Yáñez Aller, Marcis Kalnins