18-06-14 // OUT OF THE WOODS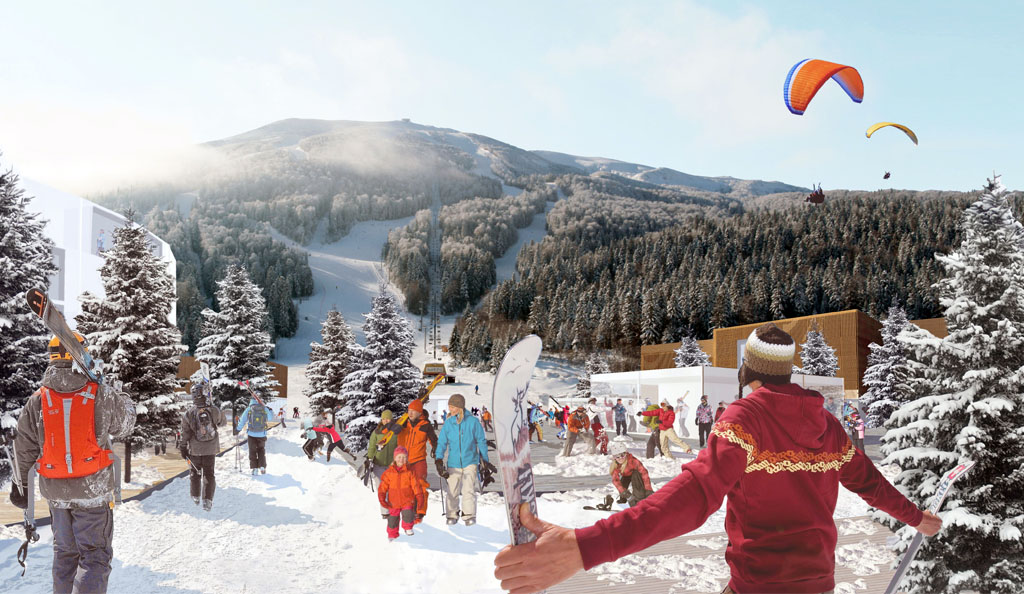 View of the square of the main resort centre with the ski slopes in the background
Out of the Woods
As a lot of trees need to be cut to create a first class sports and recreational ski complex with 27 ski slopes in the area of Klekovaca Mountain, we propose to use the removed wood as much as possible to build the new Tourist Centre. The wood will be used mainly for the structures and the facades of the buildings. However other materials, such as the locally prevailing limestone or typical materials such as glass, concrete and brick, will be combined with the wood.
3 Neighbourhoods
To use the different geographical features of the site in the best way, we propose to organize the Tourist Centre in 3 different neighbourhoods with 3 different organizations and atmospheres embracing the natural beauty of each location: a compact Main Resort Centre next to the skiing plateau and the ski slopes; a Hotel and Sport Complex on the nearly flat area of the site with buildings standing free as the trees in the context; and a Climatic Health Resort Zone in the pine wood zone.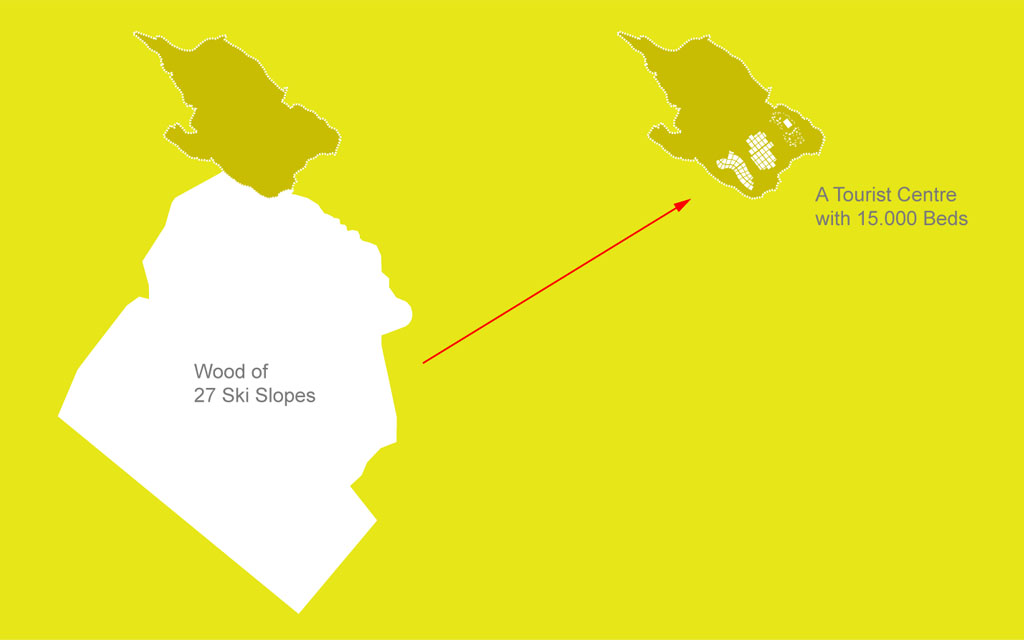 The trees that need to be cut to create the ski slopes will be used to build the new tourist centre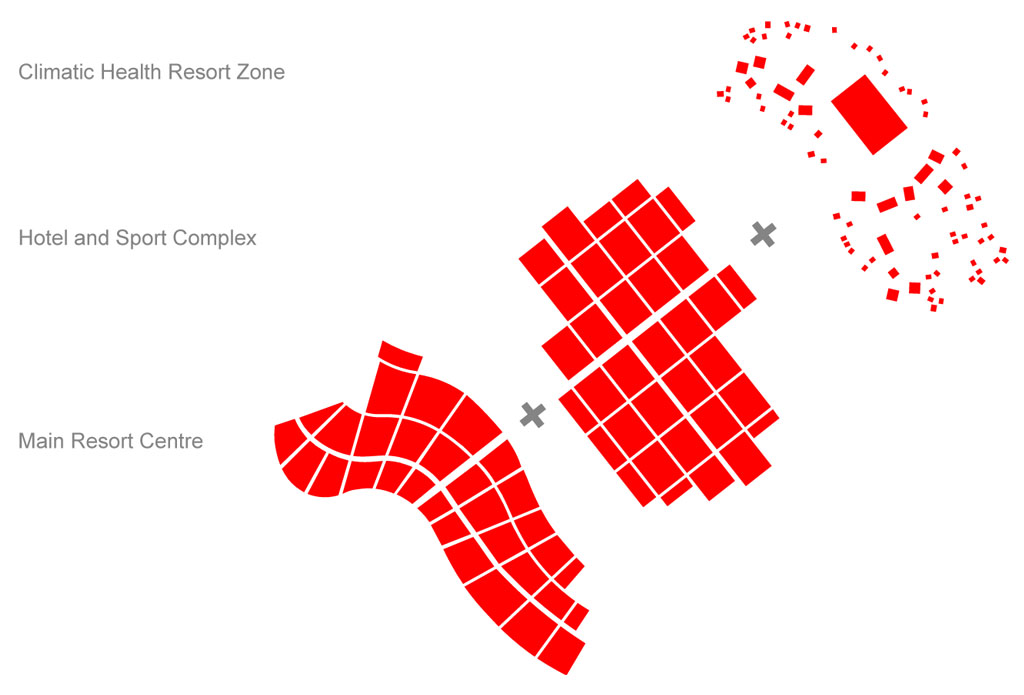 A tourist centre with 3 different neighbourhoods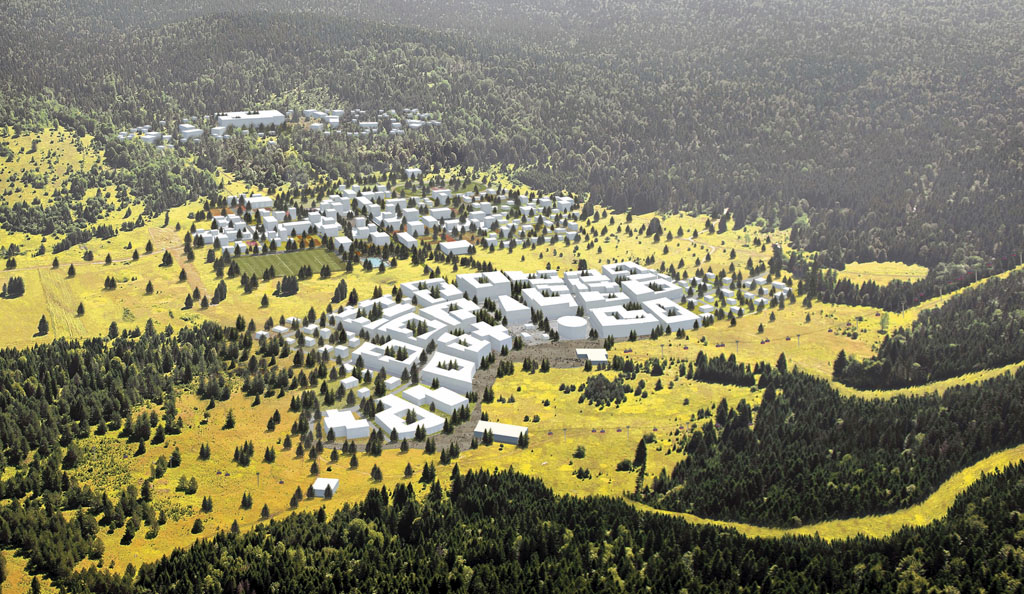 Aerial view of the site from the south in summer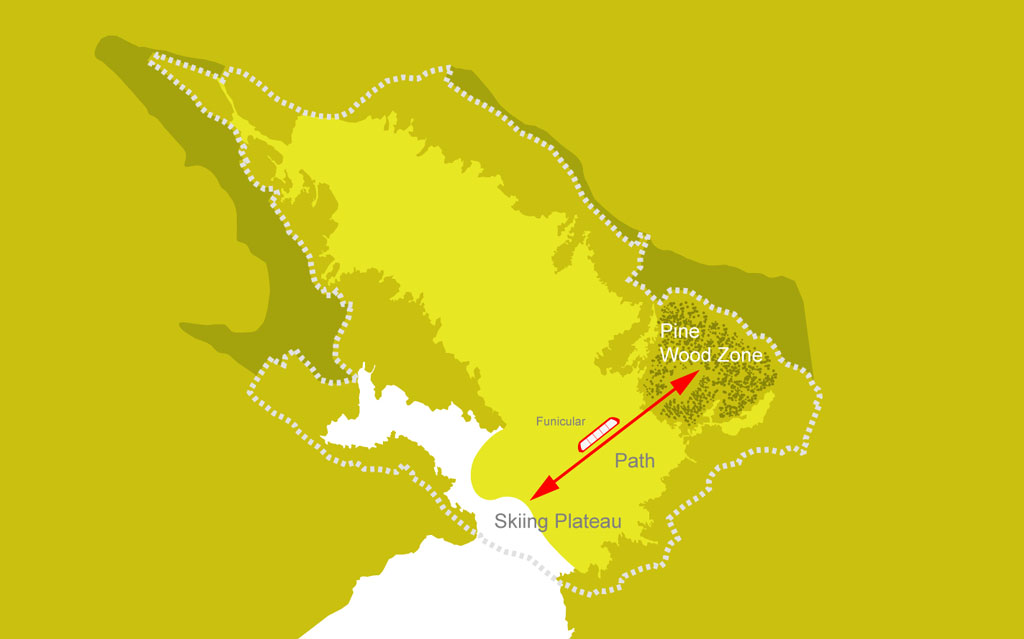 A funicular will connect the 3 neighbourhoods with each other
Direct Connection
All the 3 neighbourhoods will be connected with each other in the most direct way: by a straight path connecting the skiing plateau with the pine wood zone, crossing the flat middle part, where the Hotel and Sport Complex will be placed. Along this straight path we propose a funicular that will bring visitors within a couple of minutes from one part to the other. This path will additionally function as the main road of the Tourist Centre for delivery vehicles, medical vehicles and fire engines.
From the Ski Slopes to the Mountain Bike Hill
As a complementary part to the ski slopes in the southwest of the site, we propose to create a second public area for outdoor sports in the northeast: the Mountain Bike Hill, where the main sport will be mountain biking next to other sports such as climbing, hiking and mountaineering in general. The ski slopes and the mountain bike hill will be connected by a so-called "Green Route", which is a curvy path for cycling, running and walking.
3 Squares
In each of the 3 neighbourhoods we create one main public square, where the funicular will stop and most of the public life of the Tourist Centre will take place. The square in the Main Resort Centre will be, for example, the meeting point to go to the ski slopes; the square in the Hotel and Sport Complex will be the centre for sport activities such as playing tennis or golf; and the square in the Climatic Health Resort Zone will be a quiet public area in the middle of the pine wood zone.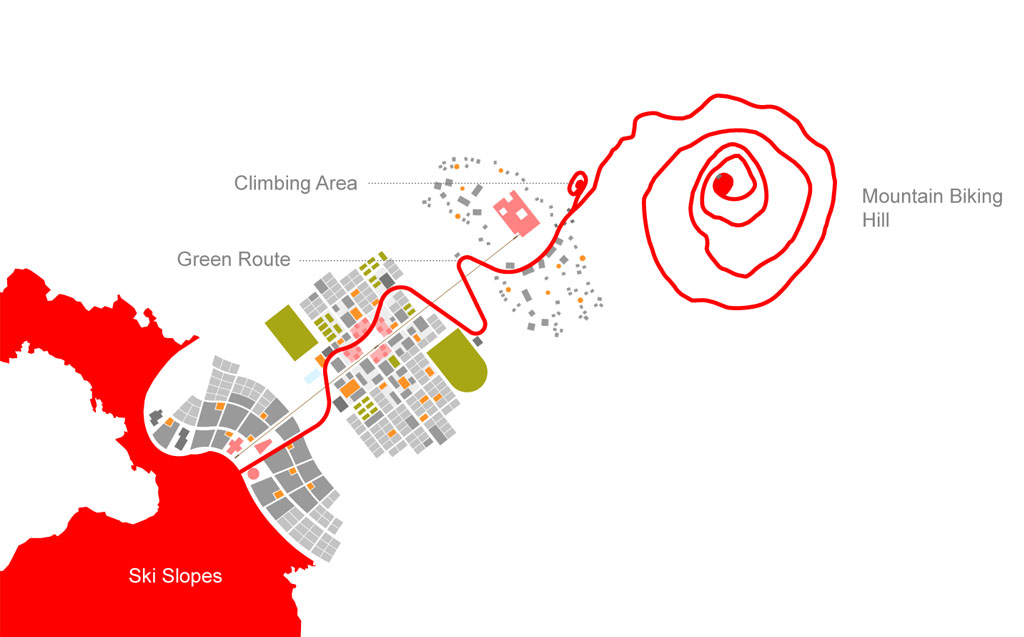 A "green route" between the ski slopes in the south and the mountain bike hill in the north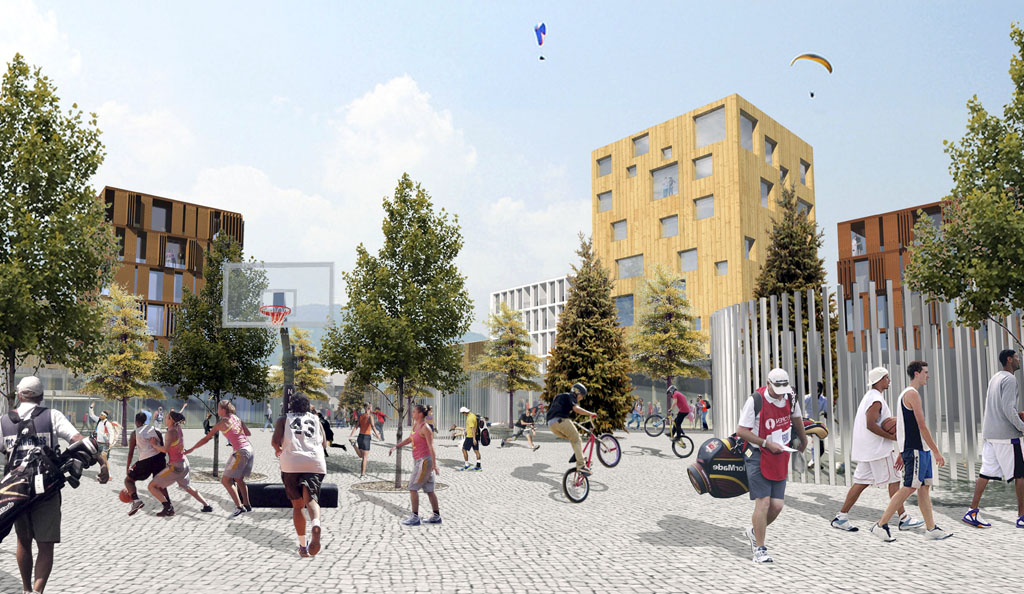 View of the square of the hotel and sport complex in summer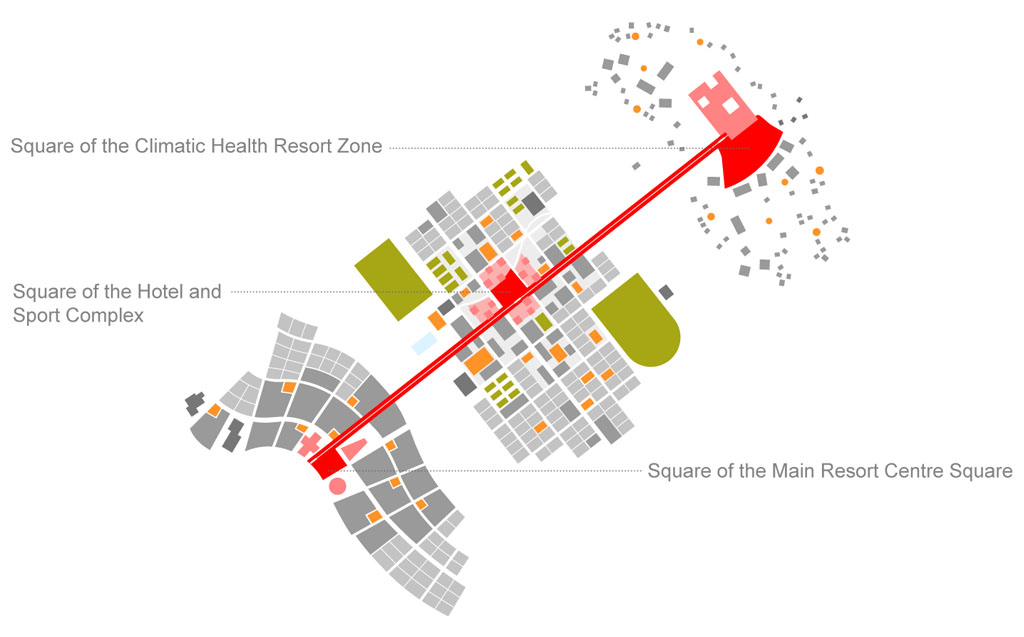 In each of the 3 neighbourhoods a main public square will be created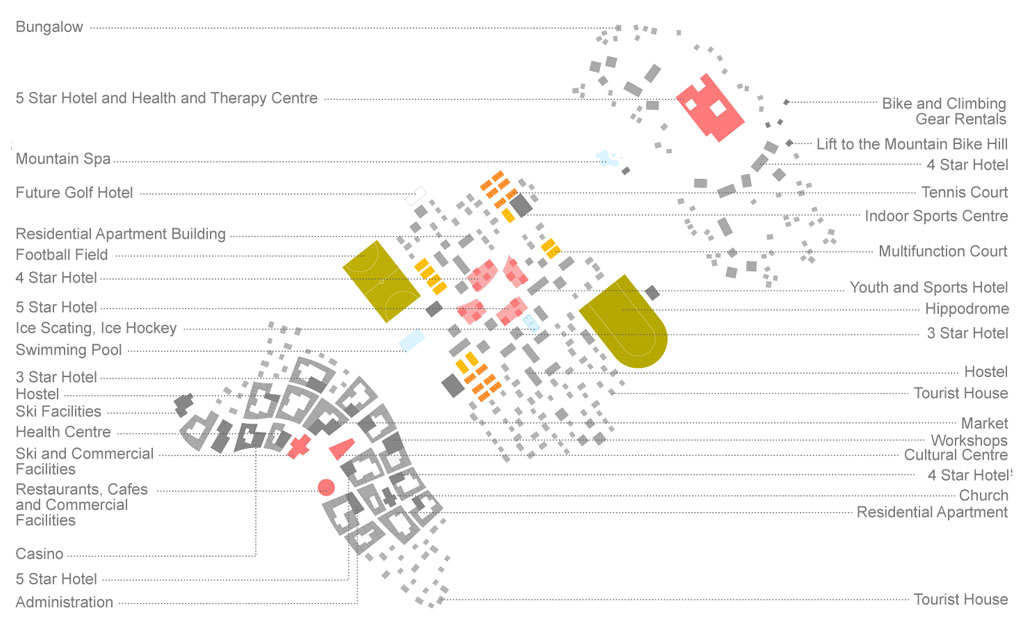 Each of the 3 neighbourhoods will have a focus on particular functions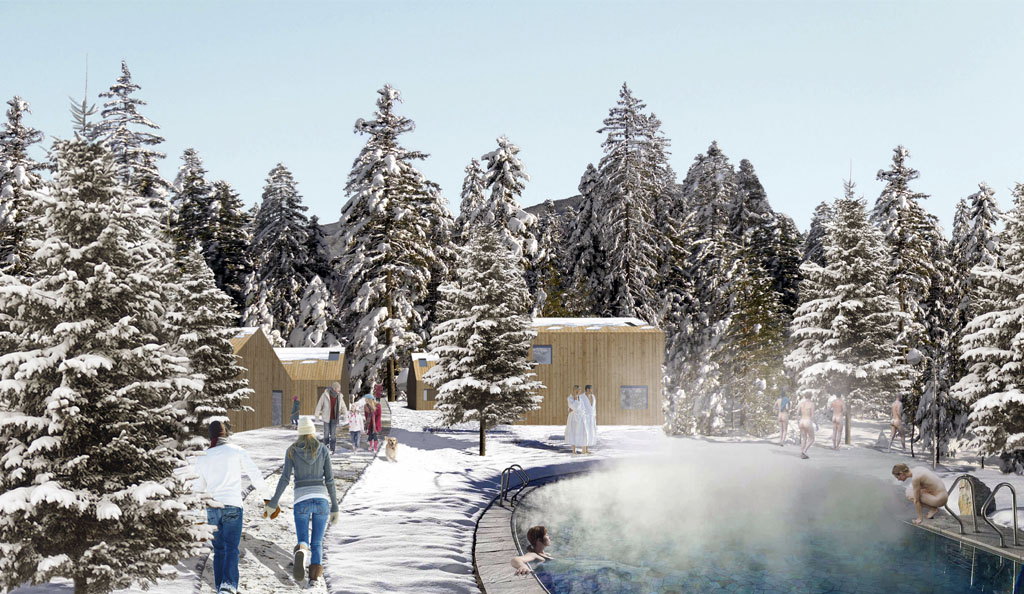 View of some bungalows in front of a glade with a heated pool in the climatic health resort zone
Title: Out of the Woods
Project: Tourist Centre on Klekovaca Mountain, Bosnia and Herzegovina
Date: June 2014
Type: Open 2-Phase International Urban Design Competition
Organizer: GB Immo d.o.o., Banja Luka (BA)
Participants: 27
Location: Klekovaca Mountain, Bosnia and Herzegovina
Site: Klekovaca Mountain
Programme: Tourist centre, Ski resort
Surface: 383ha
Status: Competition
Client: Republika Srpska Government
Team: Bernd Upmeyer, Sara Picazo Clarke, Gabriele Baleisyte