05-09-14 // ART MARKET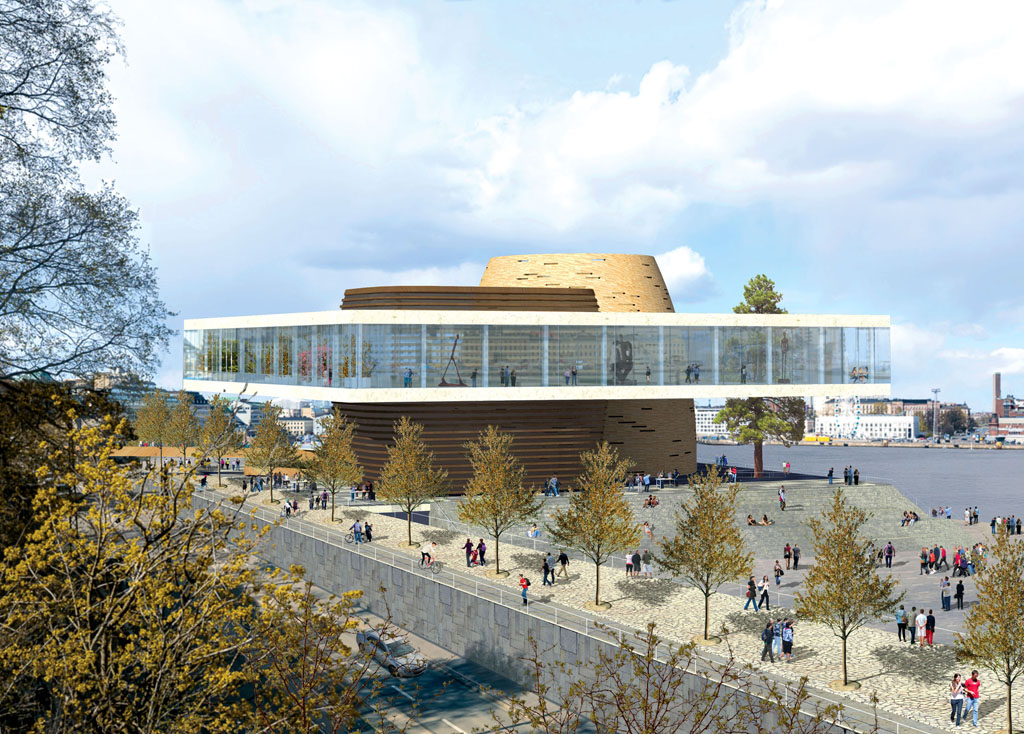 View from the Tähititornin Vuori Park
Sequence of Public Spaces
In order to improve the public spaces of the waterfront, we propose an "Art Market" as a 6m elevated open and flexible public deck on the museum site that offers views of the sea. This plinth will be connected by a pedestrian bridge to the Tähtitornin Vuori Park and by an elevated pedestrian and bicycle path to the pedestrian deck of the Olympic Terminal. Additionally to the "Art Market", we propose 4 more public spaces, namely a "Museum Park", "Water Square", "Museum Square", and a "Multifunctional Event Area", as a sequence of public spaces between the established city and the historic docks.
Elevated Exhibition Areas
The openness of the "Art Market" will be achieved by elevating the floor of the "Main Exhibitions" 12m. This exhibition box will be carried by two wooden curvy volumes. One will accommodate a restaurant, the offices and the "Flexible Performance Hall" and the other one the main entrance area, an atrium with the "Multi-purpose Zone" and spaces for additional exhibitions that can be reached either by escalators or elevators. Under the "Art Market" there will be space for the vehicular access to the port, the service access, storage spaces, an accessible "Open Storage", and the Makasiini Port Terminal.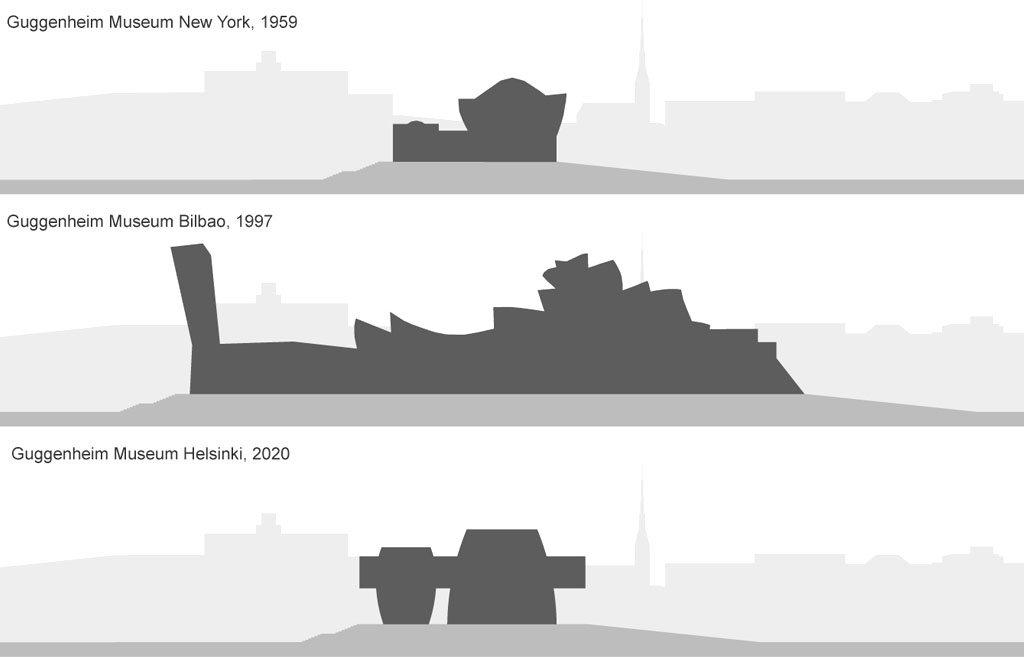 A recognizable symbol of Helsinki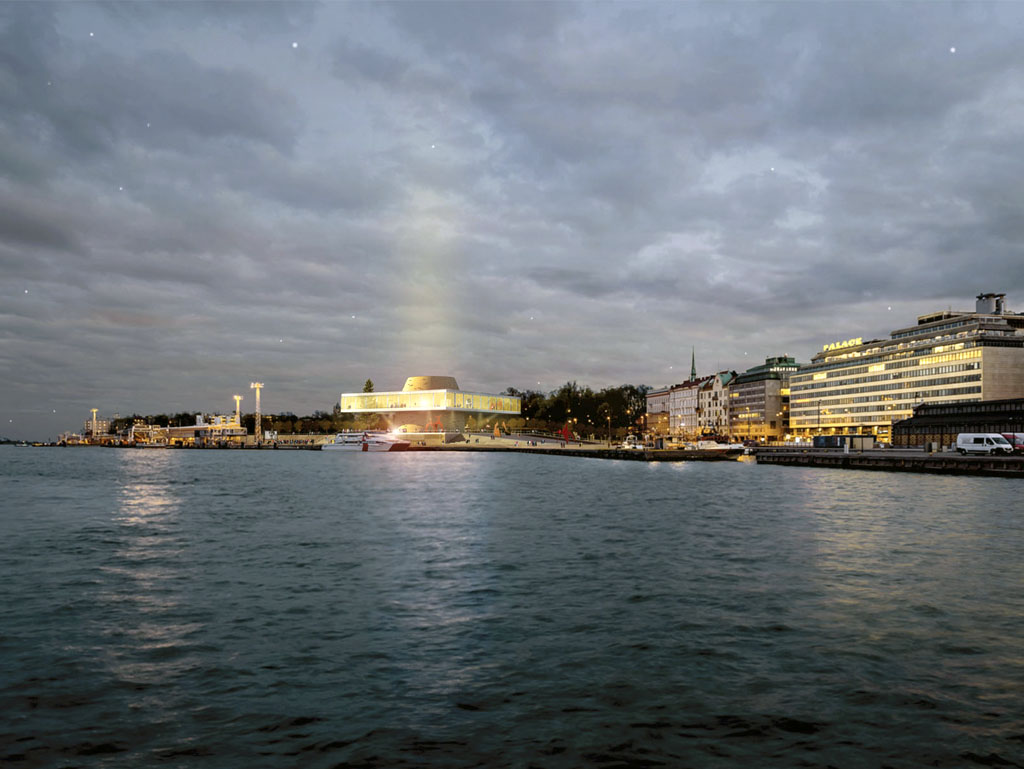 View from the Market Square
Symbol of Helsinki
To create a recognizable symbol of Helsinki that is fitting in its urban context, we propose a museum that is slightly higher than the Guggenheim NY, but lower than the one in Bilbao. It will be characterized by 3 elements: the "Art Market" representing the museum as a public space to gather and socialize; the box of the "Main Exhibitions" representing a technically advanced and flexible platform to debate, research and showcase art; and the 2 connecting volumes that are cladded by typical Finnish wood representing, together with the Finnish Spruce, Finland's ethical and ecological values, traditions and culture.
Curatorial Innovation
The "Main Exhibitions" floor will be highly flexible and equipped with the state of the art for museums, whether in relation to controlled natural lighting from the ceiling or the walls, or in relation to climate, IT, accessible walls, and acoustics. However, 3 volumes – namely the atrium, the "Flexible Performance Hall", and the hole for the Finnish Spruce – will appear permanently providing a specific identity to this interior. One configuration of the "Main Exhibitions", as shown in the drawings, could include a series of boxes for exhibitions, a "Waterfront View Café", and an outdoor space called "Museum Balcony".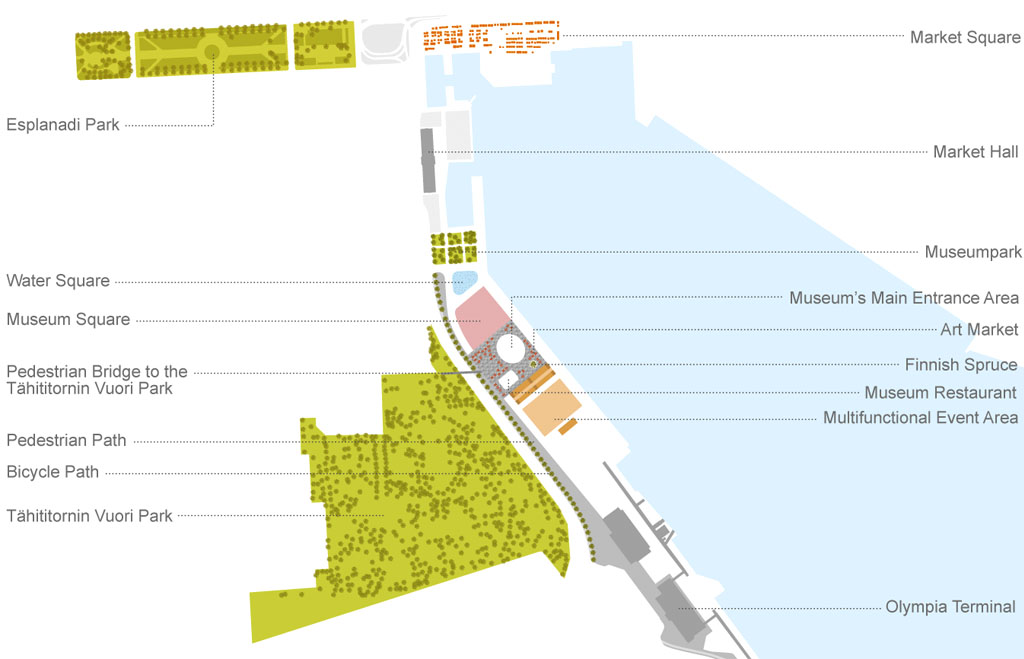 Sequence of public spaces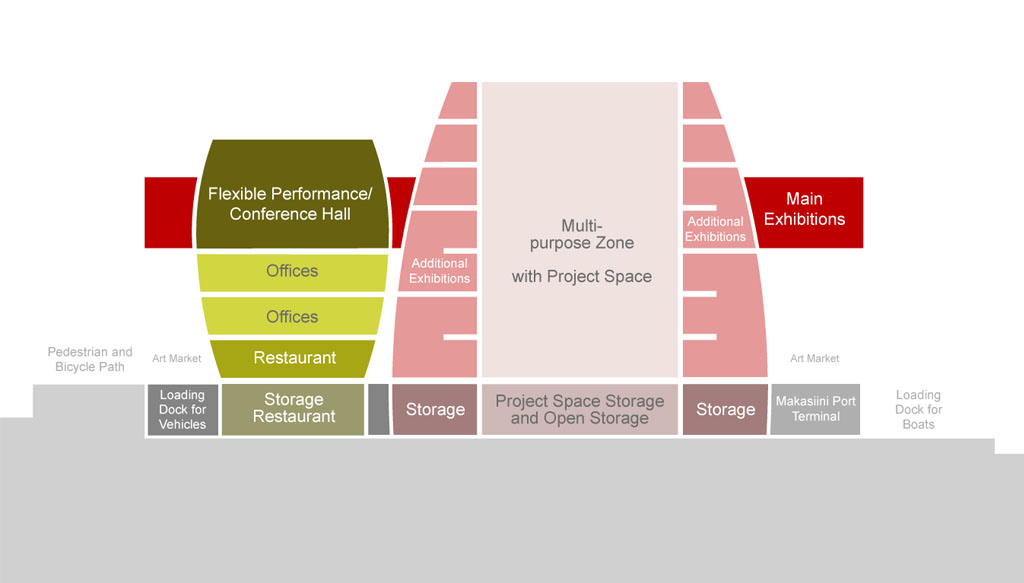 Programme section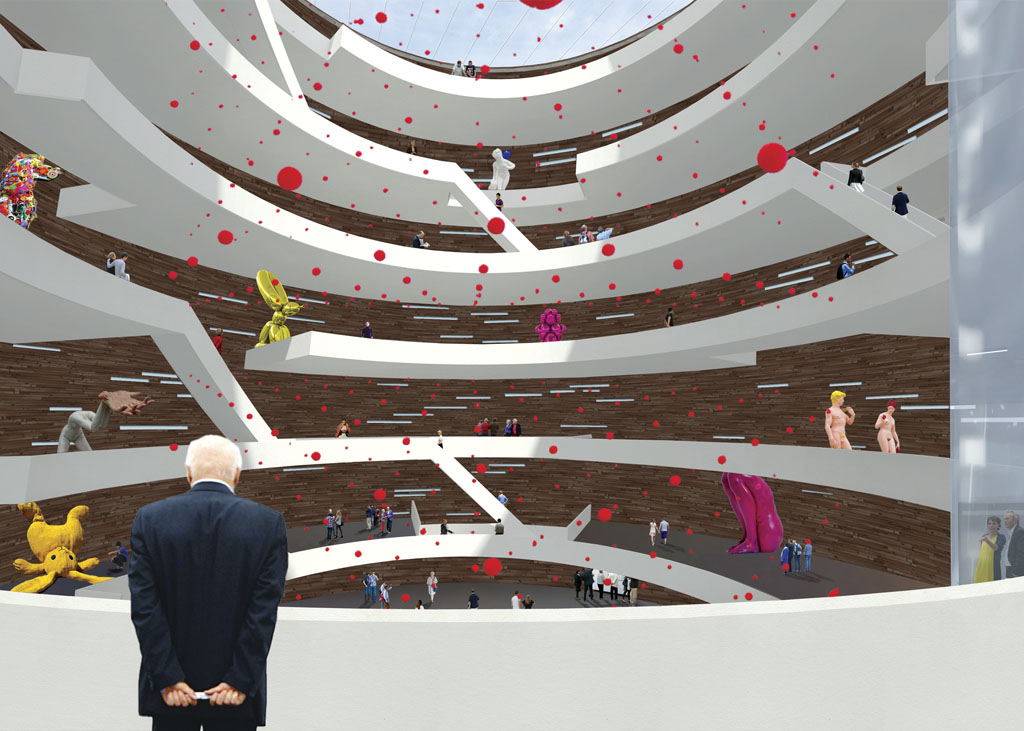 Interior view of the entrance area, the multi-purpose zone, and the additional exhibitions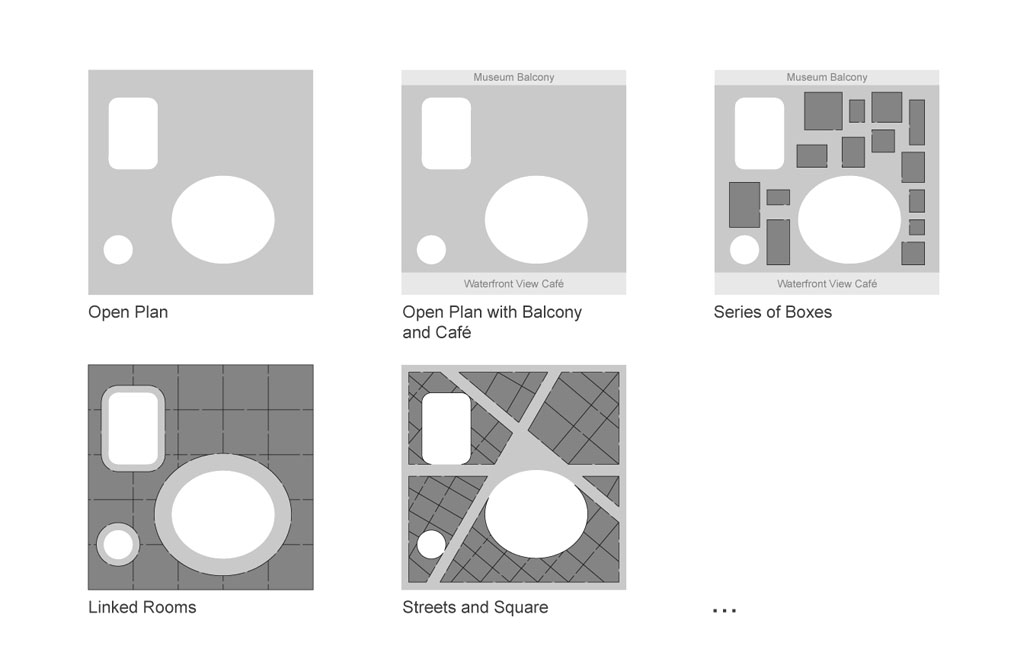 Possible configurations of the exhibition spaces


North east – south west section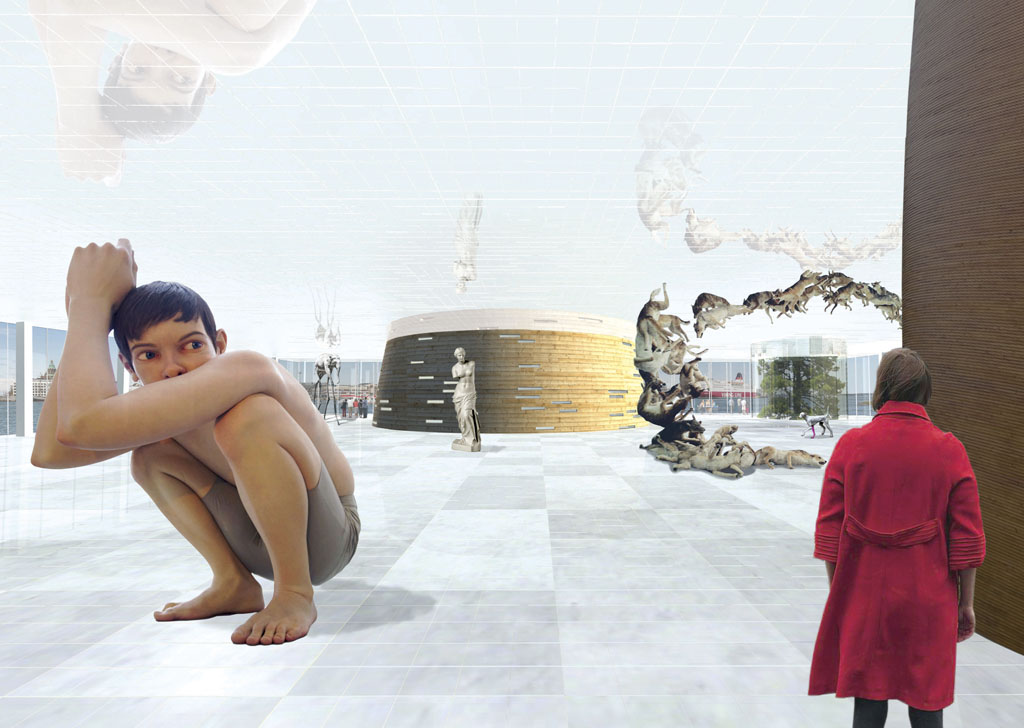 Interior view of the floor of the main exhibitions
Title: Art Market
Project: Guggenheim Helsinki Design Competition
Date: September 2014
Type: Open 2-Phase Architecture Competition
Organizer: Malcolm Reading Consultants
Participants: 1715
Location: Helsinki, Finland
Site: South Harbor, Helsinki
Programme: Museum
Surface: 12.000m2
Status: Competition
Client: The Solomon R. Guggenheim Foundation
Team: Bernd Upmeyer, Sara Picazo Clarke, Gabriele Baleisyte