14-05-15 // UNDER THE SQUARE AND ABOVE THE TREES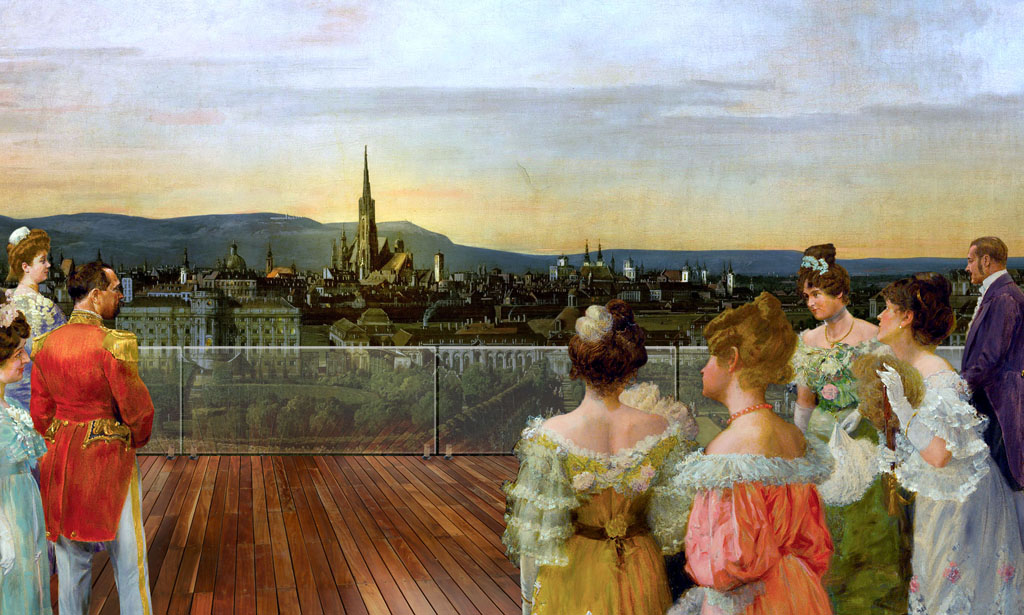 View from the terrace of the "Vienna-room" to the centre of Vienna
Pavilions in the Park
The currently existing pavilions on Vienna's Karlsplatz enrich and activate the square already. This quality we wanted to use and thus added additional pavilions. Accordingly, the extension of the Wien Museum that we proposed above-ground will consist of pavilions. Additional exhibition spaces underground will be illuminated through skylights.
Intimacy and Urbanity
The museum's current entrance remains the main entrance of the extended museum. With the four new partially transparent and translucent Museum pavilions with cafes, café terraces and spaces for exhibitions, an attractive and open museum forecourt is created that fits into the surrounding landscape of the square. While a noise protection to the Lothringerstraße is formed, an urban but intimate space is created.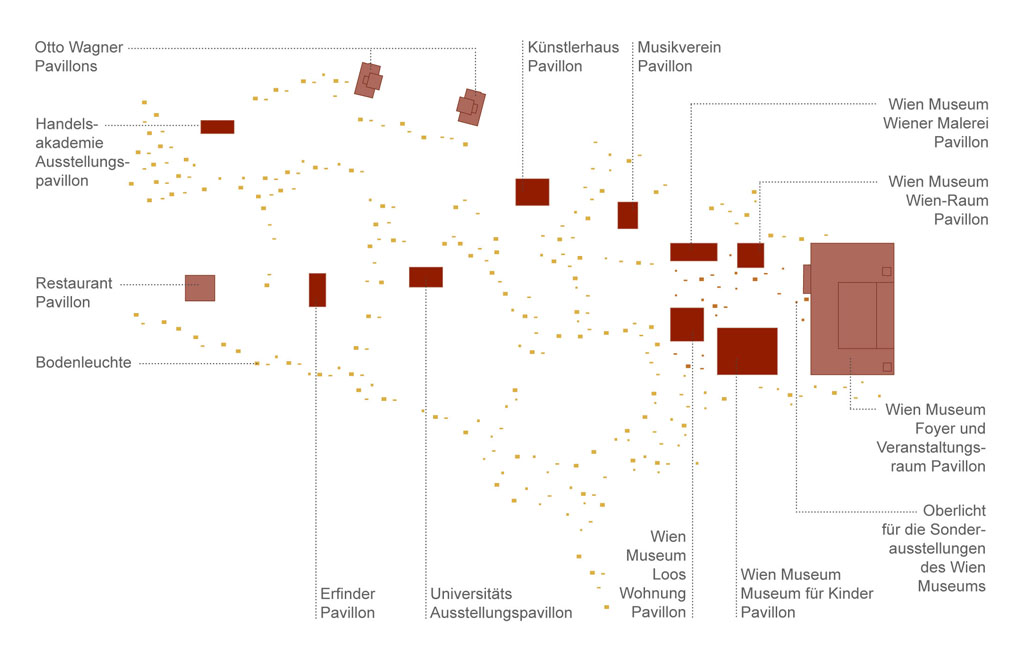 Pavilions in the park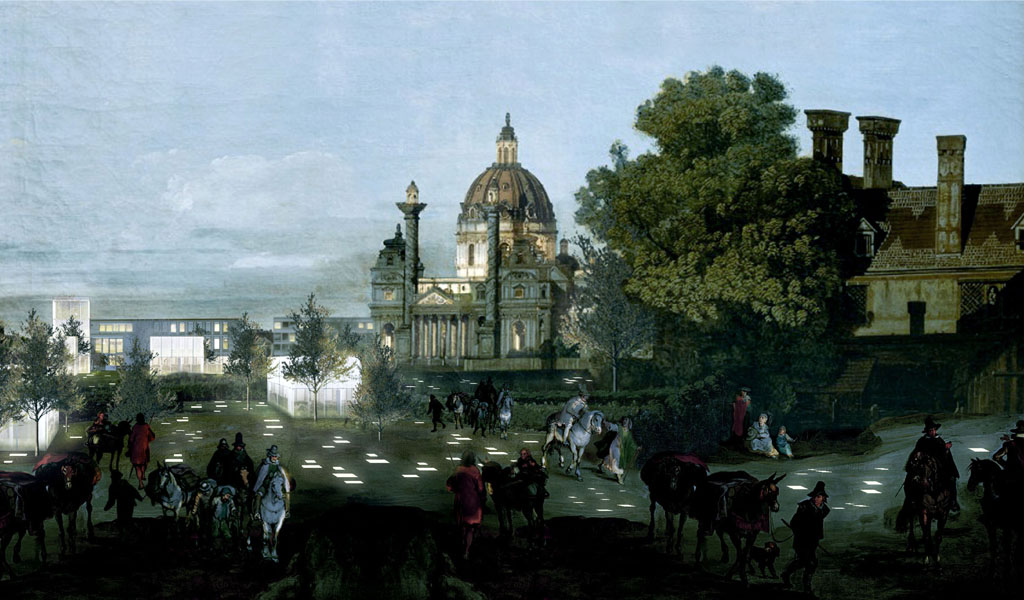 Evening on the Karlsplatz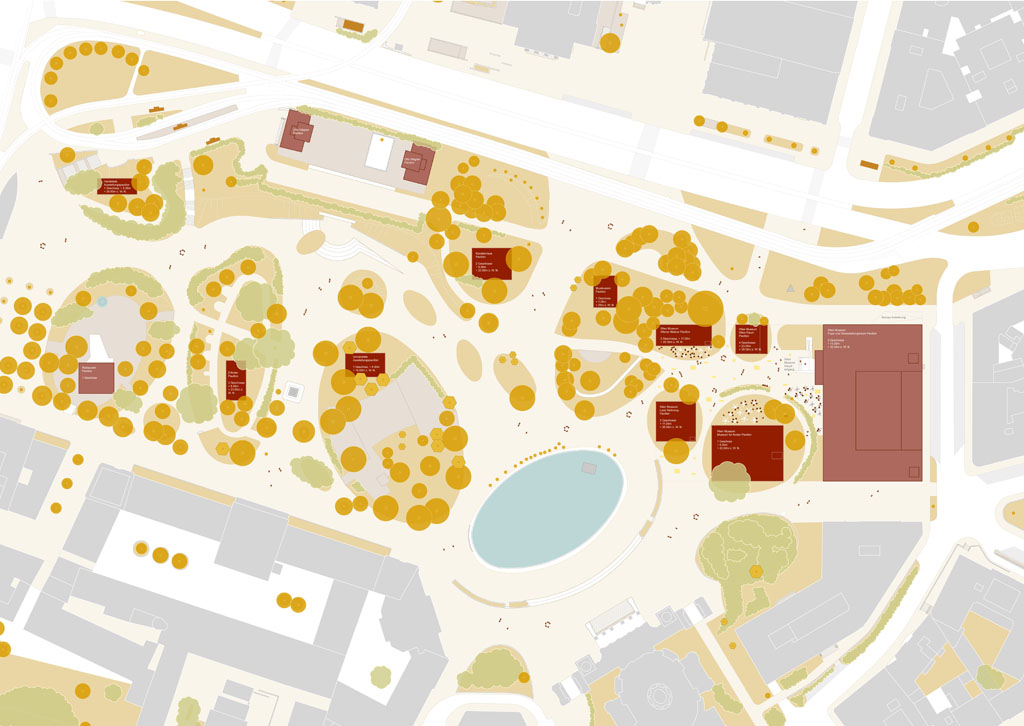 Site
Openness and Framing
All the new pavilions that we proposed for the Karlsplatz emphasize the openness of the square to the north side and its cultural buildings. Thus, the clear framing of the north side is deliberately interrupted. Nevertheless, the forecourt of the Karlskirche will be framed to a certain extent by the new museum pavilions.
Arena and 3-Storey Foyer
To connect the new exhibition spaces in the basement generously to the existing museum, to exploit the potential of its atrium and optimize the basement in general, we propose an event space in the form of an arena with an ascending seating. To reach the new exhibition spaces, this arena as well as the enlarged foyer needs to be crossed.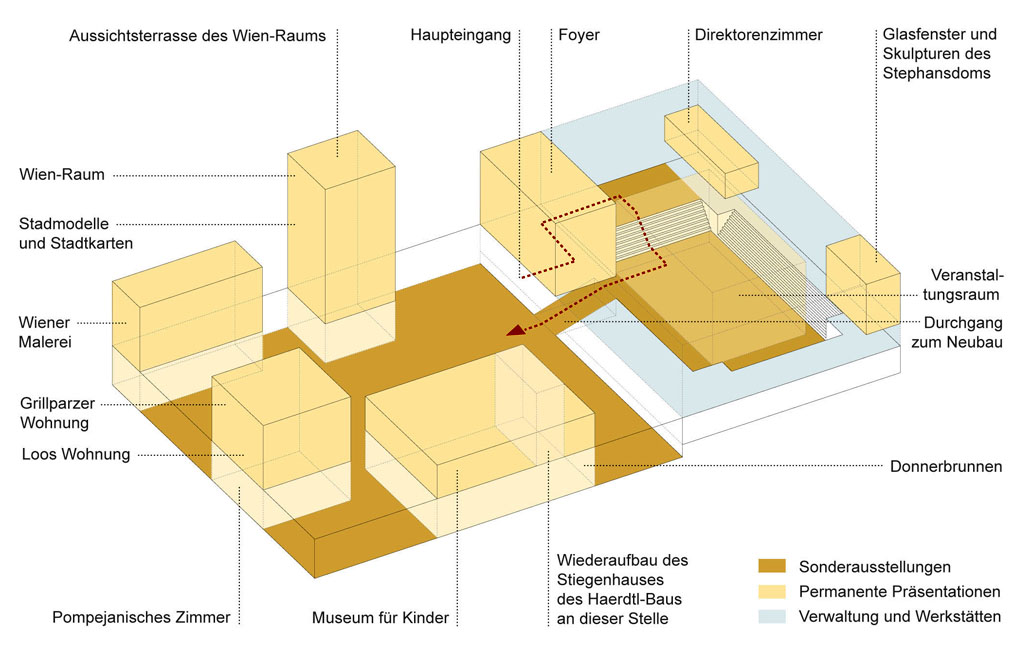 Permanent and temporary exhibitions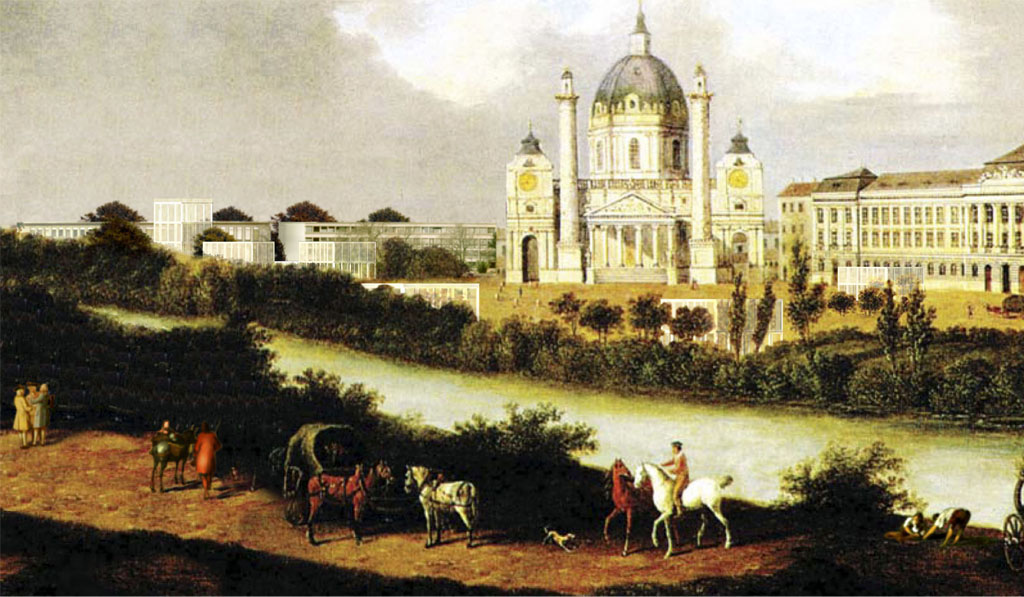 View of the extended museum from the northwest
Permanent and Temporary Exhibitions
All exhibition rooms are divided in two areas: horizontally organized special exhibitions in the basement under the square and vertically organized permanent exhibitions throughout the existing museum. Administration and workshops are as well located in the existing building, whose exterior facades remain unchanged and whose staircase will be moved into the new building.
Vienna-room and Address Formation
The Vienna-room is a flexible space that is publicly accessible from the square and has a coffee bar on the upper floor. The Vienna-room has additionally a roof terrace that is located above the surrounding trees overlooking the square and the city. Due to its height and location, the pavilion of the Vienna-room will provide a visible address to the Wien Museum.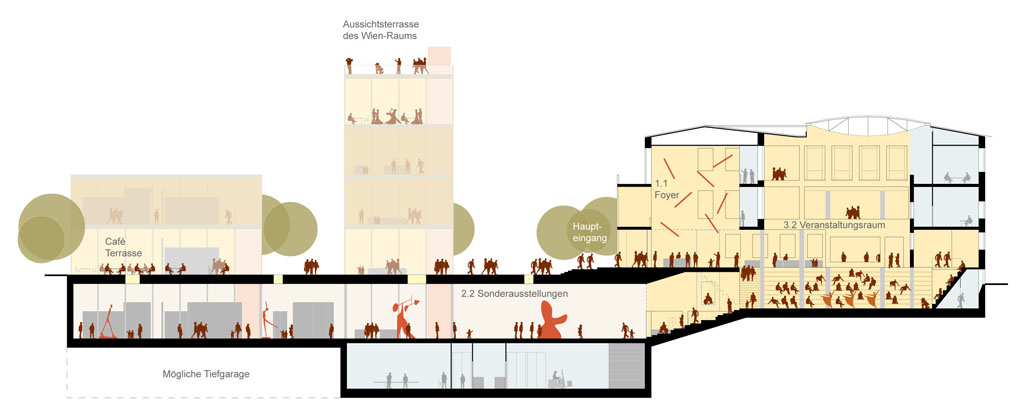 Longitudinal section
Title: Under the Square and Above the Trees
Project: Extension of the "Wien Museum"
Date: May 2015
Type: Open 2-Phase Architecture Competition
Organizer: Phase Eins
Participants: 274
Ranking: 3. Round
Location: Vienna, Austria
Site: Karlsplatz, Vienna
Programme: Museum
Surface: 11.000m2
Status: Competition
Client: Wien Museum
Team: Bernd Upmeyer, Katerina Petrocheilou, Albert Sánchez Perarnau