17-08-16 // 2ND PRIZE IN A COMPETITION FOR A SCHOOL IN GERMANY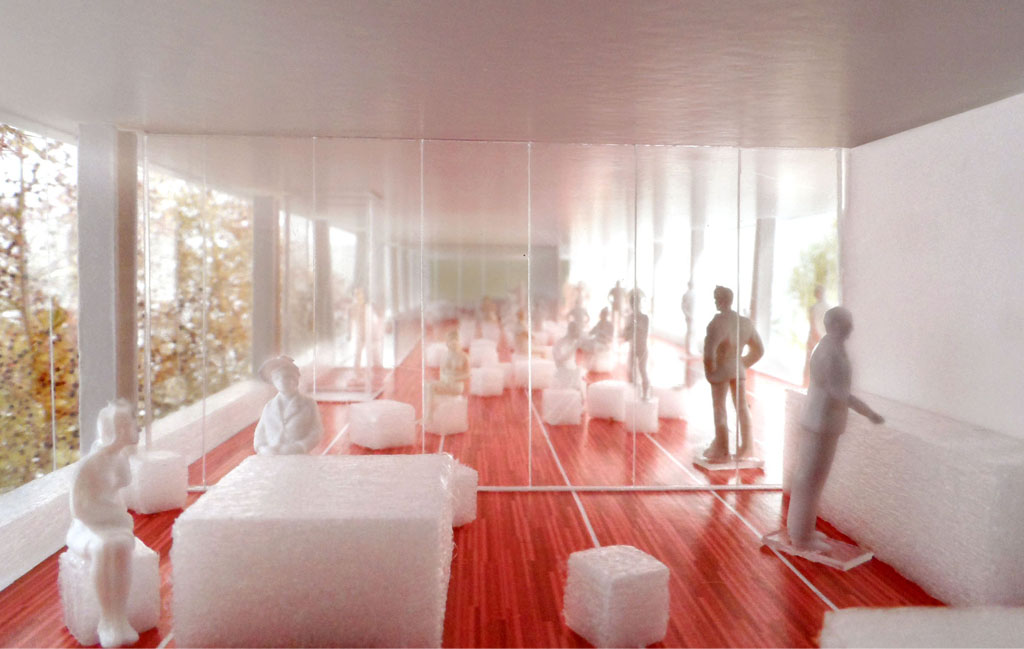 Interior view from one of the rooms of the school administration to the multifunctional room
BOARD's entry for the extension of a school in the German city of Geesthacht wins the 2nd prize in an open international competition. The project is considered for realisation.
To unite the two existing separate schools, BOARD proposed a 120m long and 1 floor high bridge building that connects both schools spatially and functionally. Thus in the future it will be possible for the students, teachers and the school staff, to get barrier-free from one building to another, without the need to leave the building and to be exposed to the weather conditions.
Juryreport:
"With a significant, approximately 120m long, elevated 'bridge building', the author creates a new address for the Bertha-von-Suttner School. The result is a diverse, flowing space that generates an exciting dialogue between open and closed spaces. The proposed language of the material of the design and the high qualities of the interiors, correspond to the innovative and radical concept of this work."
A full description of the project is published in Architecture.
Title: A Real Connection: Bridge and Square
Project: A connection to unite two separate schools in the German city of Geesthacht
Date: August 2016
Type: Open 2-Phase Architecture Competition
Organizer: Municipality of Geesthacht
Participants: 55
Ranking: 2. Prize
Location: Geesthacht, Germany
Site: Dösselbuschberg 40, 21502 Geesthacht
Programme: School building
Surface: 1.000m2
Status: Competition
Client: Municipality of Geesthacht
Team: Bernd Upmeyer, Katerina Petrocheilou, Apostolia L. Sofiadi