16-11-12 // PIAZZA DELLA PORTA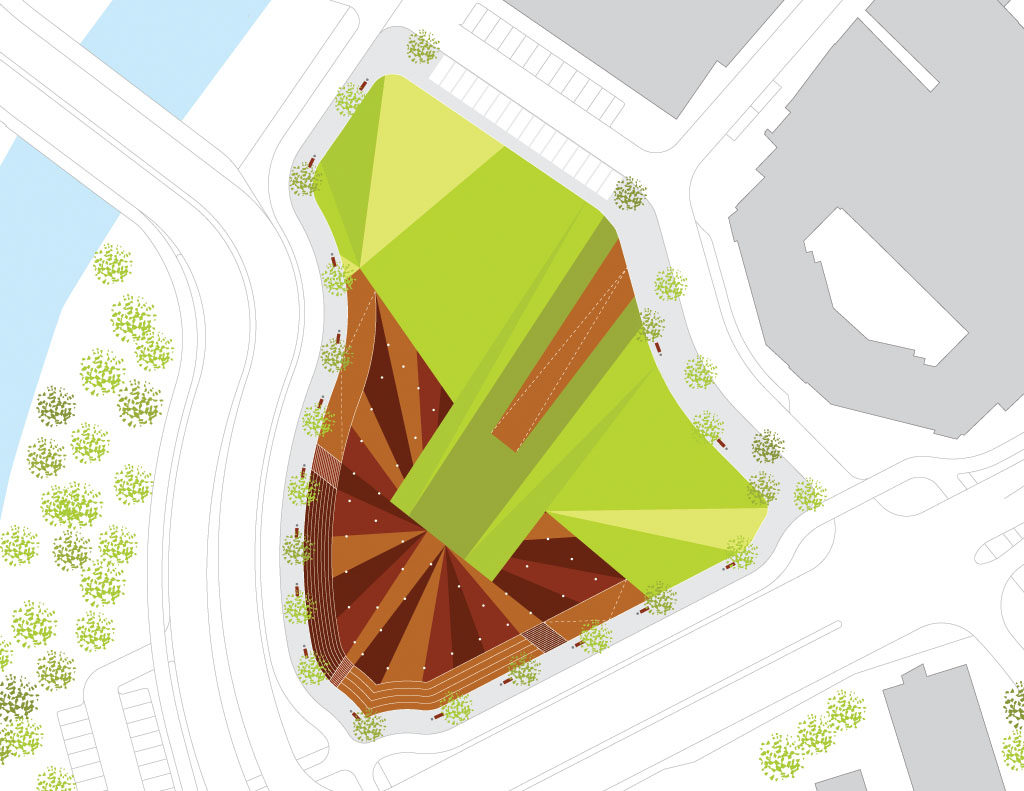 The organizers of this competition asked in the brief what form an entrance to the Dutch city of s-Hertogenbosch should take: a building, a gate, an art project, an added function, or a place connected to the remains of the medieval fortifications of the city? We think that the entrance should include all these elements. In this way our proposal amounts to an art project, as the remaining pieces of the historical fortifications are exhibited as pieces of art. It is also a building, with a green ramp for a roof that functions both as a park and as a visible city gate. The added function is a lowered public square with a wooden surface that functions as an open-air theatre as well. Furthermore, all the abovementioned elements are connected to the remains of the fortifications through a visitor's centre – a transparent interior space located under the green ramp – which features an exhibition on the history of the city all through the year.
As the city has currently limited financial means, the project may be constructed in three different phases. If so desired, the historical city gate could be reconstructed in a fourth phase, as an integral part of the design of the first three phases.
The Italian name of the project – "Piazza della Porta" ("Square at the Gate") – was chosen to emphasize the connection to the so-called "Ponte Pallazo" located nearby. Although the green ramp in our proposal stands only a few meters high, it will be recognizable as a modern city gate for people arriving in s-Hertogenbosch by car, bike or on foot. In addition, a path will lead visitors from the square through the green ramp directly into the centre of the city. Along this path a timeline will feature the history of the location.
The entire "Piazza della Porta" project may be understood as an archeological site that is permanently open to the public. That way the people of s-Hertogenbosch will be able to observe archeologists during their work. As the fortifications are very important for the design of the entire project, the size of the square and the height of the green ramp remain flexible and may be adjusted during the different phases of construction. Therefore, the different phases of the project will be developed in consultation with the archeologists working on the site.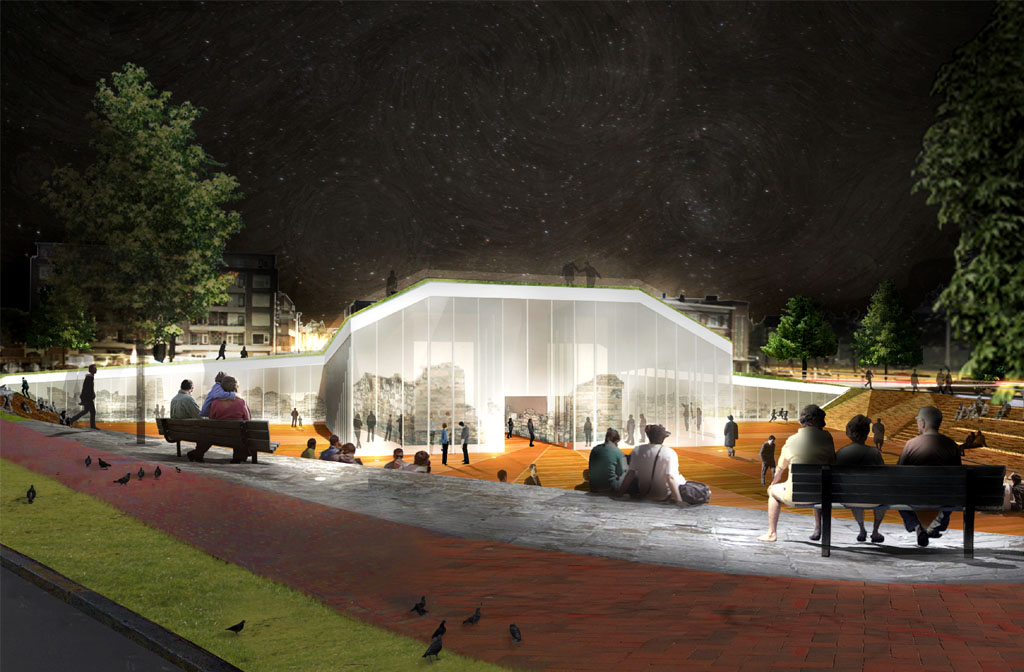 The jury reported: "Beautiful! The plan reverses strangely the site: the area towards the city is green and a square is located outside. That feels weird…but appears to be enormously integrative."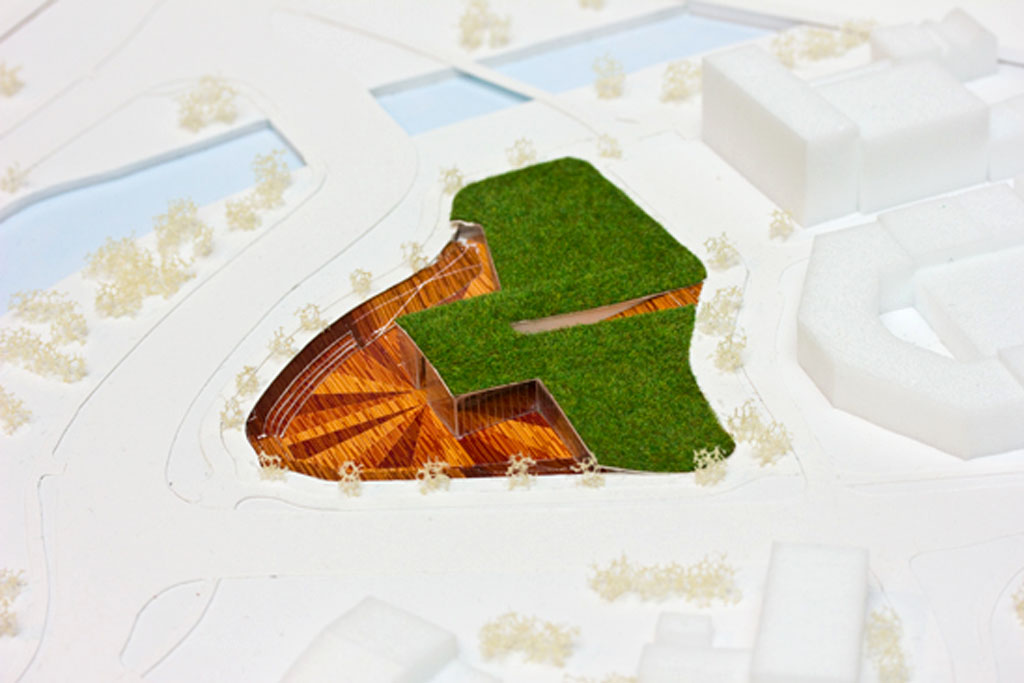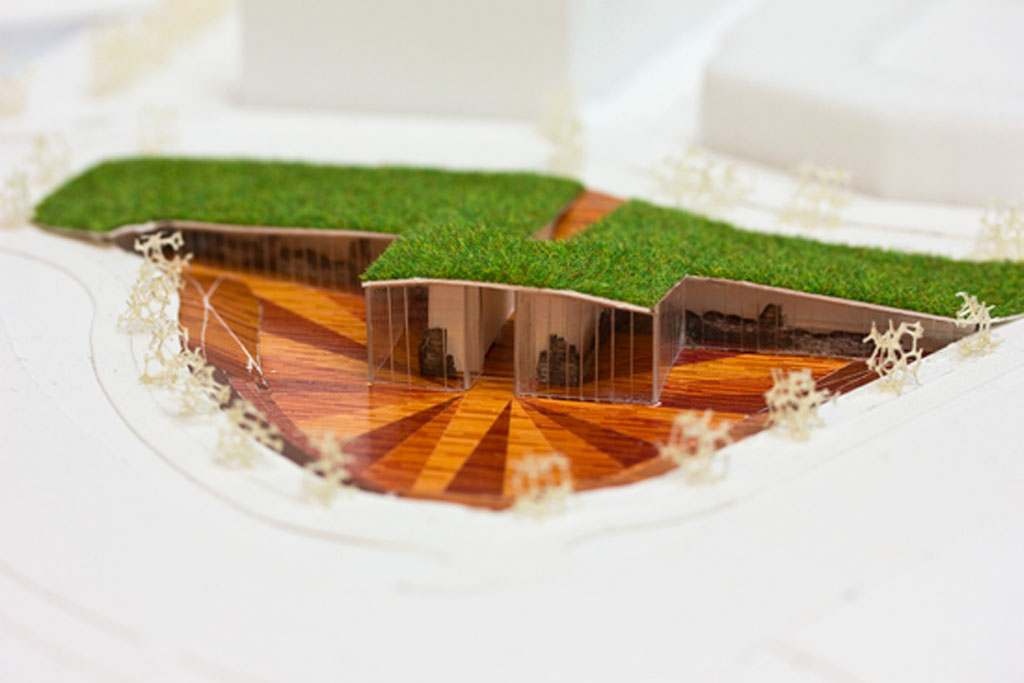 Title: Piazza Della Porta
Project: Square and entrance to the Dutch city of s-Hertogenbosch
Date: November 16, 2012
Type: Ideas Competition
Organizer: Bosch Architectuur Initiatief
Participants: 62
Location: s-Hertogenbosch, The Netherlands
Site: Heetmanplein
Programme: Public space, square, city entrance
Status: Competition
Publications: Catalogus Reset Het Heetmanplein
Exhibitions: City Council s-Hertogenbosch, June 2012
Team: Bernd Upmeyer, Javier Bressel Mateo, Phil Wilson