10-01-22 // AN OPEN HOUSE IN THE PARK Sixth Rank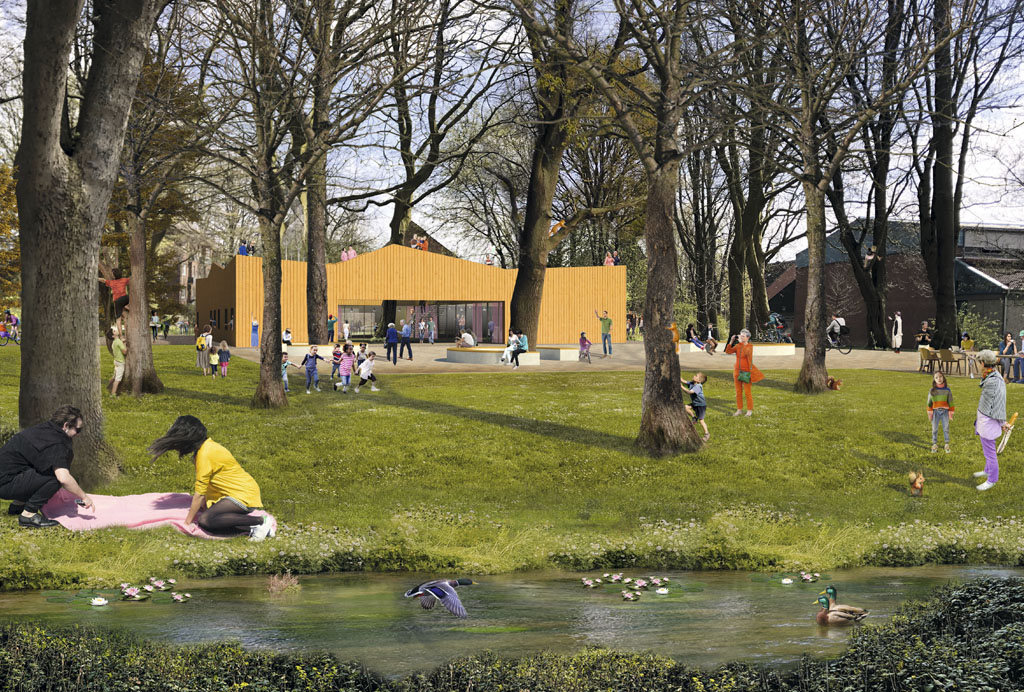 View from the park to the back entrance of the community centre and the open passage to the inner courtyard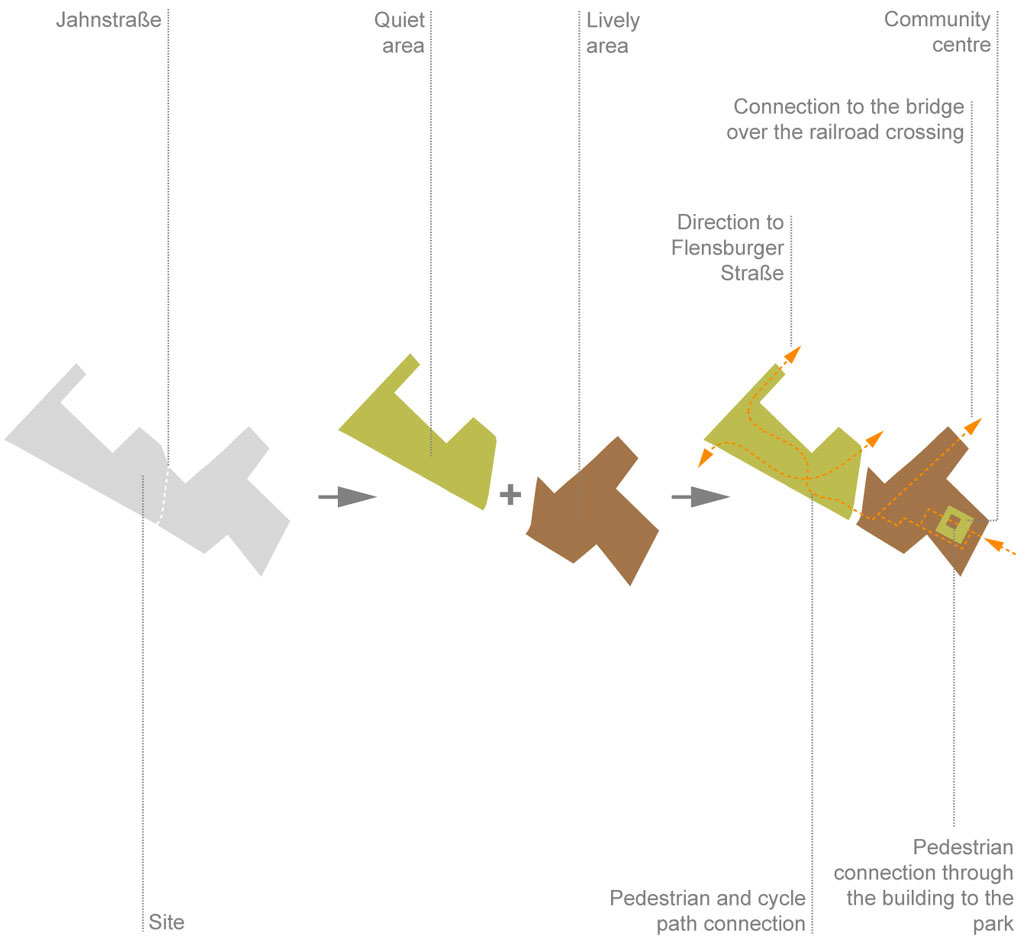 Quietness and Liveliness
We divide the site into two contrasting parks and propose a quiet and natural character with organic shapes for the western area and a lively and urban appearance with geometric shapes for the eastern part. As a result, the site will be upgraded to a qualitative and diverse park for different requirements. In order to connect both parts, paved pedestrian and cycle path connections will be created that cross both areas. The new community centre will be located as part of this new area in the livelier eastern part, through which the park can also be reached.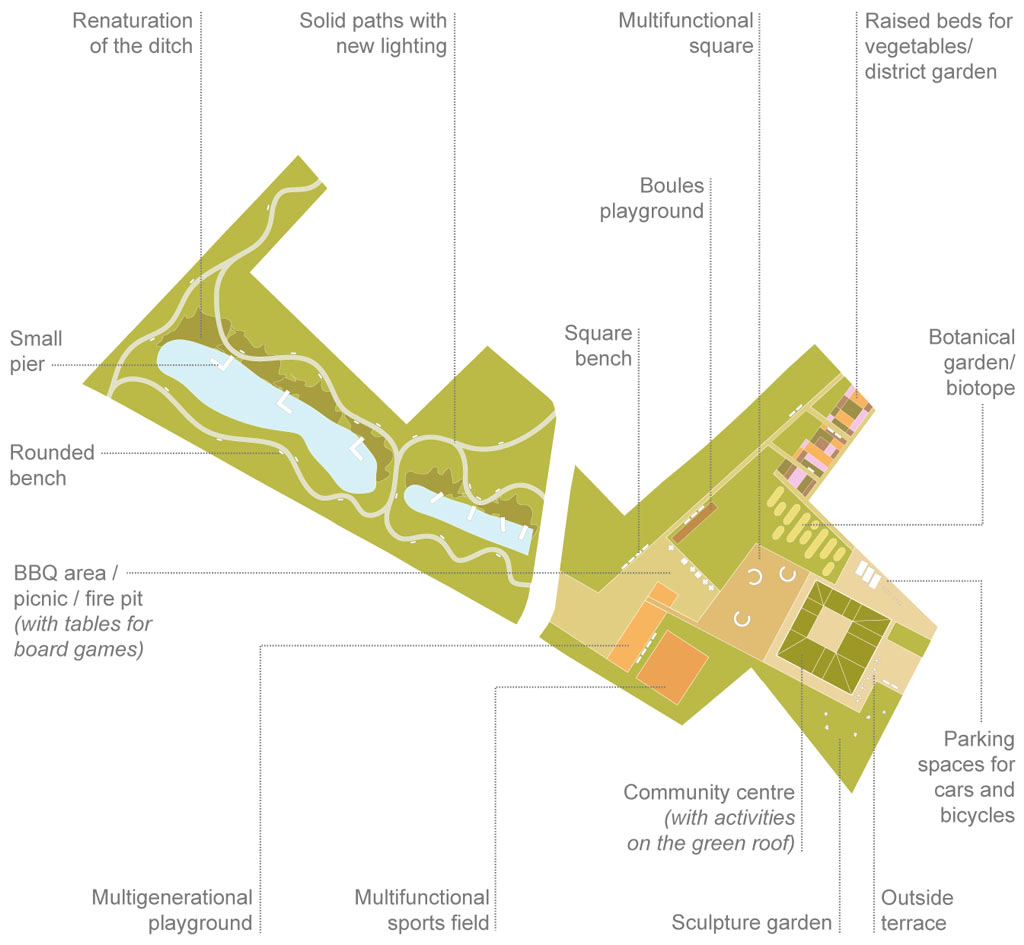 Synergy Effects
Both parts of the park complement each other through the path connections and the distribution of cross-generational uses, creating synergy effects. In the west, the ditches are being renatured and supplemented by small piers, and in the east a multi-generational playground, a multifunctional space and raised beds for vegetables are being created as neighborhood gardens. A new lighting concept with lights on the water and in the trees will create an inviting atmosphere. New seating options will be created too. Existing trees will be preserved and new ones will be added.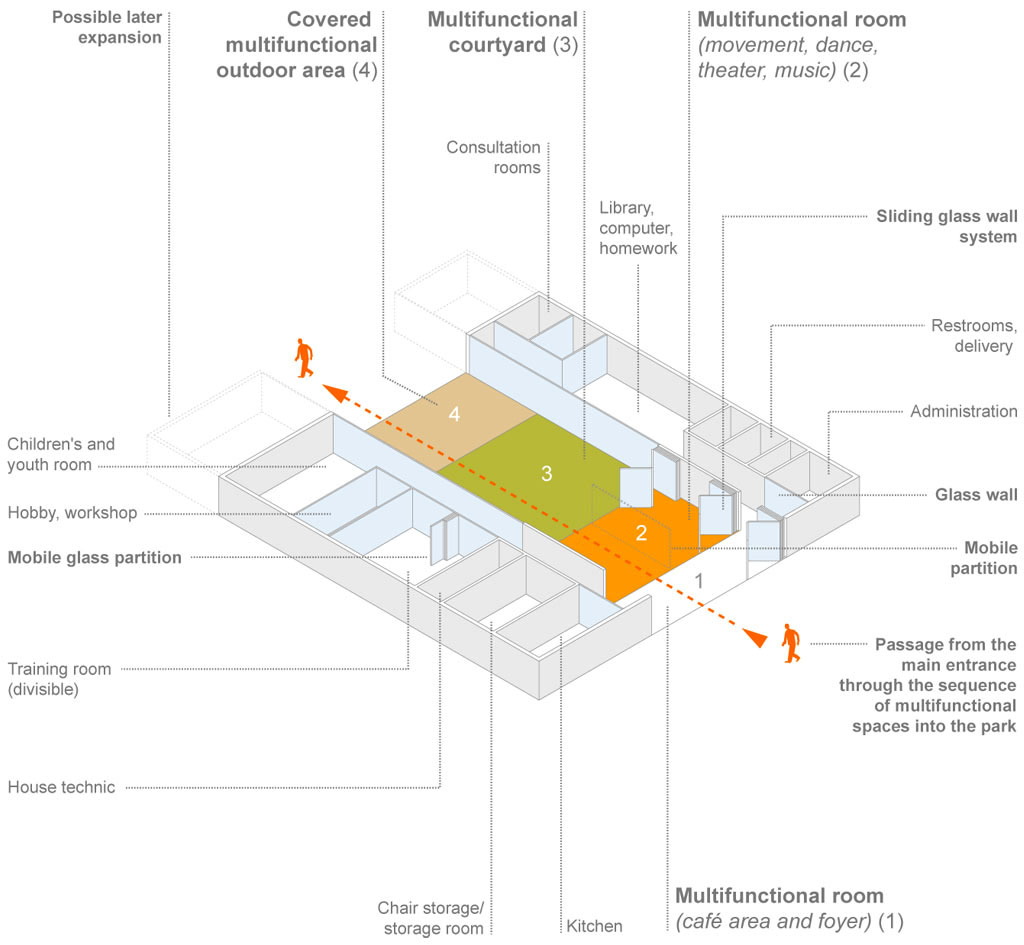 Multifunctional, flexible and open Community Centre
For the new community centre, we propose a 1-storey, barrier-free, flexible, expandable and open building that develops around an inner courtyard and a covered outdoor area and opens up to the park in a u-shape. The area for the café and the foyer can be flexibly combined with the space for movement, dance, theater and music to form a large multifunctional room with the help of sliding glass walls. When these rooms are completely opened, the inner courtyard and the outside area create an open sequence of multifunctional rooms through which the park can be reached on foot.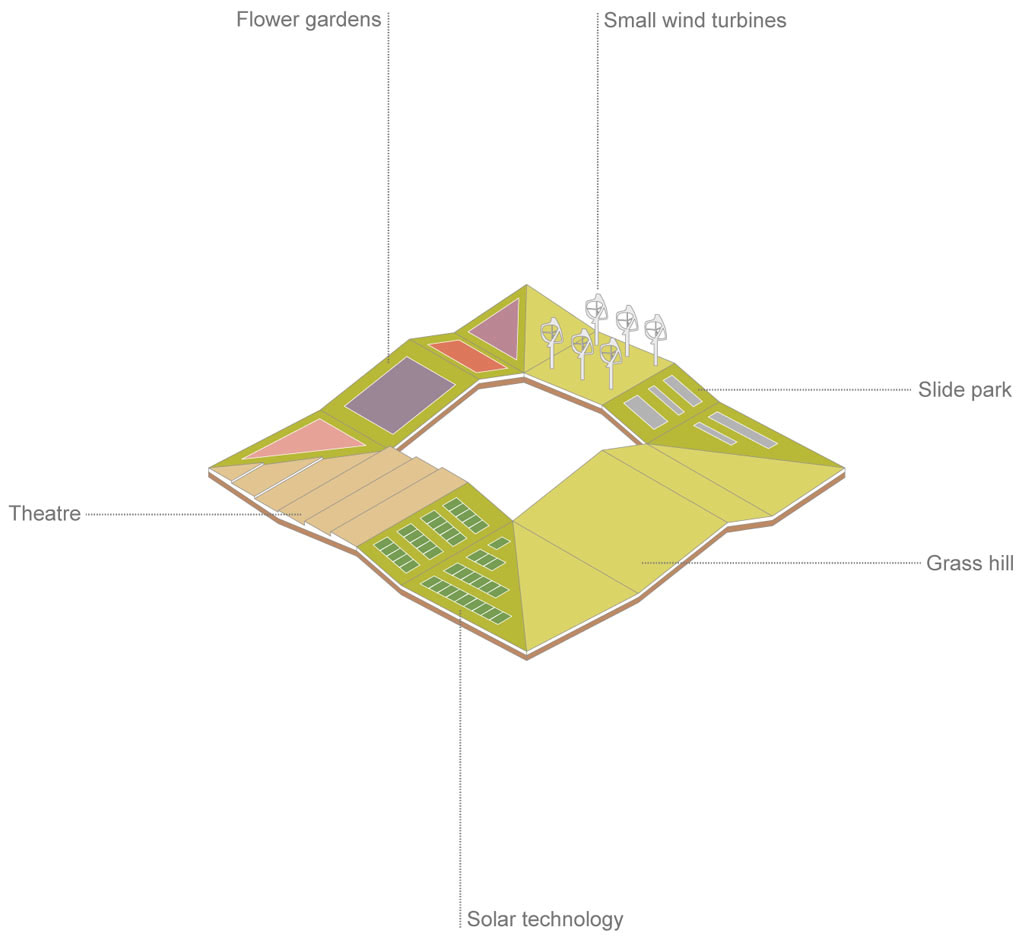 Activities on the Green Roof
The green roof, which is accessible and can be used for various activities, will restore the green spaces lost by the building. The inclination of the roof not only creates a varied roof landscape, but also various rooms below, such as the multifunctional room, can reach a greater height. In addition, the inclinations create a relationship with the surrounding sloping roofs and a recognizable and exciting building envelope and address that invites the users and residents of the district to come in and participate.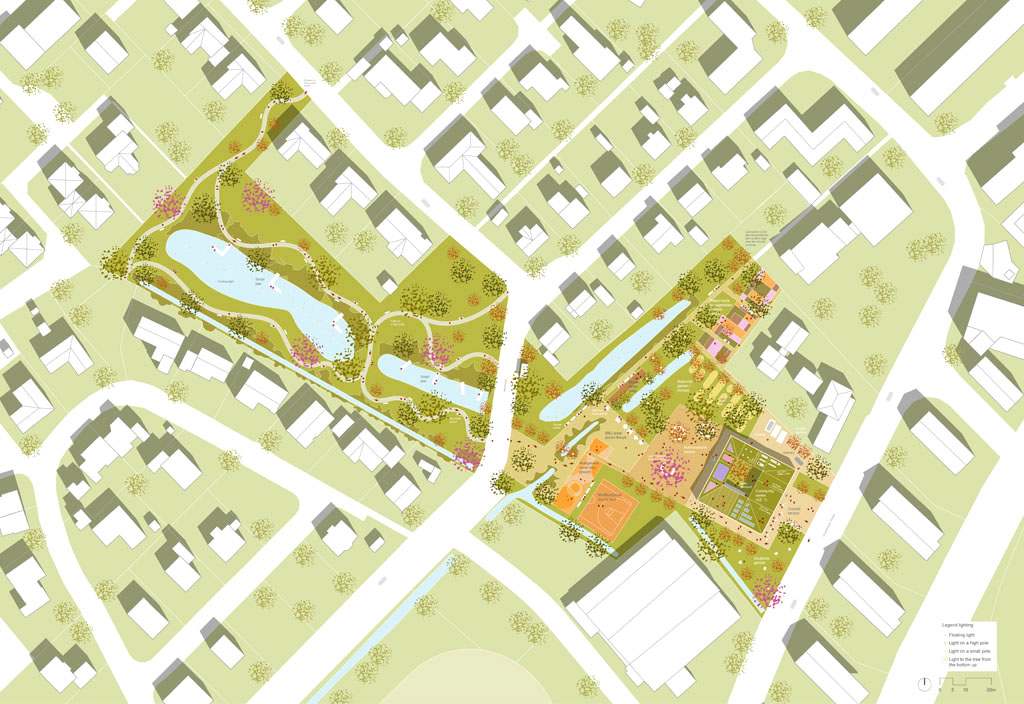 Site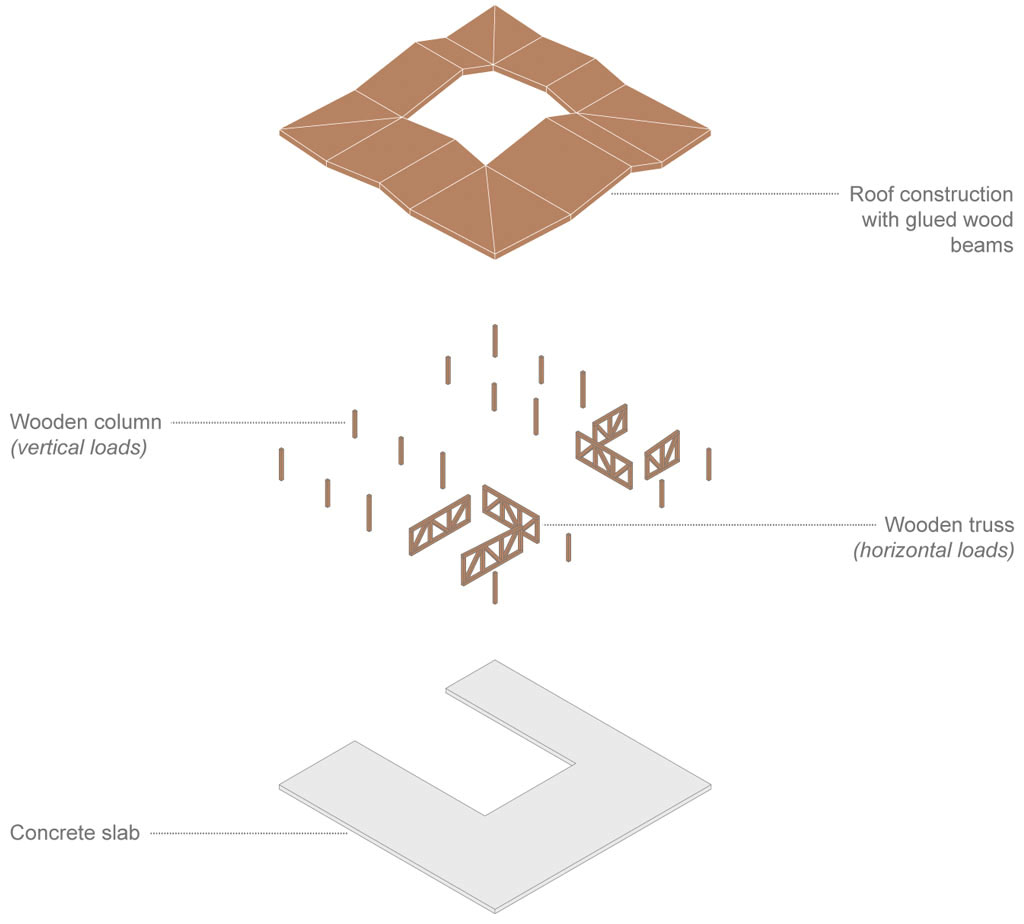 Wood as the basis of the building and the structural concept
To create a building with building materials that are renewable, recyclable and easy to dispose, we suggest using wood. Not only should the facades be made of wood, but the structure of the building should also be made of wood. Accordingly, the structural concept will be based on wood too, in which the vertical loads are transferred into the ground via wooden columns and the building is stabilized horizontally with wooden trusses. Consequently, the roof structure should be constructed with glued wood beams.
Title: An Open House in the Park
Project: Community centre and green corridor Glückstadt-Nord
Date: January 2022
Type: Invited two-phase realization competition
Organizer: City of Glückstadt, Germany
Participants: Final round: 7
Location: Glückstadt, Germany
Site: Park in the middle of Glückstadt-Nord, Germany
Programme: Community centre, park
Surface: 1.8 ha
Status: Competition
Awards: Sixth Rank
Publications: Wettbewerbe Aktuell
Team: BOARD: Bernd Upmeyer, Martina Ciceri, Danai Zachariaki; AX5: Jennifer Goletz, Florian Müller; LOOP: Silvia Lupini