10-03-18 // ARCHITECTURAL ELEMENT 2: STAIRS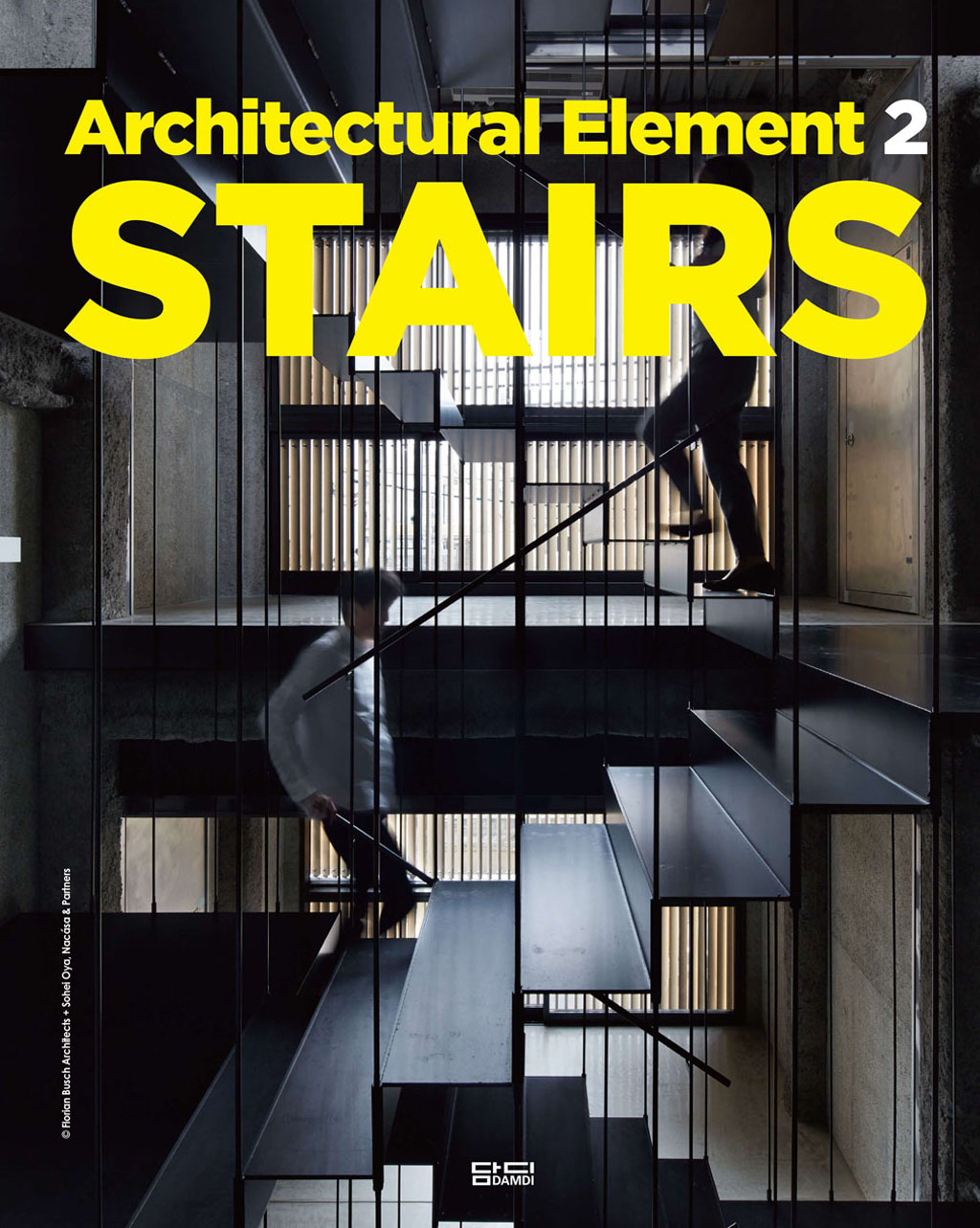 With projects and an interview BOARD contributed to the publication "Architectural Element 2: Stairs" published by the South Korean Publishing House DAMDI. The following interview with Bernd Upmeyer on "stairs" appears in the publication:
Stairs
DAMDI: What is the favourite stair you have designed and why?
Bernd Upmeyer: One of my favourite stairs we designed was for the New Building for the Estonian Academy of Arts in the city of Tallinn. There, we clustered the entire public programme of the building that contained all the auditoriums and galleries of the academy and created a huge stair out of it, which we called the "public section". It cuts through the entire building but, thanks to acoustic curtains that separate the different units, remains functional even during lectures, performances, or events. Without any event going on, the stair functions as an extension of the foyer of the academy located on the ground floor.
DD: What is the least favourite stair you have designed and why?
BU: When recently we worked on a design for a new office and administration building for the Rosa Luxemburg Foundation in Berlin, we proposed six large escalators that bring the visitors from the foyer to the top floor and a roof terrace that allows a view of the city and the TV tower on the Alexanderplatz. It is not that I disliked these escalators, I like them a lot. However, after our project was not selected during the competition in which we took part, I was wondering whether the use of escalators, to a certain extent the symbols of commercialization and capitalism, for the stairs in the building might have appeared a bit too provocative and controversial for a foundation with strong ties to Marxist philosophy and Marxist theory…
… the entire interview can be read in Writings.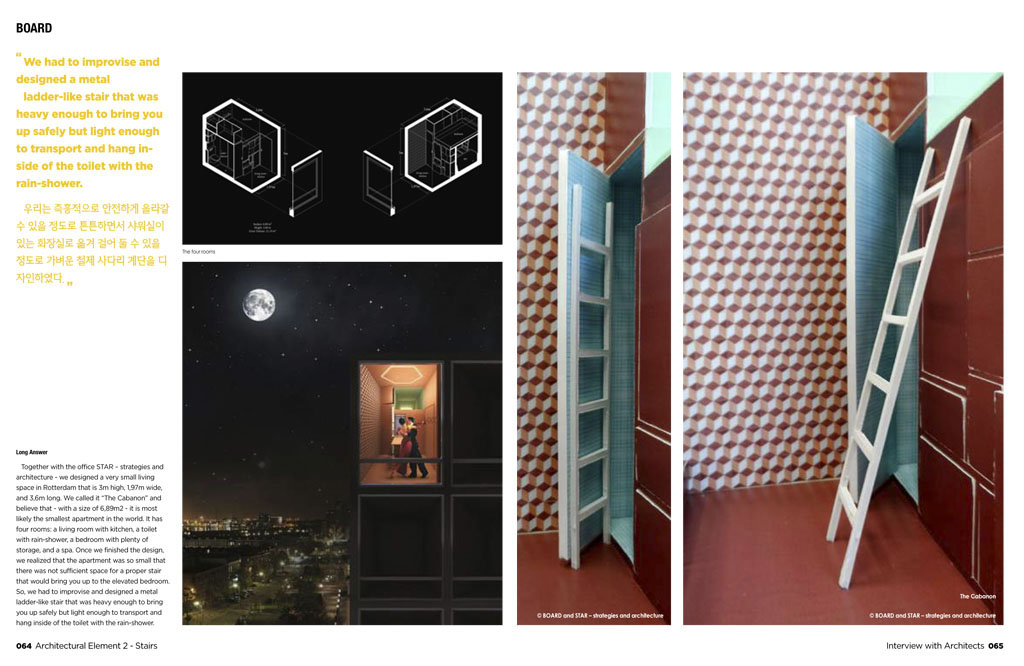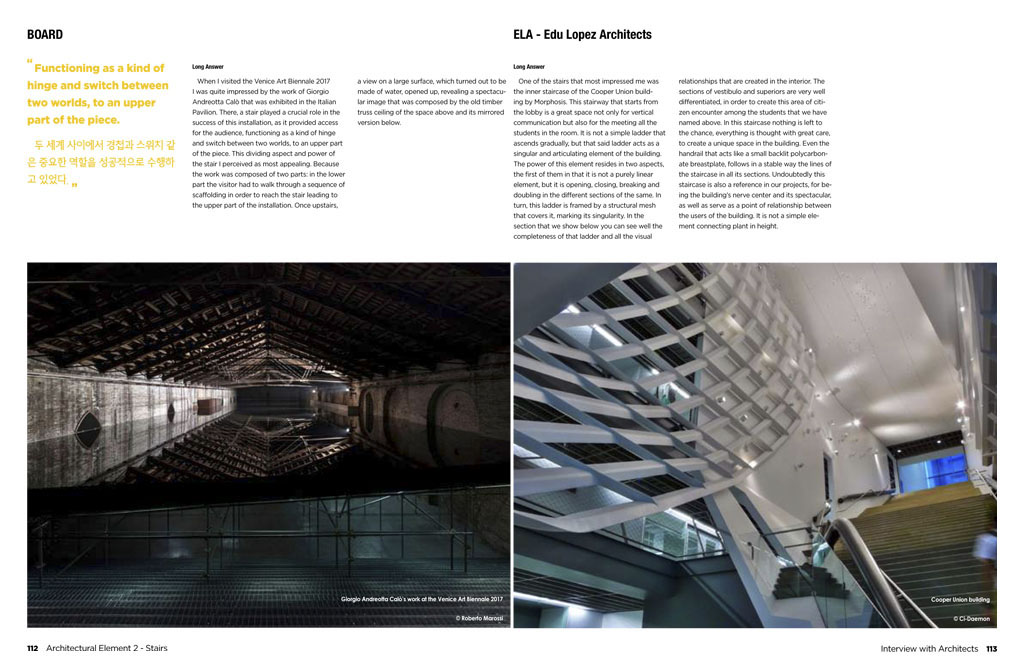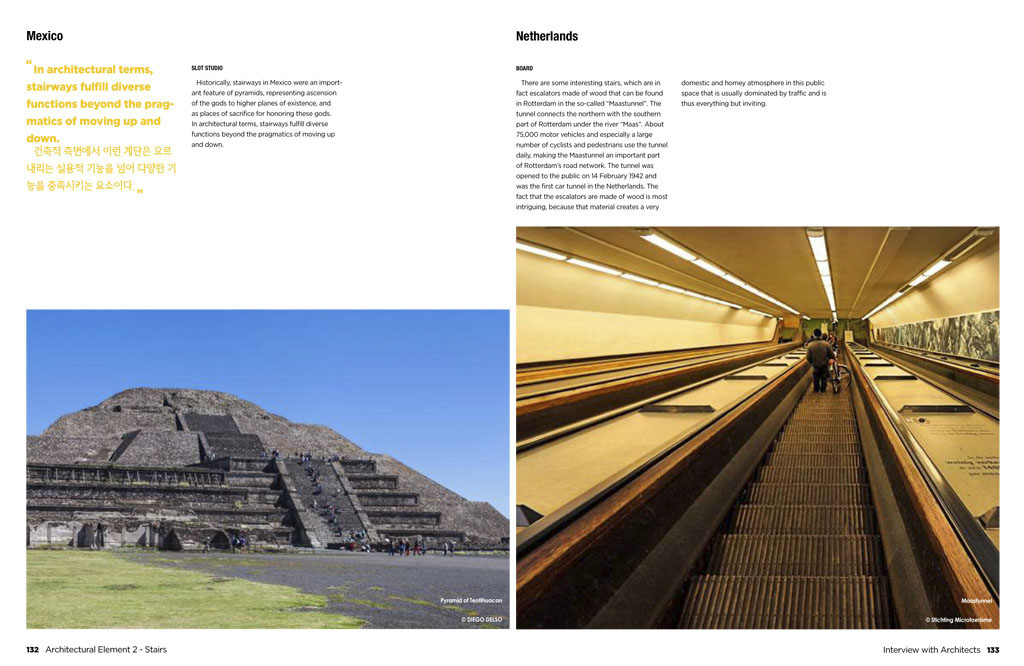 Title: Architectural Element 2: Stairs
Contribution: Stairs
Author: Bernd Upmeyer, BOARD
Date: March 2018
Publisher: DAMDI
Location: Seoul, South Korea
ISBN: 978-89-6801-075-0
Pages: 10-11, 42, 48-49, 57, 64-65, 80, 89, 104, 112, 126, 133, 135